Here's a forgotten project that I made in my first years of blogging.  It was originally posted on another website that I was a part of, but I just realized today that I never posted this easy and fun DIY Pinwheel Tutorial here on my own blog!  So, here you go! (Please grant me grace in my photography skills from five years ago!)
Pinwheel Template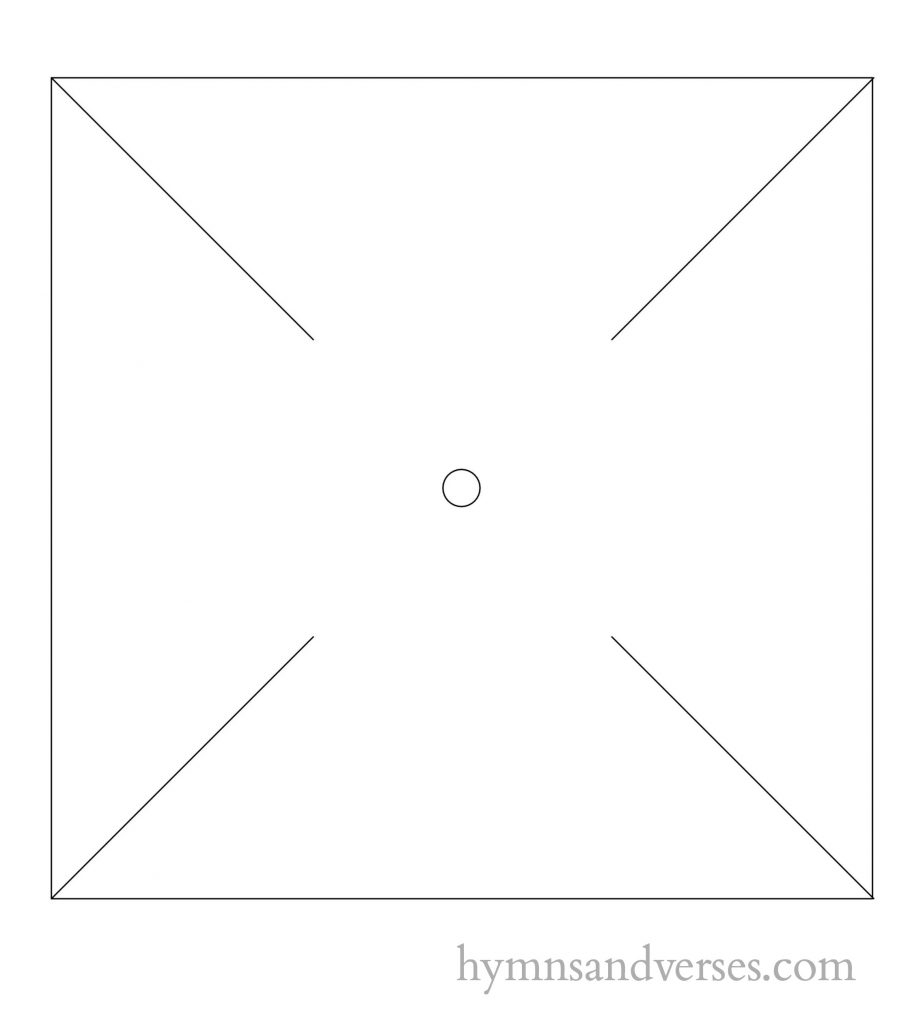 So, let's get started!   In addition to the template, here's what you will need:
Paper – I used card stock
5/16″ wood dowels – I purchased a pack of six 5/16″ x 12″ dowels at Michaels.
Upholstery Tacks – mine are from Walmart
Glue gun, scissors, tack hammer
Glitter and ribbon if desired
For your pinwheel, you will want both sides of your paper to have a design.  Or, you could use a solid color card stock.  I made sheet music pinwheels.  I used a free sheet music graphic that I found at The Graphics Fairy website, downloaded it, and used my home printer to print it on both sides of my card stock.  Here it is if you would like to use it too!
Print out the template above and cut along the diagonal lines.  Trace the outer edge of the pinwheel template onto the card stock you choose for your pinwheel.   Then, slightly fold up the diagonal cuts and trace the diagonal lines of the template onto your card stock.  Cut out your pinwheel, including the diagonal cuts as shown below.

Starting at the bottom, bring each left hand corner to the center and secure with a dab of hot glue.

Take your upholstery tack and poke a hole through the center of the pinwheel.  Now use your tap hammer to gently hammer the tack into your wood dowel.  Don't hammer it all the way in, because you want there to be a space for the pinwheel to spin.

If you want to add some sparkle to your pinwheel, use a small paintbrush to apply white glue to the edges of the pinwheel and sprinkle with glitter.  I also added some ribbon to my pinwheel – just add the ribbon to the tack before hammering it into the dowel.  I hope you will give this DIY pinwheel tutorial a try.  This would be a fun project for the kiddos in your life!  Happy Summer!