Hi, Friends. I'm back today to show you another DIY Wood Frame for a Mary & Martha tea towel or any canvas art for that matter. If you missed my first DIY frame tutorial, you can see it HERE. For this project, I used another Lindsay Letters tea towel sold by Mary and Martha. It reads – "We open our homes with love and grace and ask God's blessing on this place".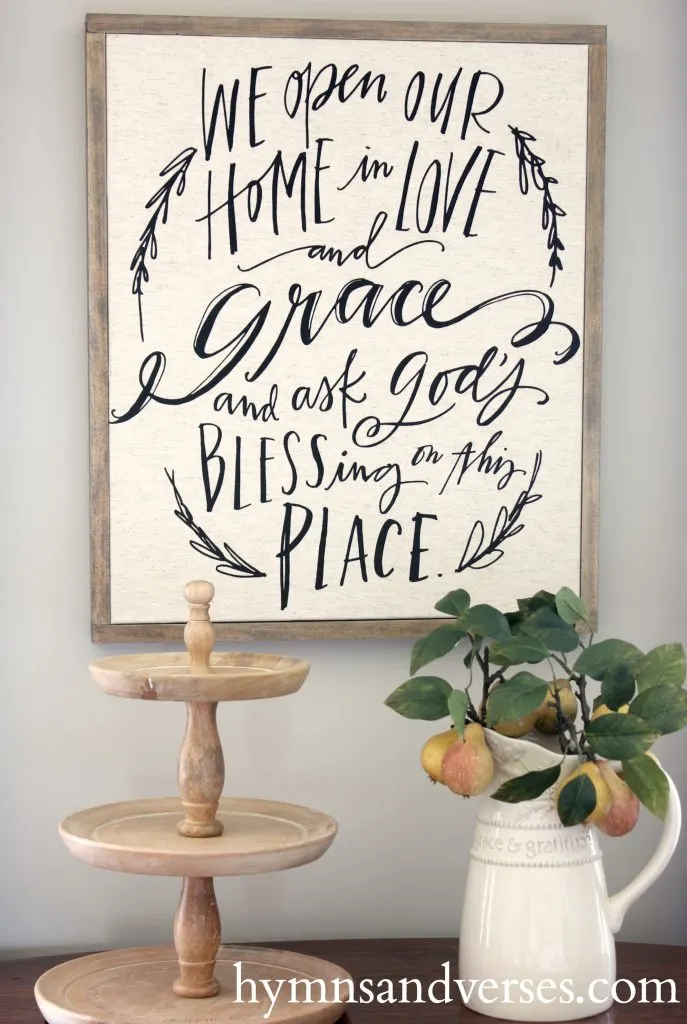 This post contains some affiliate links for your convenience. See my full disclosure HERE.
DIY Wood Frame for an 20 x 24″ Artist Canvas
SUPPLIES
1″ x 2″ x 8′ piece of wood trim
Tack nails or Staple Gun
If you are going to apply the Mary & Martha tea towel to your canvas, follow Steps 1, 2, and 3. If not, you can skip to Step 4.
Step 1
Iron the tea towel. This is an important step – who wants wrinkles or creases in their artwork!
Step 2
Spray your artist canvas with the spray adhesive – spray edges as well. Carefully line up your tea towel over the canvas so the image is centered. Apply light pressure once you have the tea towel where you want it. Make sure you don't have any wrinkles or air bubbles.
Step 3
Fold the tea towel fabric over the edges and cut off excess fabric as shown.
Step 4
Cut the 1″ x 2″ x 8′ wood trim to size.
(if you don't have a saw, Home Depot will cut the wood for free)
For a 20″ x 24″ inch frame opening you need 2 – 21 9/16″L and 2 – 24 1/4″L
Lay wood trim pieces around the canvas to make sure you have a good fit. Then, use a pneumatic stapler or tack nails to assemble the frame.
Step 5
Stain your frame. For this frame, I used Minwax Wood Finish Stain in Classic Gray 271.
Step 6
Once the stain is dry, you can insert the canvas into the frame. Mine is a very tight fit, so I did nothing further to secure it. Then I used two small eye screws and picture hanger wire to hang the framed canvas.
Here's a close-up look at the framed canvas.
And, here's the finished piece. I really like this look! What do you think?
Or, do you like THIS wider style wood frame.
Here are the exclusive Lindsay Letters products available at Mary & Martha and the prices are amazing!
Love and Grace Tea Towel
Large 20″ x 24″ Silent Night Wall Art – Just $65!