Growing up on a farm, I can remember my mother and grandmother making apple dumplings every fall during apple harvest season! They were soooo good. Sometimes we would have an apple dumpling as an evening meal, and I can even remember my grandfather having a warm apple dumpling with milk for breakfast! Not the healthiest thing to have for breakfast, but as a hard-working farmer, those calories were easily burned! Apple dumplings are definitely a Pennsylvania Dutch favorite and are a staple here in Lancaster County. The Historic Ephrata Cloister even has an apple dumpling festival every fall. If you've never had an apple dumpling, you are missing out!!!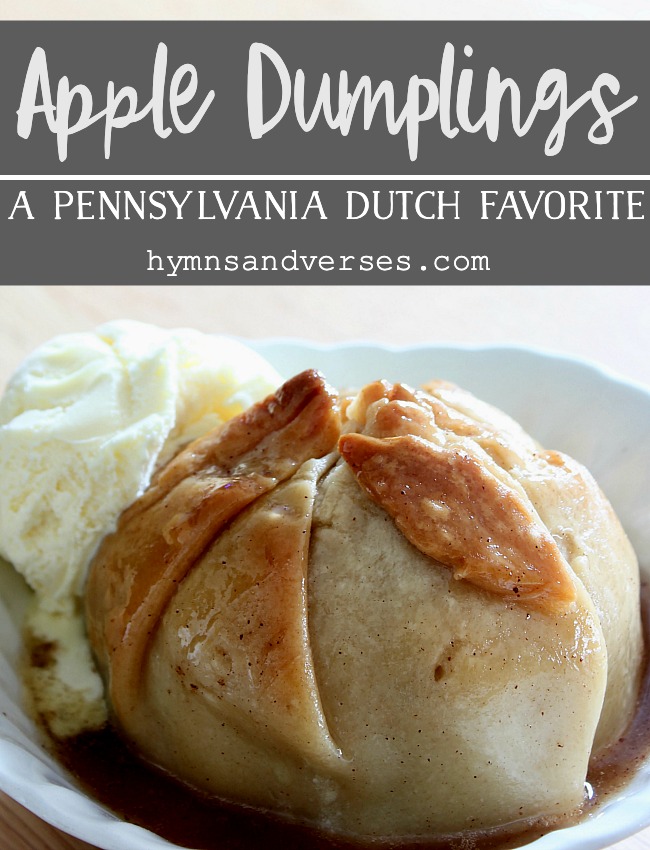 I went through all the recipes I have from my mother, grandmothers, and aunts, but I couldn't find one for this fall staple. This is probably because they were made so often by these home bakers and they knew what to add to make them so ooey-gooey delicious! Since I couldn't find a family recipe, I searched the internet and found a recipe from Southern Living magazine that I tweaked a bit to make it even easier! I used to be intimidated by the thought of making these pastry-wrapped apples, because I thought it would be difficult. But, guess what? They are so easy to make!!! Mark and I taste tested them last evening with some vanilla ice cream, and they are as good as I remembered!
easy apple dumplings
The apples need to be cored, because you fill them with a brown sugar mixture. But, you don't have to peal the apples. Of course, you can choose to peal them if you don't like to eat the apple peal. I use a handy apple corer that removes the core perfectly every time!
Before the apples are wrapped with the pastry, you will fill the core hole with a mixture of brown sugar, butter, cinnamon, and nutmeg.
I hope you'll try this recipe for apple dumplings sometime this Fall season! I promise, you're gonna love them!!!

Yield: 8 Apple Dumplings
Apple Dumplings

This recipe creates a shortcut for traditional Pennsylvania Dutch Apple Dumplings by using refrigerated pie crusts! It's a real time saver! But, if you prefer to make your own crust, simply follow the remaining recipe ingredients for this traditional Lancaster County dessert!
Total Time
1 hour
10 minutes
Ingredients
8 Medium Granny Smith Apples
Two 15 oz. packages refrigerated pie crusts
APPLE FILLING INGREDIENTS
1/2 C brown sugar
1 tsp cinnamon
1/4 tsp nutmeg
2 TBS butter, softened
SYRUP INGREDIENTS
1 1/2 C sugar
1/4 tsp cinnamon
2 C water
1/4 tsp nutmeg
1/4 C butter
Instructions
Combine sugar, water, cinnamon, and nutmeg in a saucepan and bring to a boil over medium-high heat, stirring constantly. Reduce heat and simmer for 10 minutes, stirring occasionally.
Remove from heat and add 1/4 cup butter. Set syrup aside.
Combine apple filling ingredients in a small mixing bowl. Mix with a fork until you have a crumb consistency.
Cut each pie crust in half. Form each half into a ball and place on a lightly floured surface. Roll into 8 inch circles.
Place each apple onto the center of each circle and fill the empty core with the crumb filling.
Fold the dough over the apples, pinching at the top to seal.
Place each apple in a lightly greased 13″ x 9″ baking dish. Drizzle with the syrup.
Bake at 375 degrees for 40 – 45 minutes until crust is golden brown. Tent with foil if crust is browning too much.
Notes
Delicious served warm with vanilla ice cream.
Recommended Products
As an Amazon Associate and member of other affiliate programs, I earn from qualifying purchases.
If you like this recipe, you may also enjoy these yummy cupcakes that are another fall treat in our home!
Pumpkin Cupcakes with Sea Salt Carmel Buttercream Frosting