If you have young children or are a child at heart, this Easter Craft is for you! A resurrection garden is a real hands on project for kids with plenty of teachable time as you put the garden together. I did this Easter craft last year with the children I teach in church time and they couldn't wait to tell me each Sunday before Easter how much the grass had grown. The ideal time to make a resurrection garden is 3-4 weeks before Easter. That will give the grass plenty of time to grow!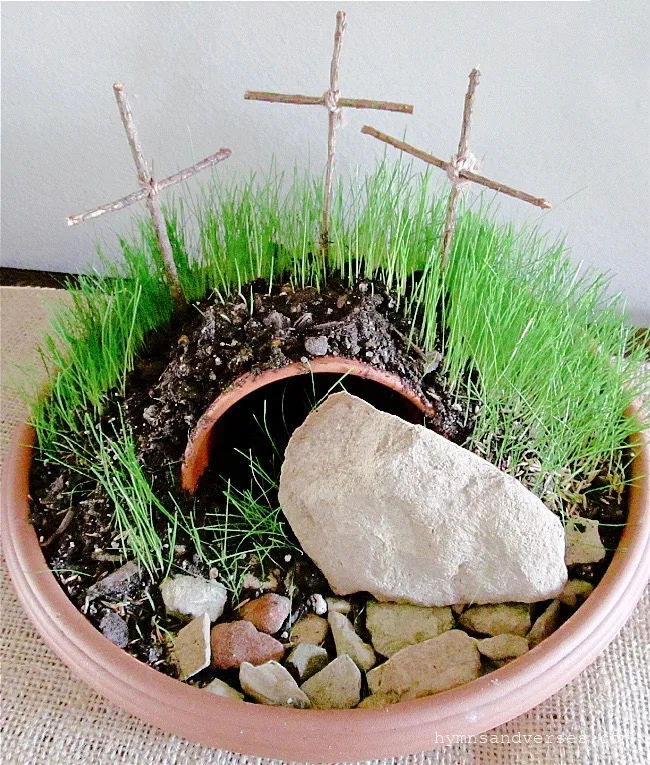 Supplies for Resurrection Garden
A large Terra Cotta saucer
(I used plastic Terra Cotta look saucers because they were cheaper)
1 small clay pot
Potting soil
Quick growing grass seed
River rocks (available at Dollar Tree)
A larger rock to place beside the tomb opening.
(instead of the river rocks, I just dug around my garden and in the field
behind my house for the small rocks and the larger rock that I used.)
Twigs (just clip from your yard)
Jute twine
Spray bottle for watering
I'm not going to rewrite the tutorial because Bonnie of Uncommon Designs wrote a great one with lots of pictures and step by step instructions. You can find it
HERE
. That's where I found this great idea last year. So gather your supplies and plant a resurrection garden this week and the grass will look like mine by Easter! Have fun!
Here are a few more blog posts with Easter projects that you may want to check out! They are all easy and fun! And, like today's post, these projects would be great for kids too!