Spring is the perfect season to decorate your home using natural elements! Outside all of nature is reawakening after a long and cold winter. Spring bulbs are popping through the earth in our flower beds. Birds are chirping and making nests for a new family! So, let's bring some elements from nature into our spring home decor. As an example, I'm going to share my spring mantel.
Natural Elements Spring Mantel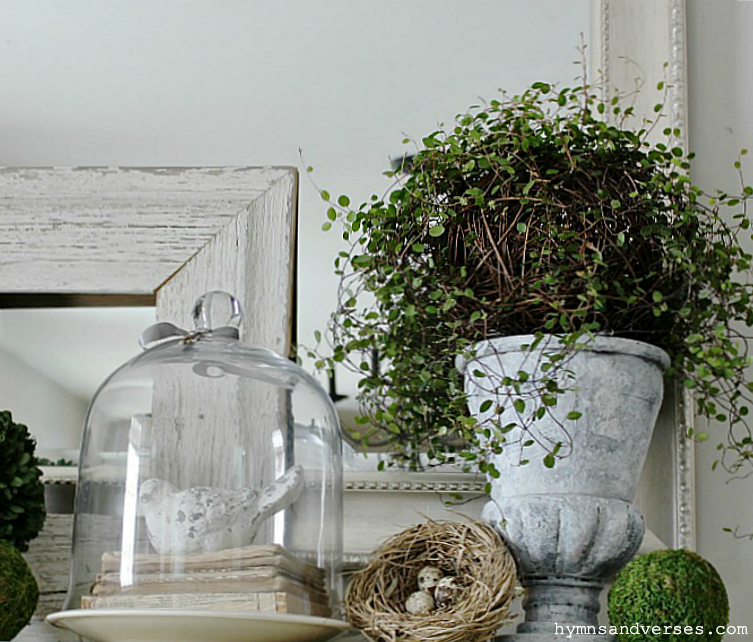 Spring Decor inspiration
In early spring I like to visit my local greenhouses for inspiration. It's good for the soul to visit a warm greenhouse when it's still cold in early March. I usually come home with at least one new plant to brighten up my home. On this visit, I found this pretty wire vine topiary. Once I got it home, I placed the greenhouse container inside this pretty concrete urn, and I love how it looks! I placed the topiary on my mantel and began to add some more natural elements to create a spring garden theme.
BIRD NESTS
You can find very realistic bird nests at craft shops or stores like Home Goods or TJ Maxx! I have several that I use every year in my springtime decor! And, why not add some tiny faux eggs to the nest.

SPRING Birds and ANIMALS found in nature
The next item I added to my mantel was a large glass cloche with a cement bird on a "nest" of vintage books! Don't you agree that this bird is weathered to perfection! I have several bird statues/figures that I use in my decor. Rabbits, sheep and even butterflies are also good accents for spring. Think about these creatures in your artwork as well.


Moss, Raffia, and More
Moss and raffia balls, preserved greens like this boxwood topiary are great natural elements you can bring into your spring decor. Faux eggs and spring blooms are also great options. Consider cutting some branches from your blooming trees or shrubs to bring indoors.

Weathered Wood

The final element I used on my nature inspired mantel was a weathered wood frame that I purchased from a local craftsman. It adds interest and the weathered wood reminds me of a weathered white picket fence in a spring garden setting.

Bringing some springtime inside will definitely tide me over until it's time to garden outdoors! Here are a few more spring decorating ideas you might like: