Today I'm sharing a few quick decor ideas using a cloche. When referring to a cloche, I mean anything with a glass dome. Don't be concerned about finding a real deal cloche! Stores like HomeGoods, Marshall's and TJ Maxx always have pretty glass domed cheese boards or even a footed glass domed cake stand would make an amazing cloche!
A cloche makes a great gift too! If you use a glass domed cheese board, the recipient could use it for Christmas decor and then use it as it was intended. I don't know if it's because a cloche reminds me of a snowglobe, but putting an object under glass seems to make it magical! So, here are a few cloche ideas – some are from this year and some from many years ago. I hope you enjoy and will think about popping something ordinary under glass to capture the magic!
Easy Christmas Cloche Ideas
This concrete bunny on a bed of moss with some artificial snow sprinkled around it makes a whimsical Christmas cloche. This is my only traditional glass blown cloche. I just use a dinner plate as a base when I use it like this.
This decorative cloche is from Pottery Barn years ago. It's tall and narrow and has a black wood base. I use it almost every Christmas. This year I kept it simple and popped a white bottle brush tree inside on a base of moss. I love the contrast of the green moss with the black base and the white tree!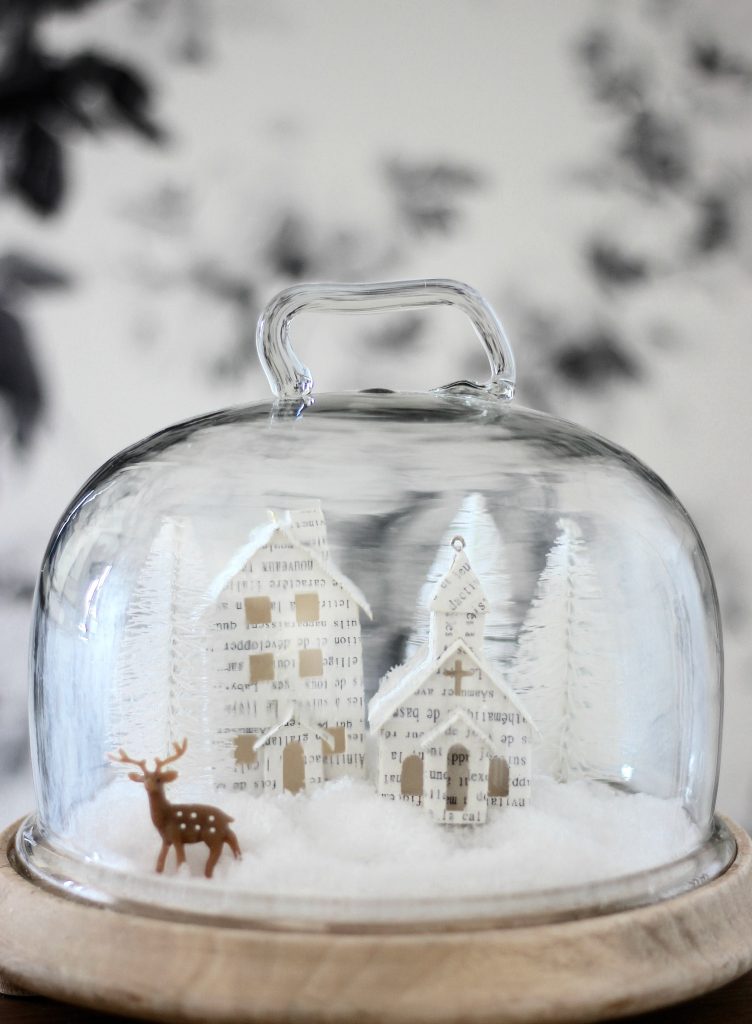 This is a small domed cheese board I picked up at HomeGoods earlier this year. The dome is hand blown. I found these cute paper house ornaments at Kmart of all places and added some Dollar Tree white bottle brush trees, and a tiny deer that I got at 70% off at AC Moore. Make a base of fluffy faux snow and add any tiny houses, they are everywhere this year, and some mini trees, etc. For a small cloche like this, look at ornaments because they are the perfect size.

This one is from last year. I used these little woodland animals and a paper Christmas tree under my large domed cloche (the one in the first picture here). I used the wooden base of my three tiered stand for this one.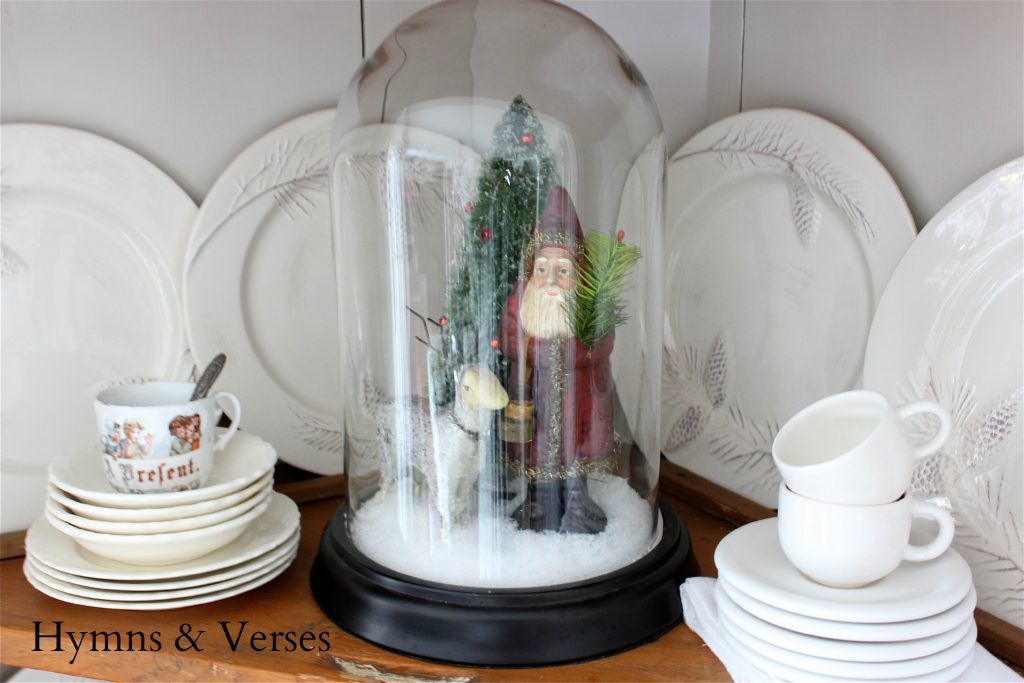 This one is from my very first Christmas tour! It's the tall Pottery Barn cloche and this time I used a small vintage look santa, sheep and bottle brush tree.

This is one of my all time favorites. I used my large cloche again for this. The base is a pewter serving plate and I put a wreath around the base (you can see a bit of it in the back reflection. Then I popped this tiny footed planter in the middle of the pewter plate. I filled the planter with some faux grass and then popped the little silver bird into it. Then I used silver Christmas ornaments in a variety of sizes to fill around the base of the planter. It makes a statement, but was super easy!

This is another fun thing you can do if your cloche has a knob handle. Tie something around the handle. Here I tied a vintage skeleton key to the handle with some satin ribbon. You could use any small ornament. I hope that I've inspired you to bring out that domed cheese board, glass domed cake stand, large glass jar, etc. Have fun!