It's harvest season and that means the local farmer's market is full to the brim with fresh produce! And, soon there will be pumpkins too! Lately I've been so inspired by beautiful tablescapes created with farmer's market produce. If you don't live in an area with a farmer's market, a grocery store has everything you need too! It's often inexpensive and a fun way to set a natural table for any occasion!
Apples
This apple and seeded eucalyptus tablescape by Julie Blanner is stunning!
Pears
Love this pretty fall tablescape by Jennifer of Dear Lillie.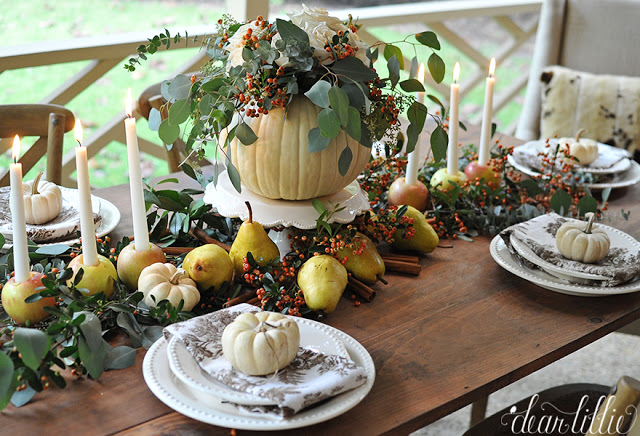 Citrus
And, how about this pretty satsuma mandarin orange tablescape by Annabode + Co.
Lemons
Lemons have been hot in home decor this summer – well at least on Instagram!! And, this was my favorite lemon tablescape by Liz Marie of Liz Marie Blog.
Pumpkins
How adorable is this mini pumpkin place card by Celebrating Everyday Life with Jennifer Carroll!
Radish
Karin Lidbeck is an artist! If you want to be inspired, her website is a must! She styles for some of our favorite home decor magazines and has an amazing portfolio of design work. This radish centerpiece is to die for!
Pomegranate
My blog friend Julia from Cuckoo for Design hits it out of the park with this fall tablescape!
Cabbage & Kale
Wow – I love this natural centerpiece using cabbage, kale, pumpkins, and gourds! This is another design by Karin Lidbeck for The Daily Basics.
Corn
This one I recognized as soon as I saw it! It's from an old issue of Southern Living magazine. Before the days of Pinterest, I ripped pages from my favorite magazines for inspiration and this was one that found it's way into my home decor binder! I did replicate this look one Thanksgiving, but it was before my blogging days! The indian corn centerpiece is easy to make and a natural statement piece! Also notice the nuts in the wooden bowls with a pillar candle in the center! Love this classic look!
Walnuts
So, I had to include one of my own here! I have used spray painted gold and silver metallic walnuts often in my decor and I used gold ones in this cornucopia tablescape from a few years ago!
Artichoke
Yvonne from Stone Gable Blog, sets the prettiest tables! This hydrangea and artichoke tablescape goes waaaaay back into her blog archives from 2010! But, don't you think the style is "on point" for 2017!
Are you inspired? I hope so! You know that I love to decorate with natural elements and these images have truly inspired me! My mind is spinning thinking of how I will set my fall table this year!
Here's another tablescape of mine using apples!