If you read many home decor blogs, you know that bloggers love to shop at Ikea. The reason is simple – the prices are amazing! Today, I want to show you some of my favorite Ikea finds and then some things that are on my Ikea wish list.
Emmie Ruta Bedding
You can't beat the price of an Ikea duvet cover set. This gray buffalo check Emmie Ruta queen duvet cover and two matching shams is just $29.99! And, the quality is very good.
I liked the print so much that I got a second set and used the fabric to cover our upholstered headboard.
Since we are already in the bedroom, let's talk about another favorite Ikea find.
Ikea Rast Dresser
Our bedroom nightstands are $35 Ikea Rast dressers. I don't see them on Ikea's website, so I hope they haven't discontinued the Rast. Why, it's a great basic piece of solid wood furniture that hundreds of DIY'ers have transformed to make their own (the Ikea Rast Hack)! Just search Ikea Rast Hack on Pinterest and you will see what I mean!!! Here's the basic Ikea Rast.
And, here's my own Ikea Rast Hack. You can find the tutorial HERE.
Hermine Throw
As seen in the photo above, the Hermine throw is just perfect for fall! I love the mix of ivory, tan, gold, brown, and gray tones and it's soft with blend of acrylic and 20% wool.
Henriksdal Chair and Long Slipcover
If you are looking for a solid Parson's style chair at a great price point, the Henriksdal is a great choice. The chair comes with a white slipcover for $69. I purchased the long gray check slipcovers separately for $29 each. Ikea no longer sells the long gray check slipcovers, but they now have a dark gray, light gray, pink, white, and yellow check. I'd like to eventually get the long covers in light gray and white, because you know that I like to change things up when I can!
Ektorp Sofa
You know we bloggers do love a white slipcovered sofa! And, quite a few of us have this exact one – the Ektorp. It is very similar to Pottery Barn's basic series sofa for much less – The Ektorp is just $379.00! Where else can you buy a sofa for that price? Now, when I purchased my Ektorp the white slipcover came with it for the $379.00 price. Currently, the $379.00 version comes with a light beige cover called Lofallet beige. To purchase the sofa with the new white Vittaryd slipcover that Ikea sells, it is $499.00.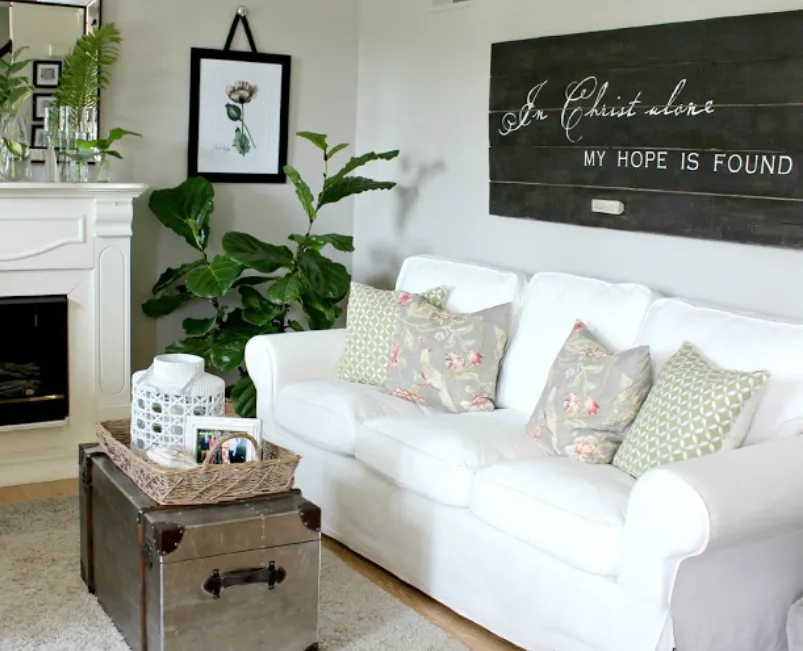 Ribba Frames
If you are looking for a classic black or white frame that comes with a white pre-cut matte and also is available in various sizes, the Ribba frames are for you. Again, they are reasonably priced and the quality if very good. I used these frames in my gallery wall.
Tejn Rug
This faux sheepskin is so versatile and the price is right at $14.99.
Pillow Inserts & Pillow Covers
The Fjadrar pillow inserts are filled with duck feather. They come in three sizes: 26″ x 26″ for $9.99, 20″ x 20″ for $5.99, and a lumbar style 16″ x 26″ for $6.99! If you've priced pillow forms or inserts, you know what a bargain this is!
As for actual pillow covers, here are some of the ones I've purchased. The Vigdis is a 20″ x 20″ pillow cover with the feel of linen for just $7.00. Love it! I have two of these in green and you will see them on my screen porch next week. The Gurli Sommar is also a 20″ x 20″ pillow cover that is a heavy weight cotton and it is only $4.00! I have two Gurli covers in light pink. You saw the pillow covers in my summer living room last week. One side features a bold white dot and the other side is a smaller, all over dot pattern with gold centers. I love the versatility of this pillow cover. Again, a 20″ x 20″ pillow cover with cute tie closures for only $6.00.
And, if you are looking for some cute farmhouse style pillow covers, the Smanate covers are for you. They are a gray and white check, 20″ x 20″, for $6.00. I like to sew and make my own pillow covers, but if I see a cover at Ikea that I like, you bet I'm buying it. 1. You can't beat the prices! I can't make my own covers for the price they sell theirs! 2. The quality is excellent. The fabrics are top notch and finished beautifully with enclosed zippers or sweet ties like the ones above.
Vivan Curtains
If you are looking for a semi-sheer, lightweight curtain, this is my pick! If you don't want a formal white drape, these Vivan curtains are great. They hang nicely, you can gather them on your curtain rod like I did, or pinch pleat them. The price is amazing at only $9.99 for a pair of 57″ x 98″ curtains.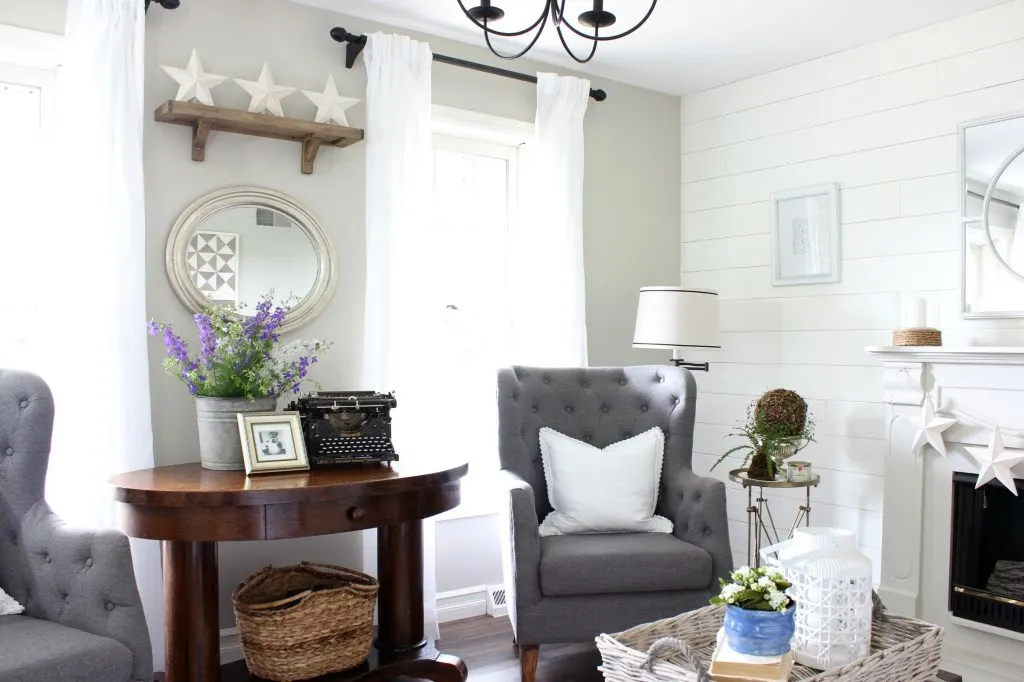 Salladskal Watering Can
I just love this watering can! It's a great size, is functional, and looks great too! I admit that I didn't really "need" a new watering can, when I picked this up at Ikea. I already had two vintage watering cans and a few plastic ones, but I really liked the look of this black Salladskal watering can with the wood handle and knew I would use it on my porch! It's a decor element that is useful too!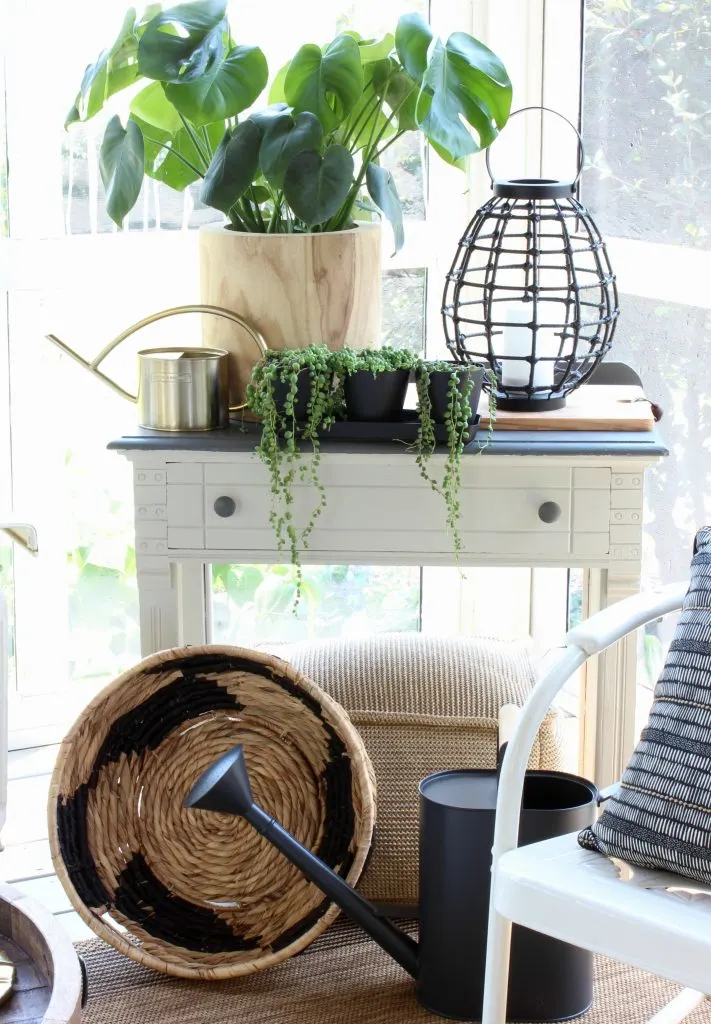 Fejka Faux Potted Plants
If you'd like to add some plants into your interior decor, but don't have a green thumb or there just isn't the right lighting where you want to put you plant (like a bathroom with low light), then these small Fejka faux potted plants what you need. They come in different varieties and I think they change up the styles from year to year. Pop them into a pretty pot and you've got the green you've been craving and you don't need to worry about watering them! Oh, and did I mention, they are just $3.99 each!
My Ikea Wish List
I could go on and share even more, but this post would be way too long! So, to close out, here are a few items on my Ikea wish list!
The Domsjo double bowl apron sink
I hope you enjoyed this post of my favorite Ikea finds and that you find it useful for planning your next shopping trip to Ikea!