Today I'm sharing a fun giveaway for a 5 foot, faux fiddle leaf fig tree – just like I have in my living room!
*This post contains some affiliate links. Please see my full disclosure statement HERE.
Happy Wednesday! Today I'm so excited because I have a great giveaway for you! You know how much I love my faux fiddle leaf fig tree in my living room! Well, today, I have one just like it to give away to one lucky reader!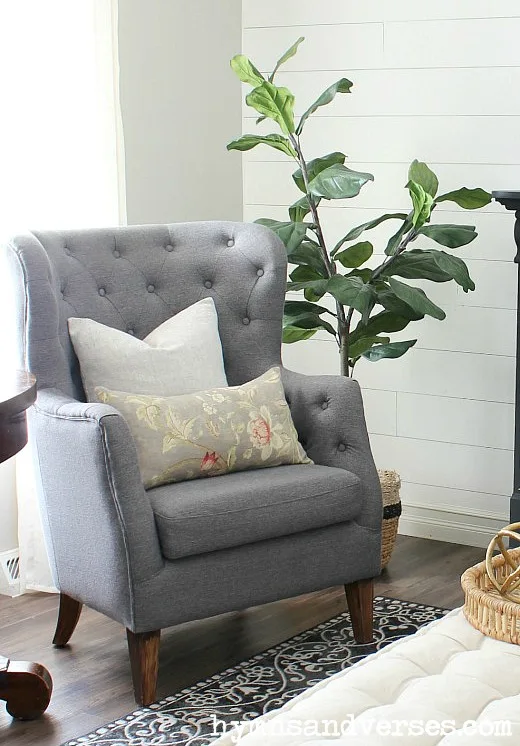 live vs. Faux
I've had several live fiddle leaf fig plants from both big box stores and the local greenhouse over the past few years. All seemed to do okay for a while. One even grew new leaves, and I thought I had mastered the care of a fiddle leaf fig. But then I moved it and that was the beginning of the end! The fiddle leaf fig does not like being moved! For all of the money I've spent trying to keep one of these plants alive, I should have just started with the next best thing – the faux!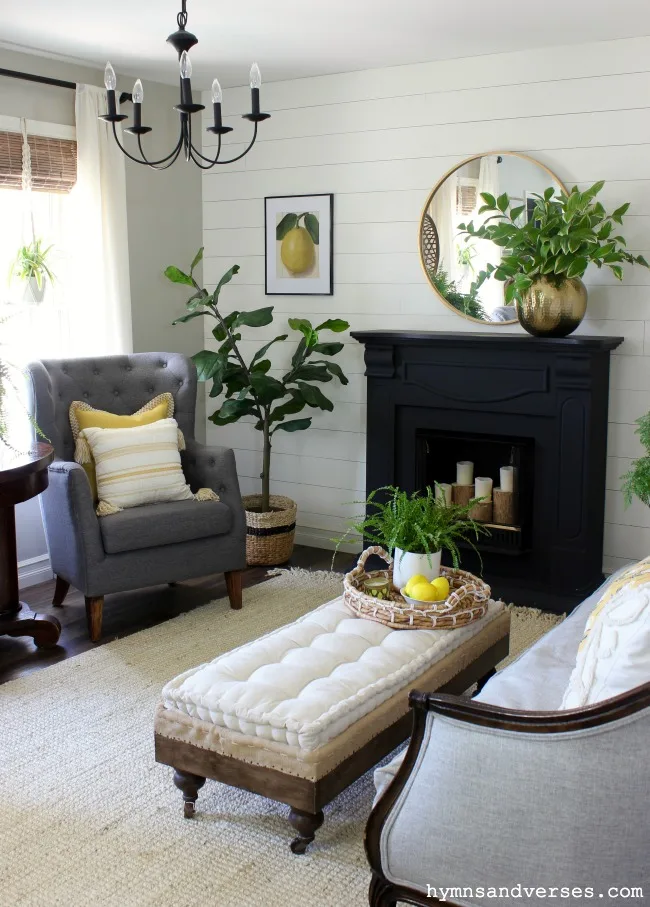 Faux plants don't care if I move them, I don't have to worry about a watering schedule, and, most importantly, I can't kill it!!! And, this faux looks pretty darn good! You can see where I compare it to a real fiddle leaf fig in THIS post. This is a 5 foot tree, and I still think for the low price of $58.50 it's great quality! The branches and leaves are bendable and you will need to take some time to fluff it up when it first arrives. This tree comes with a "tiny" 4″ pot. You really need to put it in a larger container, and I shared my tips for making it look even more realistic HERE.
As you can see, this plant looks good season after season! It's a decor purchase that I have never regretted or grown tired of! So, as a thank you, I decided to give away one of these faux fiddle leaf fig trees to one of you! To enter, just leave a comment below. I'd especially like to hear if you've ever had a fiddle leaf fig plant! And, as an extra entry, share this giveaway with your followers on facebook or instagram and let me know that you did in the comments. The giveaway will end on Sunday, August 11 at midnight. I'll contact the winner via email on Monday, August 12! Good Luck!!!