It's the first Saturday of the month and that means I'm joining my "Cozy Living" blogging friends to bring you some fresh inspiration for March! Today, my post is about a March 1st tradition that I have. Each year on March 1 one of my favorite, local greenhouse's opens its doors for the spring/summer season! And, each March 1, I'm always eager to walk into that sunny greenhouse and feel the new life growing there! Oh, it's good for the winter soul!!! I don't usually go intending to purchase anything. It's merely a chance to dream of the warmer days to come! Here are a few things that caught my eye on yesterday's visit!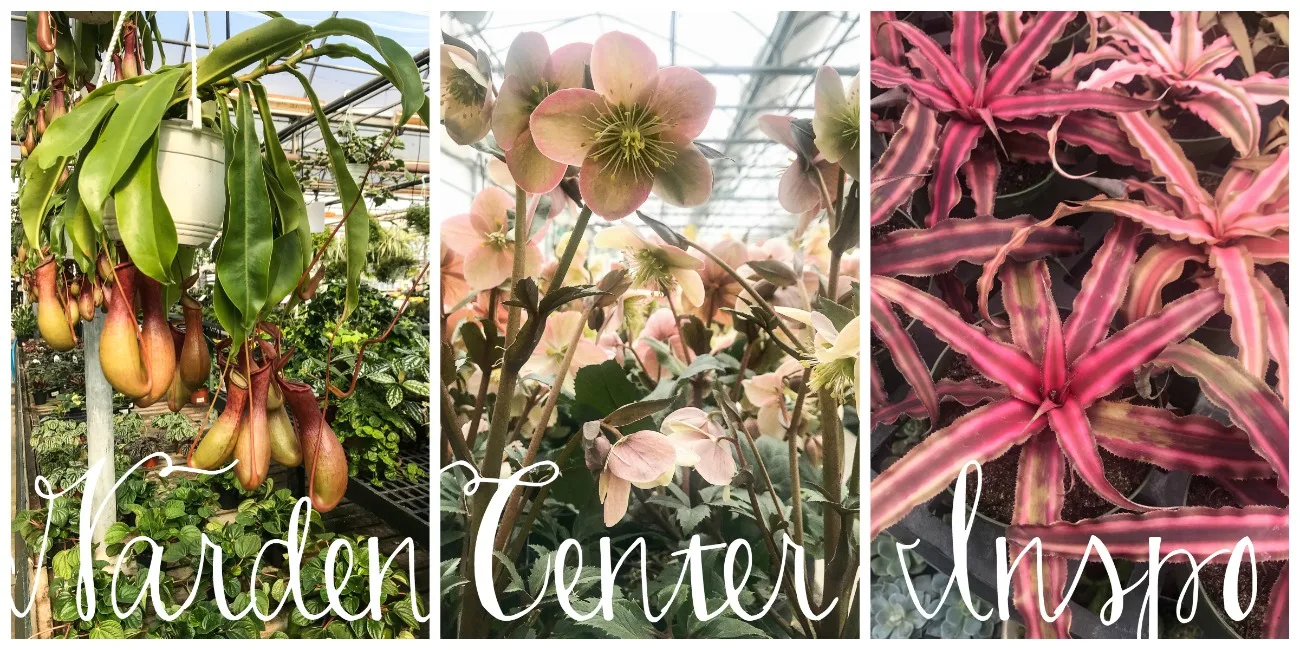 That first odd looking hanging plant's common name is a Pitcher Plant! Isn't it odd looking!!! It's a tropical plant, and I read that monkeys in the wild will sometimes drink water caught in the dangling pitchers! The middle photo is a Lenten Rose (Hellebore). It's a perennial plant that blooms very early in the spring, around the time of Lent. I have a deep purple Lenten Rose, but this variety with flowers that are a mix of pale pink, ivory and green; really caught my eye! And, the third photo is a cactus! I was drawn to it's unusual shape and stripes!
Peacock fern
Even though I didn't go with the intention of purchasing anything, I did bring home a few plants to breathe some fresh life into my home!I saw this plant sitting among some other hanging basket house plants. It was with some ferns, but it also reminded me of a moss plant that I have seen used in terrariums. And, guess what, I was right! It's called a Peacock Fern, or more commonly, Spike Moss (Selaginella). It's similar to a fern, but is a moss! Regardless, I thought it would look great with my vintage scale! What do you think?
The concrete bird is one of a pair that I have, and I often use one or both in my springtime decor. Using concrete decor items like small planters or statues, like this bird, is another way to bring the garden indoors. And, a bowl of moss balls (in this case faux) compliment the Spike Moss plant.
Are you like me and longing for spring too! Then, take a trip to your local greenhouse or garden centre to get inspired for spring. And, maybe even bring home a little plant that catches your eye! It's good for the winter soul!
A Garden Theme Movie
And, if you are looking for a good movie to watch this weekend, I can highly recommend this one – This Beautiful Fantastic: This movie is set against the backdrop of a beautiful London garden. A contemporary fairy tale that centers on the unlikely friendship between a reclusive young woman, who dreams of writing children's books, and a cranky widower. Facing eviction over her neglected garden, Bella (Jessica Brown Findlay) meets her grumpy, loveless, next-door neighbor (Tom Wilkinson), who happens to be an amazing horticulturalist.
And, here are a few more spring projects you might like:
And, be sure to visit my "cozy living" blogging friends for more Spring inspiration!
Vinyet Etc. / Duke Manor Farmhouse / Sincerely Marie Designs / Finding Silver Pennies
Creative Cain Cabin / Making It In the Mountains / Hymns and Verses / Saw, Nail and Paint / Town and Country Living