To update my home for spring this year, I decided to bring in some green decor accents. Green is a color associated with spring's new life! We see our grass turning from brown to green almost before our eyes. And, green shoots from spring bulbs are popping through the earth. So, it seems only natural to bring that shade inside!
Welcome to my Spring Home Tour! This seasonal tour is hosted by Marty of A Stroll Through Life. If you are here visiting today from 11 Magnolia Lane, welcome! I always love to see Christy and Amy's tours! And, if you're new here, let me introduce myself. I'm Doreen and you'll find my home decor is an eclectic mix of vintage and newer pieces. Let's begin today's tour in the living room where I was inspired to incorporate some green decor accents that would accentuate the green shiplap wall.
*This post contains some affiliate links. Please see my full disclosure statement.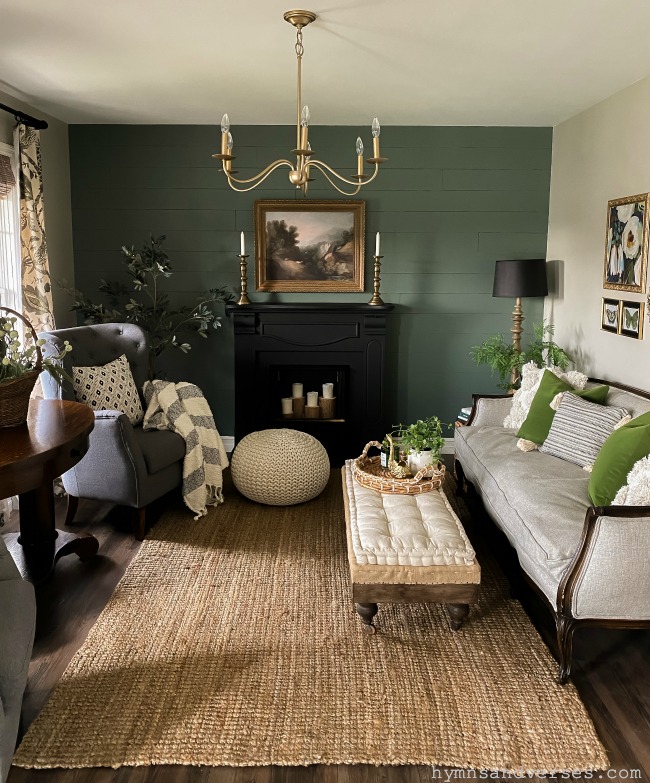 My favorite accent here is the vintage frame and print above the fireplace. I found the frame from a seller on Facebook Marketplace. The detail on this wood frame is just beautiful. And, the vintage print of sheep on a hillside works so well with the green shiplap wall.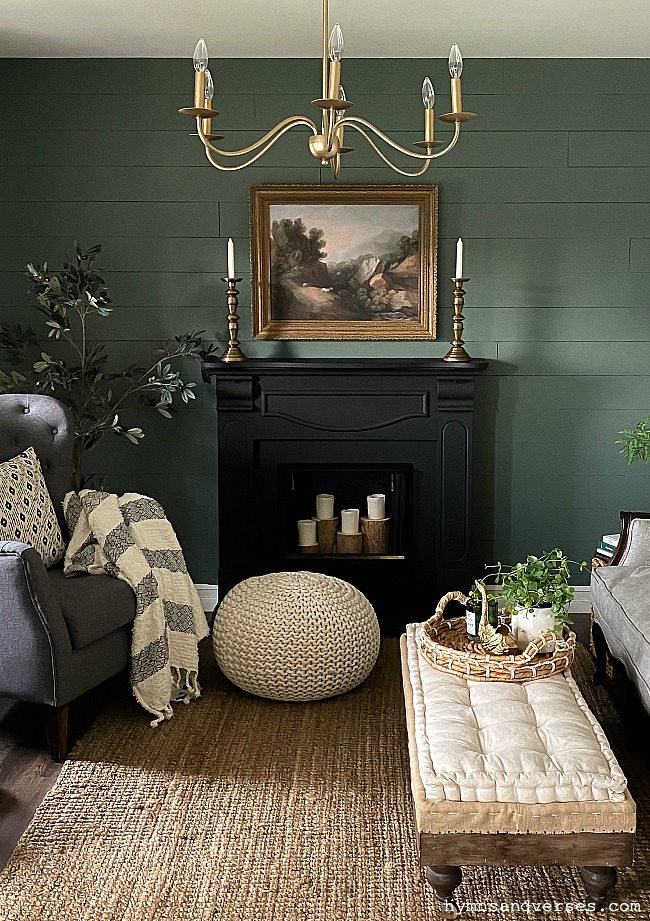 Another recent vintage find from Facebook Marketplace is this mirror that I hung above the library table. The glass is somewhat distorted and there's some etching to the mirror, but that's okay with me. And, did you notice the new curtains? I discovered this fabric on the Ballard Designs website and fell in love! The print is mainly gray tones with just a hint of green.
The basket on the library table is another recent vintage find. I found it at Goodwill for about $3. The pillow covers shown here from H & M Home. And, the pretty black and cream tasseled throw was a HomeGoods find!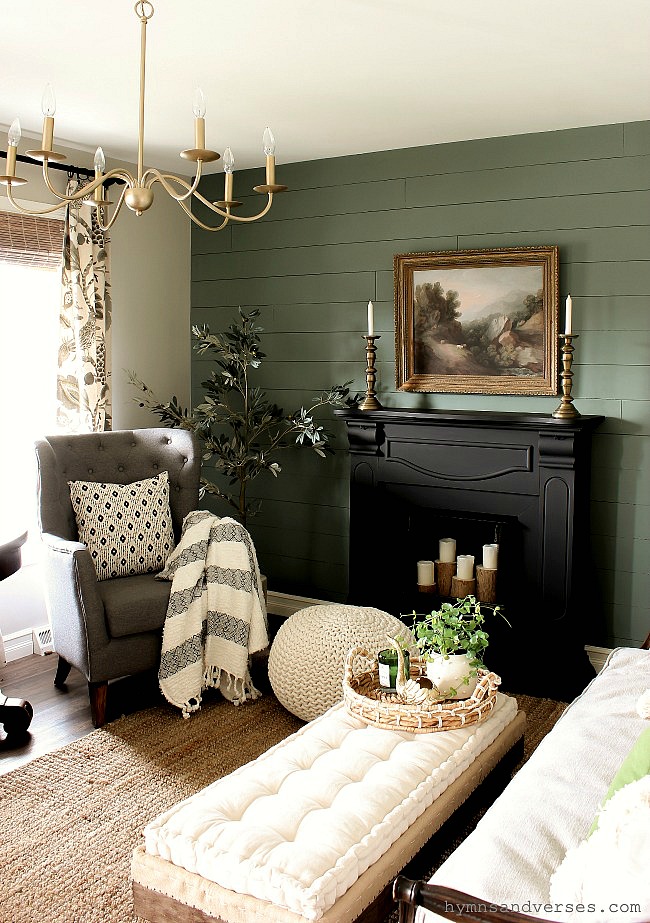 On the sofa, I also made the green velvet pillows with more fabric found at Ballard Designs. And these textured, shaggy dot pillows from Kirkland's are amazing!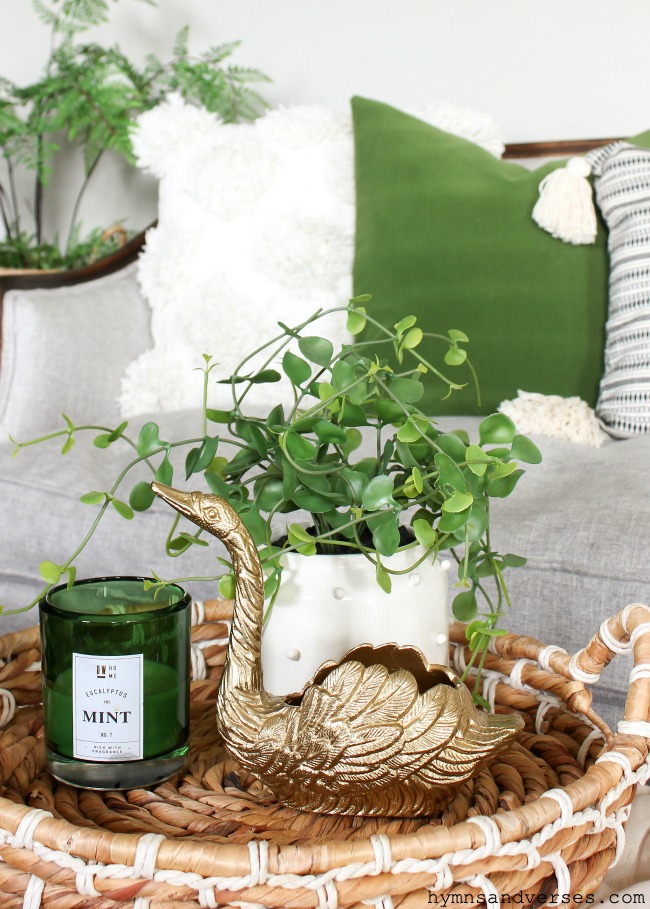 Dining Room and Kitchen

Now, let's head into the dining room and see what curtains I did hang there!

I've used these black and white plaid curtain panels in here before. I actually made them from a coverlet from Ikea. The fabric is heavy and woven, so I didn't bother with a lining for them. And, there's been another change here. We got a new dining room table and chairs. Well, new to us! The table is from Pottery Barn, but it's another Facebook Marketplace find! It was just $300 and is in excellent shape. I'm a little unsure about the tone of the wood. I may strip it or maybe just paint the legs? I'm not sure yet.

The main reason for the purchase was that with a growing family, we needed a table that could expand with a leaf. And, this one does. The chairs didn't come with the table. I knew I wanted a ladder back style chair, so I searched Facebook Marketplace until I found a set of six (it took me checking daily, multiple times a day, for about three weeks). These chairs are solid wood and so nice and heavy. Both the table and chairs would have been way out of our price range if they were purchased new. But, the entire set, slightly used, was under $500!

I brought in some new plants for the brass tray on the kitchen counter. These small green decor accents are all the kitchen needed to be ready for spring.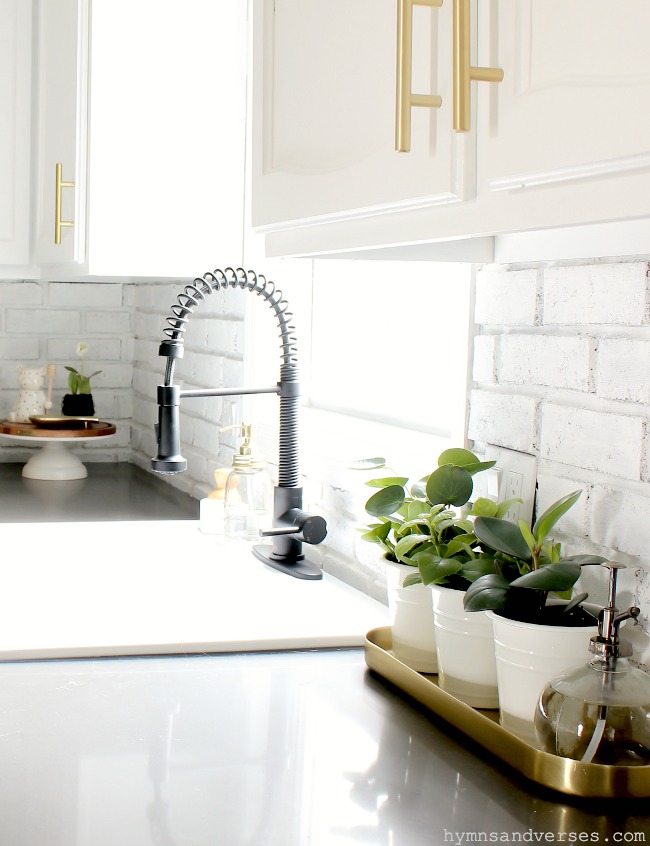 These hydrangeas have lasted for over a week now! My secret to keeping them fresh for so long – just change the water every few days and if the blooms start to droop, give the stems a fresh cut.

This peg rail shelf was an easy DIY project that adds character to the space.

Thanks for stopping by to see my home today!. I hope that these spring home tours will be a welcome distraction from everything that is happening in the world today. Next up on today's schedule is Ashley from Modern Glam.
spring home tour schedule
Turn off the news, grab a cup of coffee or tea, and turn on some music to lift your spirits. Then, visit Monday through Wednesday's tours linked below.
Monday

A Stroll Thru Life – Remodelando La Casa – Cuckoo4Design – Far Above Rubies – Southern Hospitality – Duke Manor Farm
Tuesday Lineup

House By Hoff – Pink Peppermint Design – ZDesign At Home – Taryn Whiteaker – Inspiration For Moms – Decor To Adore
Wednesday

Cassie Bustamante – 11 Magnolia Lane – Hymns &amp Verses – Modern Glam – Thrifty & Chic – Grace In My Space
Thursday

Our Southern Home – My 100 Year Old Home – Sanctuary Home Decor – Seeking Lavender Lane – Southern State Of Mind – StoneGable –
Friday

Thistlewood Farms – White Arrows Home – The Woodgrain Cottage – Life On Cedar Lane – Follow The Yellow Brick Home – Making Home Base –