Here's a little Sunday inspiration and printable from one of my favorite hymns – His Eye is on the Sparrow, which is a classic Christian hymn.
Dear friends. It's been quite a week! I've found myself feeling anxious with everything that is happening. But, I am so glad that I have a Savior who cares for me and my anxieties. And, he cares for you too. Trust Him. I wanted to share the hymn that has been singing along in my head this week – His Eye is on the Sparrow.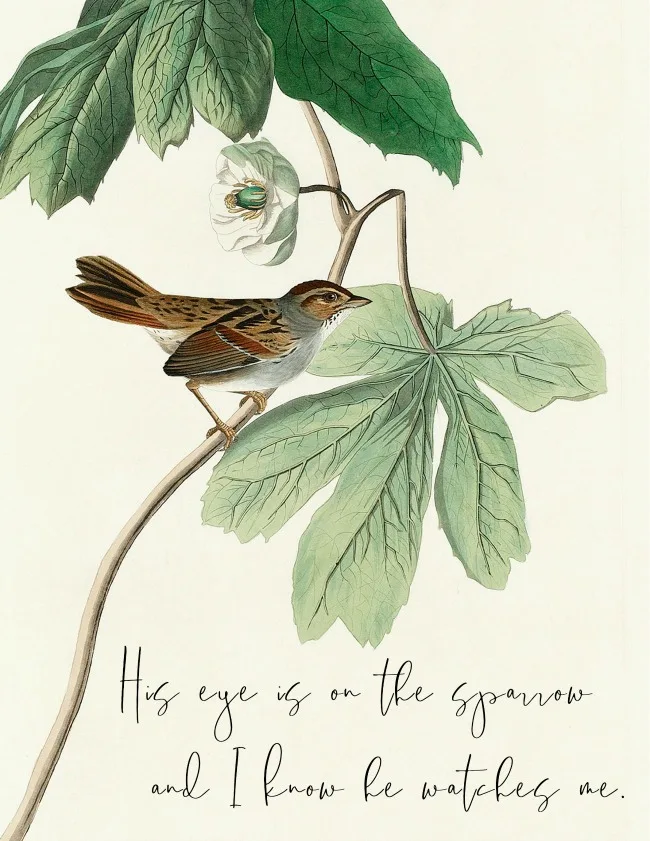 The Story Behind the Hymn – His Eye is On The Sparrow
This song was written by Civilla D. Martin in 1905. Civilla was married to Dr. William Martin, a evangelist. While in Elmira, New York, in the spring of 1905, they couple becam friends with Mr. and Mrs. Doolittle. Mr. Doolittle had been bedridden for 20 years and her husband was crippled in a wheelchair.
Civilla wrote: "Despite their afflictions, they lived happy Christian lives, bringing inspiration and comfort to all who knew them. One day, while we were visiting the Doolittles, my husband commented on their bright hopefulness and asked them for the secret of it. Mrs. Doolittle's reply was simple: 'His eye is on the sparrow, and I know he watches me.' The beauty of this simple expression of boundless faith gripped the hearts and fired the imagination of Dr. Martin and me. The song 'His Eye is on the Sparrow' was the outcome of that experience."
His Eye is on the Sparrow Hymn Lyrics
"Why should I feel discouraged,
Why should the shadows come,
Why should my heart be lonely,
And long for heaven and home?
When Jesus is my portion,
My constant Friend is He,
HIs eye is on the sparrow,
And I know He watches me."
Chorus:
"I sing because I'm happy.
I sing because I'm free,
For His eye is on the sparrow,
And I know He watches me."
The Sparrow in the Book of Matthew
The sparrow bird is mentioned throughout the Book of Matthew several times alone, and many types in the Bible as a whole.
"Are not two sparrows sold for a penny? And not one of them will fall to the ground apart from your Father. But even the hairs of your head are all numbered. Fear not, therefore; you are of more value than many sparrows." Matthew 10:31
Fear not – God is in control! Have a safe week my friends. And, will continue to share here, and I hope my posts will provide some distraction from all that is happening in our world today. On Wednesday, I'll be sharing my Spring Home Tour. There have been a lot of changes since I last shared some of these spaces, so I hope you'll stop by on Wednesday to see what I've been up to.
You can download and print the image above from this page because want it to be accessible for everyone who stops by! But, I do have another printable featuring His Eye is on the Sparrow lyrics available in my Free Printable Library.