It's that time of year when I'm scouring the online and local retails stores and small shops for Christmas decor inspiration! If you've been following me for a while, you know that H & M is one of my favorite spots to find affordable and quality pillow covers and small decor. So, today I wanted to share some of my pics from the H & M Holiday Home collection for 2019!
I've divided my pics into four categories, because these seem to be the predominant colors/themes being offered this year for the H & M Holiday collection – Winter Toile, Reindeer, Green, Red, and Black and Gold. The images in the collage photos are numbered. Below each photo collage will be more about each numbered item with a link to item on the H & M website.
*This post contains some affiliate links for your convenience. Please see my full disclosure statement HERE.
I also wanted to mention that there is currently a 20% off sale on everything at H & M if you are an H & M Loyalty member. It's a free program where you earn points and there are discounts for members only, like this weekend. So, you can sign up for the program and get any of these items for 20% this weekend.
H & M Holiday
Winter Toile
I named this winter toile and it's my absolute favorite design from the H & M Holiday Collection! You know I love black and white, and I also love a good toile print! This one with the winter trees and deer is lovely!
H & M Holiday
Reindeer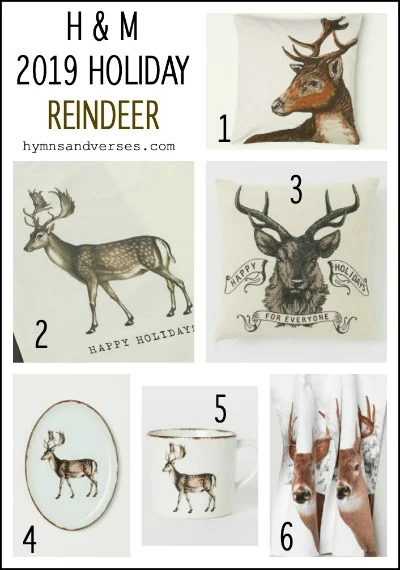 Reindeer Pillow Cover. I have this pillow cover from last year! And, I'll be using it again this year! It's so pretty and, again, the quality is amazing! This one is $9.99!
Set of 2 Tea Towels. This is a set of two cotton towels for $9.99. The one I'm showing is the reindeer image and the other one is plain. Use this cotton tea towel to make a banner by folding the top edge over 1 inch and sew. Put a dowel rod through and tie on some jute twine! Instant banner and great gift!
Stag Head Pillow Cover. This pillow cover is new this year! It would be great in a family room or den! It's a 20″ x 20″ and is 5.99! This also comes in a dark green!
Oval Plate. This is the oval plate for $5.99, but it also comes in a round dessert plate.
Mug. Matching reindeer mug for $5.99. Looking to put together a mug gift with hot cocoa or coffee, this one is really pretty!
Set of 2 Hand Towels. If you are having guests over, these pretty hand towels would be so pretty in your bathroom!
holiday GREEN
Merry Christmas Wreath Pillow Cover.Another great Christmas pillow. It's 20″ x 20″ and is $9.99.
Merry Christmas Wreath Burlap Tree Mat. This isn't a tree skirt, but a tree mat (it goes under your tree). I've seen other bloggers use the H&M tree mats as wall hangings! If you use it as a tree mat, just know that your tree will cover up the words. It's 33 1/4″ round and is $17.99!
Pine Pillow Cover. This pine branch pillow cover is similar to one I got at H&M a few years ago. It's a classic winter design that will last past the holidays! This one is also $9.99!
Green and Gold Glass Candlestick. I'm a sucker for green and gold, so I love this little candlestick! It is $12.99 and also comes in red and clear glass.
Paper Honeycomb ornaments. I'm loving the resurgence of the old fashioned, paper honeycomb ornaments! H&M has several options in different colors! This is just one of those options in green!
Green Star Dessert Plate. Another pretty dessert plate to add to your holiday table! It also comes in white and gold and is $5.99.
Holiday RED
BLACK AND GOLD
So, what do you think of the H & M Holiday offerings? I know I always find a few things each year that I want for my home! I haven't completely decided on what colors I'm using this year in my holiday decor, but I try to keep things classic, so any of these categories would work in my home! Please let me know if you like seeing this kind of post! I love sharing good deals, but these posts take quite a bit of time! If it's not something you like, then I won't share them! But, if you do like getting a heads up on a great sale, then I will continue to share them! I hope you are having a great weekend! I'll be back next week!