Looking for some Happy Thanksgiving blessings that you can use to celebrate the holiday with family and friends? We've got you covered!
As the fall season ushers in a time of gratitude and togetherness, Thanksgiving takes center stage, offering us an opportunity to express appreciation for life's blessings. Whether you're surrounded by family, friends, or both, infusing your holiday celebrations with meaningful traditions can make the occasion even more memorable.
To help you make this Thanksgiving truly special, we've compiled a selection of heartfelt blessings that are ready to be shared around your table. Whether you lean towards tradition, faith, or a touch of humor, our carefully curated list provides a range of blessings that cater to your unique gathering.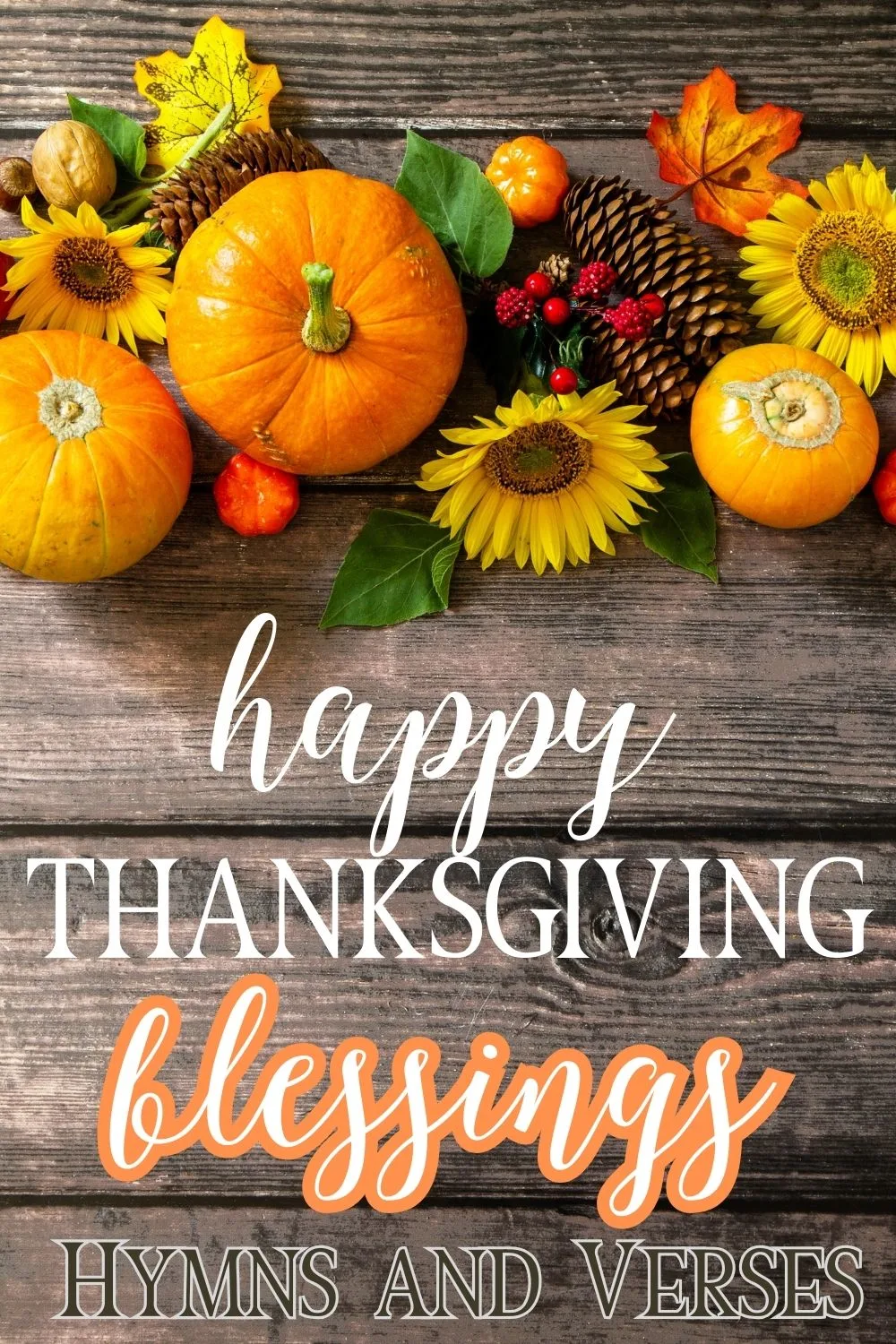 Let these blessings spark conversations, deepen connections, and remind everyone of the richness in each moment. Choose the blessings that resonate with you, personalize them to your liking, and watch as they elevate your holiday celebrations into cherished memories that will be shared for years to come.
Happy Thanksgiving Blessings
Traditional Blessing: May this Thanksgiving be a time of warmth and togetherness, where we gather with loved ones to share gratitude for the blessings we've received. May our hearts be filled with joy and our homes with laughter.
Bountiful Blessing: As we gather around the table filled with an abundance of food on this Thanksgiving, let us also remember the abundance of love and blessings in our lives. May we be grateful for the simple joys, the cherished moments, and the delicious food.
Family and Friends Blessing: As family and friends come together on this special day, may the bonds that unite us grow even stronger. May the spirit of gratitude fill our hearts and create lasting memories that we'll treasure forever.
Nature's Blessing: In this season of harvest, we give thanks for the Earth's bounty that sustains us. May we find inspiration in the beauty of nature and remember to care for our planet so that future generations can enjoy its gifts.
Generosity Blessing: On this Thanksgiving, may our hearts be open to both giving and receiving. Let us find joy in sharing our blessings with others and extend a helping hand to those in need, spreading kindness and compassion.
Journey of Gratitude: As we reflect upon the past year and the roads we've traveled, may we appreciate the lessons learned and the growth we've experienced. May Thanksgiving be a reminder to be thankful for the journey itself.
Warmth and Comfort Blessing: In the cozy embrace of our homes and the company of loved ones, may we find comfort and contentment. Let us be grateful for the shelter, love, and moments of joy that surround us.
Harmony Blessing: Just as the varied ingredients come together to create a delicious feast, may the diverse individuals in our lives come together in harmony. May our differences be a source of richness and understanding.
Heartfelt Gratitude: With hearts full of appreciation, we gather to celebrate Thanksgiving. May our thankfulness be sincere and our spirits lifted as we take a moment to acknowledge the many blessings in our lives.
Continued Blessings: As Thanksgiving marks the beginning of the holiday season, may the spirit of gratitude linger in our hearts. May our days be filled with love, laughter, and countless reasons to give thanks.
Harvest Blessing: As we gather the fruits of the earth in celebration, may we also gather the joys of friendship, the warmth of family, and the blessings of love. May this Thanksgiving season bring abundance to our lives.
Unity Blessing: On this day of gratitude, may our hearts beat as one, linked by the threads of appreciation and thankfulness. Let us embrace the beauty of unity and celebrate the ties that bind us.
Season's Blessing: With autumn's embrace, we gather around tables adorned with love and care. May the colors of the season inspire us to recognize the vibrant tapestry of our lives and the moments we hold dear.
Kindness Blessing: In the spirit of Thanksgiving, may acts of kindness and generosity multiply like fallen leaves, spreading joy and warmth wherever they may land. Let us be a source of goodness in the lives of others.
Simplicity Blessing: In the midst of the festive feast, may we also find joy in life's simple pleasures – the laughter of children, the company of loved ones, and the comfort of shared stories. May our hearts be attuned to life's gentle joys.
Dreams Blessing: As we gather to give thanks, let us also nurture our dreams and aspirations. May the spirit of Thanksgiving fuel our determination and remind us of the limitless potential within us.
Gratitude Blessing: Let us not only count our blessings but also remember to bless those around us with kind words, open hearts, and genuine smiles. May our gratitude be felt not just in our words but in our actions.
Caring Blessing: As we break bread and share laughter, may we also extend our care to those who are alone or in need. Let our compassion be a testament to the true spirit of Thanksgiving.
Time Blessing: Time, like the changing seasons, moves swiftly. On this Thanksgiving, let us cherish the time spent with loved ones, for these moments become cherished memories that warm our hearts.
Hopeful Blessing: With each new Thanksgiving, we are reminded that hope is a constant companion. May our hearts be filled with optimism, and may the future bring us even more reasons to be thankful.
Faith-Based Happy Thanksgiving Blessings
Abundant Blessing: Heavenly Father, as we gather around this table, we thank you for the abundance of blessings you've poured into our lives. Just as we feast on the gifts of this season, may our hearts feast on the joy of your presence and the love you've shown us.
Harvest of Faith: As we celebrate the harvest, remind us of the seeds of faith you've sown within us. Just as the earth brings forth its bounty, may our lives bear fruit that honors you, sharing the message of your love and grace.
Grateful Hearts: On this day of thanks, we offer you our gratitude for the precious gift of family, for the nourishment before us, and for your unwavering grace. May our hearts be filled with thanksgiving, echoing the psalmist's words, "Give thanks to the Lord, for He is good; His love endures forever."
Unity in Christ: Lord Jesus, as we come together in your name, bless our fellowship with unity and peace. Let our conversations be seasoned with grace and our hearts aligned with Your will. Thank you for being the center of our gathering.
Bread of Life: Gracious God, as we partake of this meal, we remember your sacrifice—the ultimate expression of love. May this bread and feast remind us of the sustenance you provide for our souls, and may we share your nourishment with others.
Thankful Hearts, Joyful Voices: As we lift our voices in praise and thanksgiving, let our gratitude be an offering that pleases you. May our hearts overflow with joy, knowing that your love and mercy are unending.
Eternal Gratitude: As we gather today, we remember your promise of eternal life through Christ. With hearts full of gratitude, we anticipate the day when we will give thanks in your presence forever. Until then, may our lives be a testament to your grace.
Faithful Provision: Almighty God, you are our Provider in all seasons. As we celebrate your goodness this Thanksgiving, we acknowledge that every good and perfect gift comes from above. May our faith in Your provision grow stronger with each passing day.
Precious Moments: Heavenly Father, in the midst of the festivities, help us pause and treasure these moments with our loved ones. Thank You for the gift of family, for the laughter, and for the memories we create together.
Sharing God's Love: Gracious Savior, just as you taught us to love one another, may this Thanksgiving be an opportunity for us to share your love with those around us. Let our kindness and compassion reflect your heart.
God's Unfailing Love: As we come together to give thanks, we are reminded of your unending love and faithfulness. Just as you provide for the birds of the air and the lilies of the field, we trust in your provision for our lives. Thank you for the blessings that flow from your gracious hand.
Table of Fellowship: As we gather around this table, we remember the fellowship you shared with your disciples. Bless our time together with your presence, and may our conversations be seasoned with encouragement and love, reflecting your heart for community.
Faith as Small as a Mustard Seed: Heavenly Father, your word tells us that faith as small as a mustard seed can move mountains. On this day of thanksgiving, we lift up our hearts in faith, trusting in Your plans and purposes for our lives. May our gratitude be a testament to our unwavering faith in You.
Rooted in Gratitude: Like trees planted by streams of water, our lives are rooted in gratitude for your goodness. As we celebrate this Thanksgiving, may our hearts remain firmly planted in your word, drawing strength and nourishment from your truth.
Living Sacrifices of Thankfulness: Lord, as we offer our thanks to you, may our lives also be living sacrifices of praise. Just as you gave your all for us, may we continually offer our talents, time, and resources to serve others and bring glory to your name.
Instruments of Peace: In a world longing for peace, let our hearts be instruments of your peace. As we gather in gratitude, may we carry your message of reconciliation, forgiveness, and love to those we encounter, bringing healing to broken relationships.
Hearts Overflowing with Worship: Heavenly Father, may our gratitude spill over into worship, for you are worthy of all honor and praise. With hearts full of thanksgiving, we offer our songs, prayers, and lives as a symphony of adoration to the One who deserves it all.
A Table of Compassion: Lord Jesus, just as you demonstrated compassion to the hungry and hurting, may our Thanksgiving table be a place of compassion and hospitality. Bless us with the sensitivity to share our blessings with those in need, embodying your heart for the marginalized.
Eyes Fixed on Eternity: As we give thanks for the blessings of this world, help us keep our eyes fixed on eternity. May our hearts long for the day when we will be in Your presence forever, free from pain and sorrow.
Living Testimonies of Grace: Heavenly Father, may our lives be living testimonies of your grace. As we gather in gratitude, may our words and actions reflect the transformation you've worked in our hearts, drawing others closer to your love and salvation.
Funny Friendsgiving Blessings
Turkey Time Blessing: As we gather around this feast, may our forks be swift, our appetites insatiable, and our waistbands forgiving. Cheers to indulging in the holiday spirit and embracing our inner turkey!
Pumpkin Spice Prayer: Lord, bless this gathering with enough pumpkin spice to power us through awkward family conversations, holiday shopping marathons, and all the selfies we'll take with our lattes. May our fall vibes be strong and our Tik Tok game on point.
Stuffing Gratitude: May our hearts be as stuffed as our bellies, and may our laughter be as abundant as the mashed potatoes. Here's to a Friendsgiving that's overflowing with good food, great company, and moments we'll remember forever.
Feast and Friendship: Lord, thank you for the delicious feast before us and for friends who are as quirky and wonderful as the mix of dishes on this table. May our joy be as boundless as our enthusiasm for seconds!
Thanksgiving Workout: As we dive into this feast, we offer thanks for the feast that follows — a workout to burn off all those delicious calories. May our post-Thanksgiving fitness routines be as dedicated as our pre-feast appetite.
Food Coma Blessing: Heavenly Father, bless this food that it may grant us sustenance, joy, and the ability to gracefully handle the impending food coma. Grant us the strength to nap without judgement!
Cranberry Chronicles: Lord, as we savor these cranberries, may our friendships be as tangy and delightful as the sweet and tart flavors mingling on our plates. May our bond be a mix that's as unique and unforgettable as this Friendsgiving.
Gratitude for Elastic Waistbands: Thank You for the invention of elastic waistbands, for they are a gift that allows us to enjoy this feast to the fullest without needing a game plan for unbuttoning our pants. Bless this stretchy miracle.
Dessert Delights: Lord, bless the dessert table with extra helpings of chocolate, whipped cream, and gooey goodness. May our dessert forks be as adventurous as our spirits and our laughter as sweet as the pies.
Leftover Love: As we feast today, we anticipate the true test of friendship: sharing leftovers. Lord, bless us with enough Tupperware containers and a sense of fairness as we divide the spoils of Friendsgiving.
Feel free to share these funny Thanksgiving blessings with your friends at your Friendsgiving celebration. Laughter is a wonderful way to create memorable and enjoyable moments together!