Are you looking for a unique gift for Mother's Day? Well, I've got a good one for you today! A kitchen colander herb garden!
Today's post is part of the monthly Cozy Living Series hosted by Jennifer of Town and Country Living. Cozy living is all about taking time to do the things you love! Anything that gives you a warm and cozy feeling! At the end of today's post, you'll find more cozy living ideas for the month of May from some of my blogging friends! I hope that you'll take some time to visit each one! We love visits from new readers, and we love comments even more!!
I put together these kitchen colander herb gardens and thought they looked so pretty and would be a great gift for Mother's Day! I used this set of two colanders from The Pioneer Woman Collection at Walmart. They are only available for in store purchase, but you can check to see if they are available in your store online. The description says they are plastic, but I'd say they are more like a melamine. But, most of all, aren't they the prettiest little colanders you ever did see!!! And, a set of two for under $10!!!
On my way home from Walmart, I popped by my local greenhouse and picked up a few herbs to plant in them. For the larger colander, I used all Italian themed spices: Basil, Oregano, and Italian Parsley.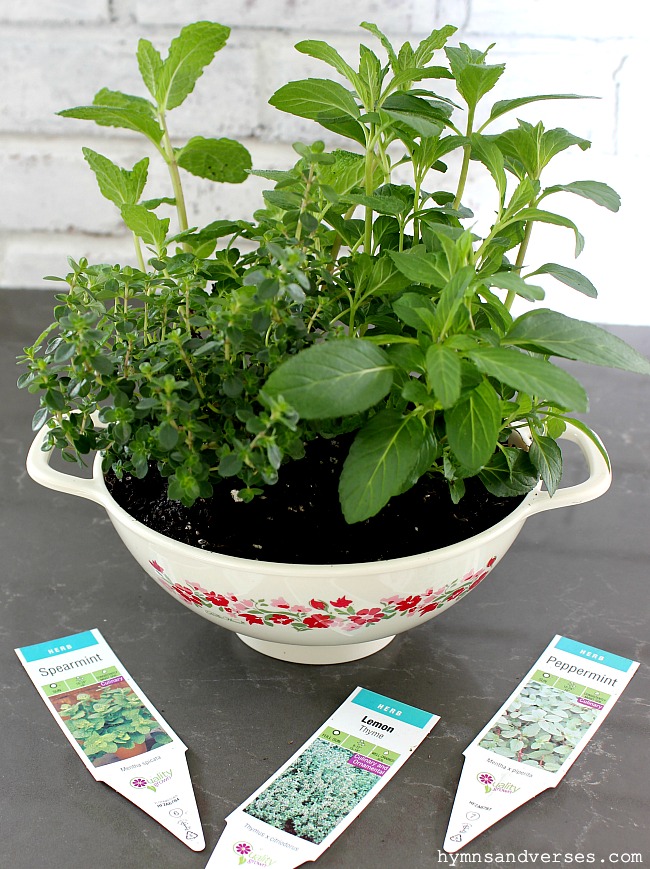 For the smaller colander, I used Mint and Lemon Thyme for tea. I chose these varieties because they are what I use the most. But, you can use any combination of herbs you like!

To keep the soil from coming out of the drain holes, I used paper coffee filters to line the bottom of each colander. Then I added just a handful of potting soil. I carefully loosened the roots and removed some of the soil before placing the plants into the colander. Once you have the plants arranged the way you want them, you can add more soil to fill in where needed. This entire project took me about 10 minutes! And, I think they look terrific!

Now, I really filled up the kitchen colanders with plants, but I think they would look great with less too!. And, small herb plants are inexpensive. I paid $2.99 for each herb. When the weather warms up here, I'll likely move the herbs outdoors or maybe onto the screen porch. But, for now, they will get plenty of sun from the kitchen window! The fresh plants add a bit of life to the kitchen and they smell amazing too! I will water them weekly in my sink. And, leave them there until they have finished draining! Then, they can go back to the kitchen counter or island!

I also wanted to mention that I think an enamel or vintage kitchen colander would also look so nice as a planter. Here are some options that I found on Amazon!
Thanks for stopping by today!

Here are the links to my friends' Cozy Living posts!

Creative Cain Cabin / It All Started with Paint / Vinyet Etc. / Hymns and Verses

Finding Silver Pennies / Duke Manor Farm / Town and Country Living