You've heard of turning trash into treasure. Well, today I have a real trash to treasure makeover! You see, I picked up a sad and worn out dresser for next to nothing. With a lot of time and elbow grease, and a few coats of paint, it got a new life! And, a photo of it ended up being in a national magazine, the 2015 Christmas Edition of Country Sampler.
Not bad considering how it looked when I brought it home! And, I eventually sold it for over $100. So, I'd say this makeover was well worth my time! You really need to see the before photos of this dresser to fully appreciate the condition it was in! And, you can see it, along with four more amazing posts being shared today for Home and Decor Encore!
This week Lori from The Stonybrook House is showing us how she painted her window boxes. Laura from Duke Manor Farm has some great Mother's Day brunch ideas! Cristina from RemodelaCasa is sharing 10 easy and economical ways to decorate your home. And, Christy from Our Southern Home has a Thrift Store Coffee Table Makeover!
To view each post, just click on the BOLD TITLE above each photo! And, please pin from the original blog post and not the photos on this page!
WELCOME TO HOME AND DECOR ENCORE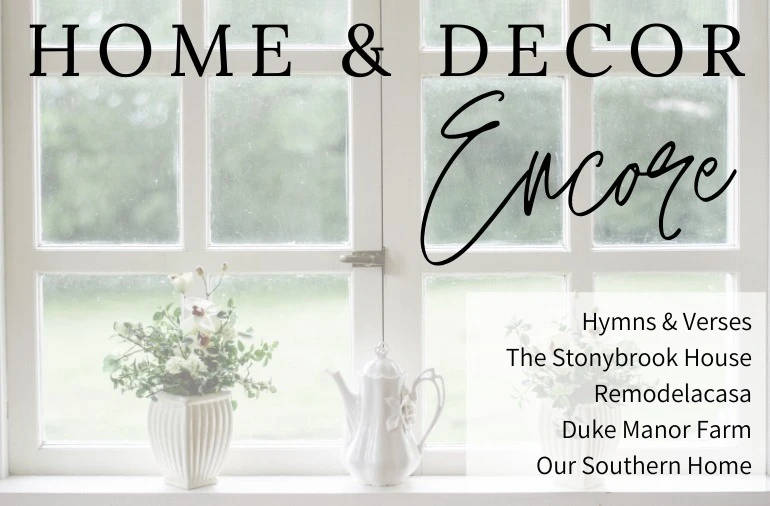 HYMNS & VERSES | COTTAGE STYLE DRESSER MAKEOVER
THE STONYBROOK HOUSE | PAINTED WINDOW BOXES
DUKE MANOR FARM | MOTHER'S DAY BRUNCH IDEAS
REMODELACASA | 10 EASY & ECONOMICAL WAYS TO DECORATE YOUR HOME
OUR SOUTHERN HOME | THRIFT STORE COFFEE TABLE MAKEOVER
I hope you'll take some time to visit each post! We really appreciate each and every visit to our blogs! And, if you have extra time, leave a comment! Thanks so much!