New Floors
Hi, friends! We had a wonderful weekend and I'll share more of what happened at the end of the post. But, today I'm so excited to share that we are replacing our floors – Yay! Who doesn't love new flooring! Like everyone who makes this investment in their home, we spent quite a bit of time doing our research. Hardwood would have been my pick – but it's also the most expensive option. I would say, choose hardwood if you are living in your forever home. We are doing upgrades on our home with the idea that we hope to move sometime in the next ten years. So, I didn't really want to make the hardwood investment in our home. The next option that most people look at is laminate flooring, which is what we have had for the past 15 years. It was the best option for us when we put that in. We had three little boys and dog. The laminate held up well, but the past couple of years it has really begun to show some wear. Also, at the time we installed the laminate, I liked the lighter shade; but not so much with my current decor. When we began looking for new flooring, we both thought we would end up with another laminate floor – because it is less expensive than hardwood or even composite hardwood. But, when we actually began looking at the laminates, I was less than impressed. I had thought the laminate selection would be better and improved from when we purchased ours 15 years ago. I expected to see more textured surfaces that looked more like hardwood. But, what I kept seeing was the same photocopied wood look, and I was getting frustrated. We were in yet another flooring store looking at their laminate selection and I was once again disappointed. We turned to leave the the store and then I saw it – a sample board of something that looked like hand-scraped hardwood. It had texture and I loved the look. It was a product called LVT – luxury vinyl tile or vinyl plank flooring.
Luxury Vinyl Plank Flooring
We came home with the sample board and we both knew that this was what we were looking for. Luxury vinyl plank is a vinyl product, but is nothing like the "linoleum" that our grandmother's had in their kitchen. It has texture, is incredibly durable, and the installation is simple. You install it like a vinyl with glue – which makes it easy for us because we didn't need to take out our existing laminate. Because our laminate floor was still smooth, we are able to put the vinyl plank right over top. If we had gone with a laminate or engineered hardwood, removing the existing laminate would have been absolutely necessary.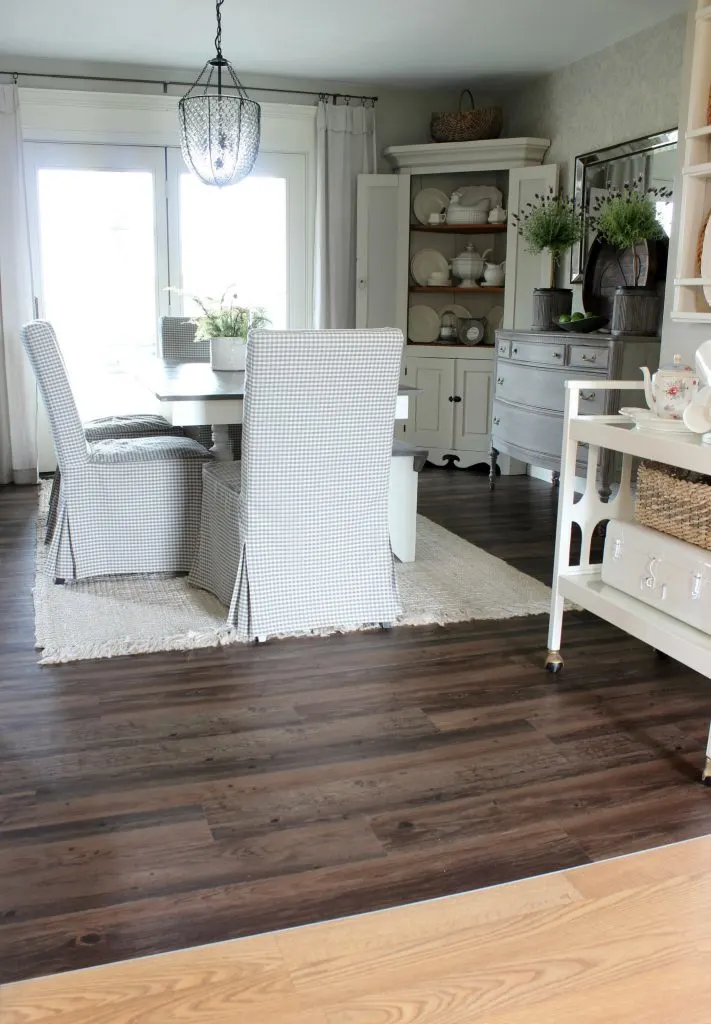 As far as durability, luxury vinyl plank is more durable than engineered hardwood and laminate. Because it is a vinyl product, there are no issues with water damage. If your dishwasher leaks with laminate or any hardwood product that is a floating surface, your planks will warp and pop up. But, luxury vinyl plank is glued down and you won't have that problem. I tried to get a good shot of the actual plank overtop our existing laminate to show you the detail in this product. I love the texture and the matte finish.
Now for a price comparison, luxury vinyl plank is actually a little more expensive than laminate – yes, a bit of a bummer; but I believe it's worth it. The brand we chose is Shaw New Market 6 Resilient Luxury Vinyl Tile (0145V). It comes in 6″ x 48″ planks that are 2 mm. thick. This product came in three "wear layer" options – (1) 15 year warranty, (2) 20 year warranty and (3) 25 year warranty. The color of our vinyl plank flooring is called Breckenridge (00722). Here's a look at it on the Shaw Website.
I can't wait until it is finished! So far, the kitchen and dining room are complete and I love how it looks. At first, we were a little afraid that the dark color would darken the space, but instead, it provides a nice contrast to the light look in the rooms. Mark is working on the living room today. We are also using this in the upstairs landing and our bedroom – yes, I'll be saying goodbye to the painted floor in our bedroom – you can see that HERE.
A Happy Weekend!
Before I go, I just have to share our news! We have a new daughter-in-love! Our middle son, Caleb, proposed to his high school sweetheart this weekend at Longwood Gardens in Kennet Square, PA. It's absolutely gorgeous there and the proposal was a sweet surprise for Paige! Caleb had a plan that included a flyer he created online that described "a Longwood Gardens exploration with selfie photos taken at specific locations".

The flyer looked so good – and she was completely fooled. In one of their last selfies, Caleb held the ring up so she could see it in the camera shot, then got down on his knee, and asked the girl of his dreams to marry him. Paige's parents and Mark and I were there at Longwood Gardens secretly waiting to surprise the bride-to-be one more time! She was so surprised to see us, and we spent a few hours walking the grounds taking photos of the couple. It was such a special day!
Thanks for indulging me with the family excitement! I just had to share it with you! If you have any questions about our new flooring, please feel free to ask!
Sharing today at: