Happy Friday! Today I'm here to share my screen porch decorated for Christmas! A few of you noticed that this space got neglected this past fall, but not Christmas! If you were here to see my Christmas Home Tour earlier this week, then you know I had a hard time deciding how I wanted to decorate this year. I really wanted to decorate with a lot of plaids, but ended up keeping things simpler inside with black and white with pops of burgundy. But, out here on the porch, I decided to go full on "Mad for Plaid" – classic, red, Christmas plaid!
*This post contains some affiliate links for your convenience. Please see my full disclosure statement HERE.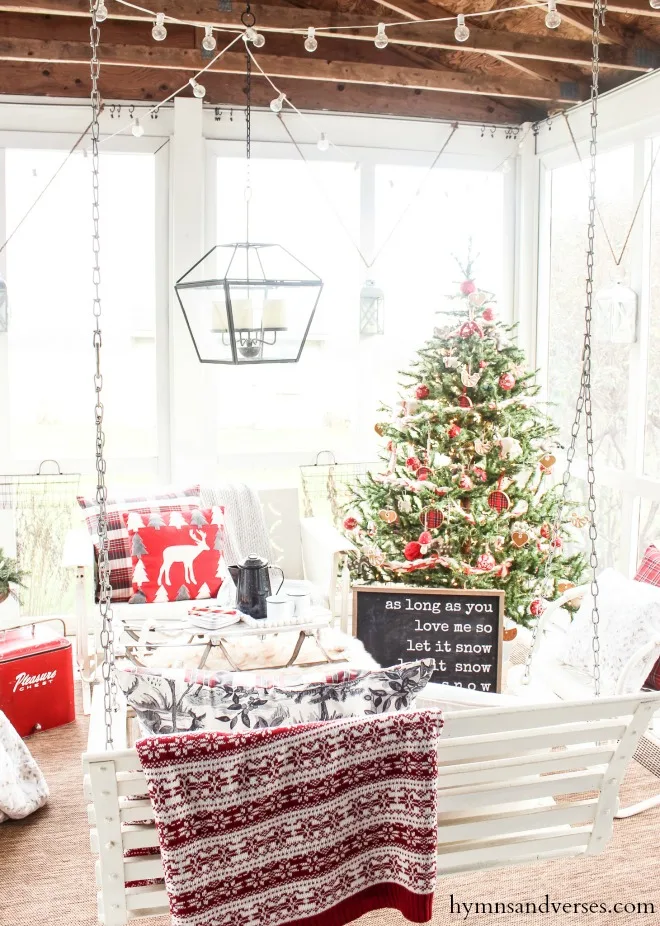 Absolutely everything here on the porch is something I've used previously and had in my decor stash. Well, except for the gingerbread cookies on the tree – those are fresh and new this season! The "Let it Snow" chalkboard is actually a printable that I created to sell in my Etsy shop. You can purchase it HERE. Then, you can have it enlarged at your local copy shop and frame it. You can read more about how to make the sign look more realistic like a chalkboard HERE.
This Christmas tree has seen a lot of love in it's life. It belonged to my friend, Cindy. Last year she decided her family needed a new faux tree and she ended up purchasing the same one that I did! She had this one boxed up and ready to drop off at Goodwill, but decided to give me a call and see if I could use it out here on the porch! Of course, I said yes!!! Who doesn't want an extra Christmas tree to decorate (my hubs perhaps)! But, he is a good sport and we stored it out on our garden shed! Poor thing is really dropping it's faux needles, so I don't know if it will make it another year, but I'm happy to have it this year!
Here's a look at some of the ornaments on the tree! If you've followed me for a while, you probably recognize some of them!
I have several vintage sleds that I pull out each year. One of my favorites is this small one. It's weathered to perfection and is the perfect size to sit on top of a table for a display.
I also like to bring out this old ice chest for decor. I use it a lot in the summer, but it's also a nice addition at Christmas because it's the perfect Christmas red! The galvanized basket is holding faux snowballs that I purchased in the Target Dollar Spot last year. I used them as ornaments on my tree last Christmas. You can see my tree with them HERE.
My swing is looking cozy with a reversible plaid pillow from Pottery Barn, and I fell in love with this deer pillow the moment I saw it! It's a 20″ x 20″ and the quality is unbelievable for just $9.99! You can still purchase it HERE.
Another vintage find, this old Coca Cola crate gets used often at Christmastime. Again, that red color is perfect! I filled it with some pinecones, a few apples, and a vase with fresh pine and mini pinecones. The lighted star is a DIY that I made several years ago.
On the other side of the back porch wall is the metal baker's rack that I purchased earlier this year from Ikea. I have jars with S'mores ingredients all ready for a wintery camp fire.
The enamelware pot and mugs that I got at Walmart earlier this year are great out here on the porch!
The mini appetizer plates are from the Target Dollar Spot last Christmas! There are two different plaid patterns – a classic red plaid and the black and white check.
And, this is Oreo! You don't see her much! She's my old girl that lives outside and in our garage. She has some bladder incontinence and can't be inside, but she really loves it outside anyway! She's a real huntress and leaves us "treats" right outside the door!
She certainly made herself comfy and cozy on the glider.
Thanks for stopping by to see my "Mad for Plaid" Porch! I hope you have a wonderful weekend! I'll be in Cape May, NJ, for a fun girls weekend getaway! But, I'll be back on Monday with a fun printable for Christmas based on a favorite Christmas song!
Sharing today at: