Hi, friends! I'm back from Cape May and we had such a good time! It was sooooo cold, but that didn't stop us from shopping, getting out for nice dinners, or walking the beach! It was just what I needed after such a busy time getting my house all ready for Christmas! I'm back today to share a new Christmas print with you. I was inspired a vintage drum image and decided it would be perfect to showcase the lyrics of The Little Drummer Boy!
The toddlers at our church have been practicing this song to sing for Christmas and some have little drums that they are playing! I can't wait to see the performance! I'm going to try to videotape it to share here with you all! It's hard to see in the photo below, but I have the print displayed on my kitchen cart (the sun was shining so bright that day and washed it out).
It's a simple print that looks really great printed as an 8″ x 10″ with a mat and larger frame.
There has been some confusion about how to print the free printables that I share, so I thought a tutorial might be in order. So, I'm going to show you step by step how easy it is to order your prints online at OfficeDepot and then all you need to do is pick them up.
How to Order Prints Online at OfficeDepot
STEP 1
On the OfficeDepot website select Print & Copy – As circled in the photo below.
STEP 2
When you select Print & Copy you will see the pop up screen (as shown below). Select Copies and Flyers (for standard sized prints) or Document Printing (for inexpensive enlargements ie. blueprints or engineering prints) This is how I do my large poster size prints. In this instance, I wanted a standard 8.5″ x 11″ Letter Sized Print, so I chose Copies and Flyers.
STEP 3
The photo below shows the next screen where you will upload your files. Just select the Upload Your Files blue button as circled below.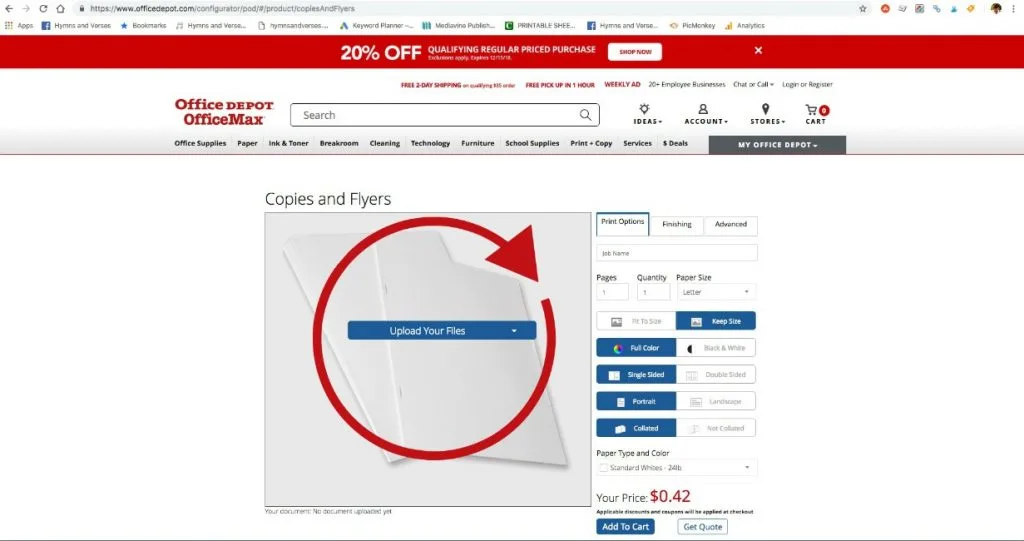 STEP 4
The screenshot below shows what you will see next. You need to choose where you will upload your file from – your computer or phone, a Google Drive file, OneDrive, or the cloud. I usually save my file that I want to print right on my desktop. To do that, just drag the image from my FREE PRINTABLE LIBRARY onto your computer desktop. Then, you will select My Device from the options you see below.
STEP 5
Once you select your image file, you will see this pop up screen. You can see my "Little Drummer Boy.jpg below. Just select Upload as shown below.
STEP 6
Now that your file is uploaded, make sure the marked boxes are selected as shown below – Fit to Size, Black and White, Single Sheet, Portrait, Not Collated, and I always choose 110 lb. White Cardstock for my prints, because it's a heavier and more quality paper. Then select Add to Cart.
STEP 7
Once you select, Add to Cart, this pop up screen will appear. Just review everything here and then select Proceed to Checkout. You can also "Start Another Document" here if you have more than one item to print.
STEP 8
Below is the next screen where you will want to make sure your local store is selected by changing the zip code to your own zip code. Then just double check to make sure the correct store location is showing. Then click FREE Store Pickup as shown below. Next, choose your preferred method of payment and checkout.
I hope that seeing the steps here makes it easier for you to print my printables at your local Office Depot or Office Max. They are so affordable and I've always been happy with the quality of the prints I get!
Enjoy this new printable for Christmas! If you need a little extra gift for someone on your list, you could pick up a nice frame from HomeGoods, TJMaxx, Marshalls, or Hobby Lobby and frame one of my FREE Printables. Let me know if you give this a try! And, I love it when you share the printables you are using in your own home! So, please tag me on your Instagram or Facebook posts where you are using the printables in your home! I hope your week is off to a great start! And, I'll be back soon to share some images from my trip to Cape May at Christmastime!