Hi, Friends! Since so many of you loved the Mary and Martha Announcement Board and purchased it when it was on sale last fall, I thought I would share the new Easter tiles that are available for sale starting today! I wanted you to see them right away, because the Christmas tiles sold out before the holidays and so many of you weren't able to get them. The Christmas tiles will be coming back, but probably not before the fall season. So, here is the new set of Easter tiles.
This post contains affiliate links for your convenience. Please see full disclosure at the bottom left of this page.
Love them and can't wait to get my set! The reverse of this set are blank with a chalkboard finish, so you can personalize them! Note, I would use regular chalk on these and not a chalk pen or marker. Sometimes those don't completely erase. Now, if you want to keep it as a permanent message, then you could use one of those markers.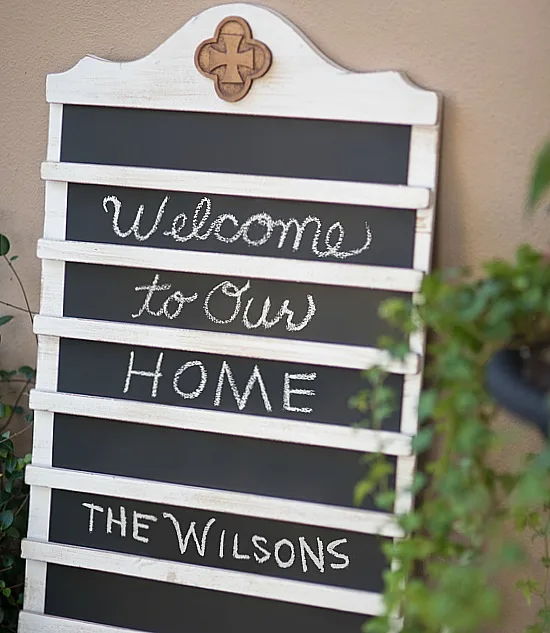 I don't think I ever shared the other option for personalization with the Mary and Martha Announcement Board. You can actually design your own custom printed tiles too. If you have a special verse, song lyric, family rules, etc., you can have tiles made for your announcement board. It's a really cool feature where you input the words and the online design tool shows you what it will look like before you order! Here's an example from Mary and Martha.
I think this would be really cool for a wedding or to announce a birth too! You could actually design a set for a couple getting married that they could use to decorate at the ceremony/reception and then it could be a nice display piece for their home as well! The reverse side of your personalized tiles is also a chalkboard finish, which offers more personalization! Both sets – the personalized tiles and the new Easter tiles sell for $20.
This shot is from my Spring/Easter mantel a few years ago! I'm anxious to get the Easter tiles to use this year! You can see where I used my announcement board at Christmastime HERE
To purchase the Vintage Announcement Board – Click HERE.
To purchase the new Easter Tile Set – Click HERE.
To purchase the personalized Tile Set – Click HERE.