Today is Day 2 of the Small Home Tour series hosting by Stacy of Not Just a Housewife. If you are here visiting from Decor Adventures, welcome! If you missed any of yesterday's tours, start HERE.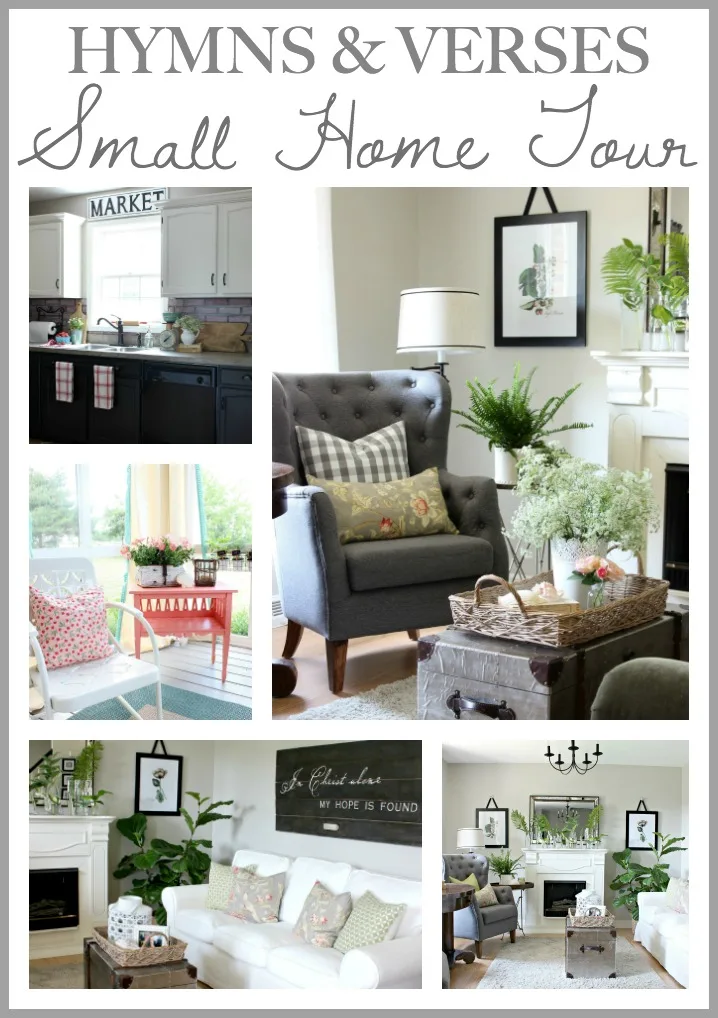 Before I began my blog in 2012, I was a blog reader. My two favorites were Dear Lillie and Miss Mustard Seed. I read Jennifer and Marian's daily posts and soon learned something that changed my whole outlook on our home – they lived in relatively small homes! Wow – it's not all about having the big dream home – it's more about what you put into the home you have. These talented ladies had their homes photographed for national magazines and had thriving businesses! From that moment, I was determined to work with the space I had and make it warm and welcoming!
Here's some brief history of how we got here – we were young marrieds with two little boys ages 2 and 4 and sold our first home to move to Lancaster County where Mark would attend bible college. We rented a home from a couple that was on a short term missions trip for the first two years that we lived in Lancaster. While we lived in the rental, we had our third son, and decided it was time to find a place to settle down. We loved Lancaster County and in a short time had met some incredible friends and we knew this is where we wanted to raise our boys. So, we purchased what would be considered a "starter" home – a 1500 sf. semidetached home with three small bedrooms and one full bath and one half bath. The main selling points were the great neighborhood, a beautiful finished family room in the lower level, a screen porch and a yard that backs up to a farmer's field as far as the eye can see.
This home was the "perfect" house for our boys growing up. We have the best neighbors and the boys had great friends – the kind you don't have to worry about your kids hanging out with! There were times when we thought about selling. I'd look at listings on Realtor.com, but nothing ever seemed right. My boys didn't want to leave their "hood" or change schools. They were happy here. So, we just stayed put – and I'm so glad we did! We still have such great neighbors and my boys had a great childhood full of fun and great memories here.
Okay – so now my boys are grown and are young adults – and we still live here!!! We are down one boy – Josh got married, and it won't be much longer before the other two move out. We've talked about moving, but when we look at the homes on the market – gosh, they have so much work to be done! Mark and I like to think we're Chip and JoJo, but honestly, the idea of a fixer upper isn't that appealing anymore!!! So, we'll continue to make improvements and upgrades here. It's taken me a while, but I have to say that I'm content right where I am.
So – here's a look at my small home.
LIVING ROOM
This is the room you enter when you come through the front door. The main thing I did overall is lighten things up. The wall color went from a warm yellow to Benjamin Moore Revere Pewter (a Griege – it definitely looks more gray in my home, which I like)! My fireplace mantel went from a dark cherry to white with Annie Sloan chalk paint. My dark green sofa, although nice, was changed out to a white slipcovered sofa.
You do make some sacrifices when you live in a small space – I would love to have a large French farmhouse style chandelier, but it just wouldn't work. Remember to think about size and scale when purchasing furniture and light fixtures for your home. I have several chests/trunks that I move around the house. They are not only decorative, but useful for storage.
These photos are from last summer and I brought in a lot of real plants. I think they add to the lightness of the space. The dresser below was an auction find that I painted a light gray. You can kinda see the stairs in this photo. They had carpeting and we ripped it out and painted the stairs black with white risers. I don't know why, but I think a room seems larger without wall to wall carpeting. We are actually in the process of choosing new wood floors – so excited!
Keeping curtains light is another tip – as well as the "high and wide" rule when mounting your curtain rod. It makes your ceilings seem higher.
The living room leads right into the dining room. When we bought the house, I didn't like that the spaces weren't more "defined". Who knew that open concept would become so popular!
DINING ROOM
The dining room and kitchen areas are where everyone needs to maximize space for storage purposes. We built the plate rack last year and I repurposed an old 70's TV stand to use as a bar/tea cart.
The corner cupboard was my grandmother's and it holds a lot! It can be used to display dishes or closed when I need the extra storage! My kitchen table got a little makeover last year. We removed the wider top and made our own planked "farmhouse" tabletop (which is not as wide, but is longer). This gave us more room around the table without taking up more space.
KITCHEN
And, here's a glimpse of the kitchen from the dining room. The kitchen had builder grade oak cabinets and a dark brick backsplash. We added trim to the top of the cabinets, built the range hood, and painted the top cabinets off white and the lower cabinets black. I chose to paint the lower cabinets black, not just because I like the look, but because my appliances are black and it gives it a more seamless look. I also whitewashed the brick to lighten it up. You can also see a bit of the doors leading out to the porch. We added moulding to these doors as well, adding visual height to the space.
I used to have a window treatment at this window, but taking it off and letting the sunshine stream in, makes this space much brighter. The countertops are concrete overtop of the laminate and I love them. The main thing we want to do in this space is add a new farmhouse sink and update the appliances.
SCREEN PORCH
This is a bonus space. It is just a screen porch, but gives us three seasons of additional usable space to hang out. Plus, it's fun to decorate! Even in this outdoor space, I kept size and scale in mind when I was looking for seating options.
MASTER BEDROOM
This room had been so dark. In this room I chose a light silvery blue paint called Silver Cloud by Benjamin Moore. We ripped up the carpet, but didn't have any extra wood to use upstairs. So, I painted the plywood for a temporary fix! The light patterned floor adds interest to the small space. We switched out our headboard and footboard bed for a DIY upholstered headboard in white.
As you can see – these pics were taken at Christmastime (it's been cloudy and rainy here all week, so no updated photos). Mirrors, mirrors, and more mirrors help brighten up a space and make it appear larger.
SETH'S ROOM
This room is the smallest room in the house and is about the size of a closet in some homes!!! We worked hard to maximize every bit of useable space in this room. The closet doors were removed and Mark and Seth designed this built in workspace.
Don't be afraid to take your artwork up to the ceilings – those are speakers from a vintage stereo that Seth bought at auction and gutted! I also watched for a while for the perfect dresser for this room – I wanted midcentury and found it in this piece. Can you believe it was glossy and blond with shiny gold pulls!
To give you an idea of how small this room is – this photo was taken in the doorway and that's the wall you see with the windows! But, it's cool now and he practically lives in there!
Thanks for taking time out of your busy Friday to take my small home tour! And, a huge thanks to Stacy for putting this series together!!! Up next on the tour is Kristi at Chatfield Court.
In case you missed any of the earlier tours – here are all the links:
THURSDAY
FRIDAY
Hymns and Verses
Sharing today at: