Do you and your family have a Christmas Countdown? We did when our kids were younger! Each year I would choose an Advent Calendar where each day the boys would open a door to find either a small toy or piece of candy! It was such a fun tradition! I recently had the idea to create my own Christmas Countdown with ornaments that could be placed on the Christmas tree each day! But, I wanted this countdown to have some meaning . . . and that's when the idea of star ornaments with the Names of Jesus came to my mind!
*This post contains some affiliate links for your convenience. Please see my full disclosure statement HERE.
Each Christmas season I meditate on the prophetic verses found in the book of Isaiah. Specifically, Isaiah 9:6. "For Unto us a Child is born, Unto us a Son is given; And the government will be upon His shoulder. And His name will be called Wonderful, Counselor, Mighty God, Everlasting Father, Prince of Peace." I've been wanting to create something using this text for several years, but just haven't come up with the right thing! So, I was so excited when I had the idea to for the Names of Jesus Christmas Countdown Ornaments!
names of jesus star Ornaments
I make the ornaments in a Star shape, which also points to the Christmas story. Each star has one of the Names of Jesus found in the Bible and includes the scripture reference. Each day, leading up to Christmas, add one of the star ornaments to your Christmas tree. You can use this as part of your devotional time as a family. Talk about the name and what it means and then have a family member read the passage from the Bible. Of course, you can do this on your own as part of your own reflection of the season. You could also incorporate the ornaments into your celebration of Advent.
There are 25 Names of Jesus Star Ornaments, so you can start your Christmas Countdown on November 30 or December 1 – you choose! The PDF document with all of the printable ornaments is in my FREE PRINTABLE LIBRARY. You can download the entire document and then print the ornament pages on your home printer or send it to a local copy center to be printed. Cut out the individual stars – there are 3 per page. There is a punch hole marked at the top of each star ornament. Once I cut out all of the ornaments, I used a glue pen and German Glass Glitter to add some sparkle around the star ornament edges! I think the touch of glitter makes the ornaments look more special!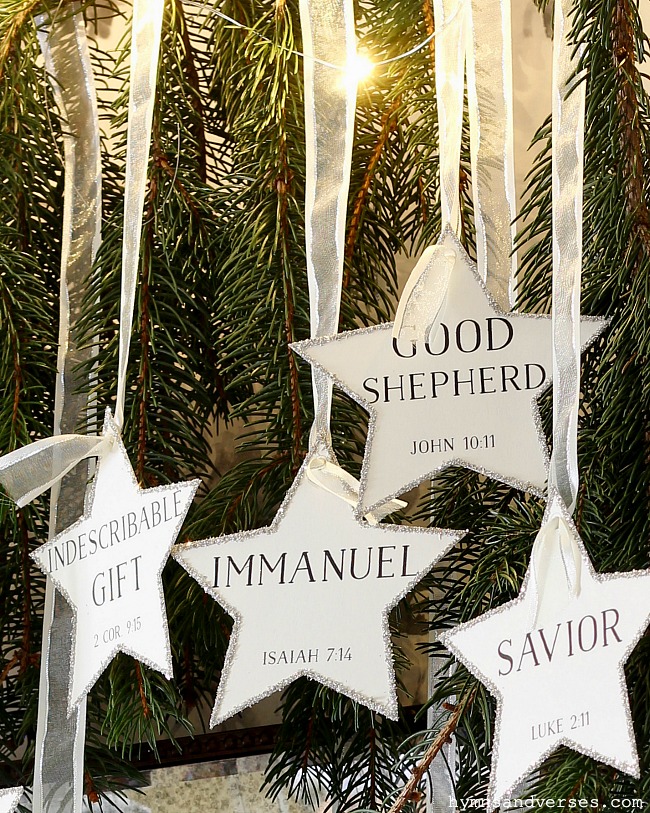 how to display the Star Ornaments
I chose to display all of the stars ornaments on a pine tree branch suspended from the ceiling in my office. I used pieces of ribbon that I draped over the top of the branch and then pulled the ends of the ribbon through the front of the ornament holes. So, each piece of ribbon holds two stars. I didn't have to knot or tie the ribbon, because I chose a 3/4″ ribbon that is larger than the hole. If you display your star ornaments this way, you can take one off each day just by pulling the star ornament off the ribbon. You could also create a garland with the stars and drape it in an archway, down a staircase, or across a mantel.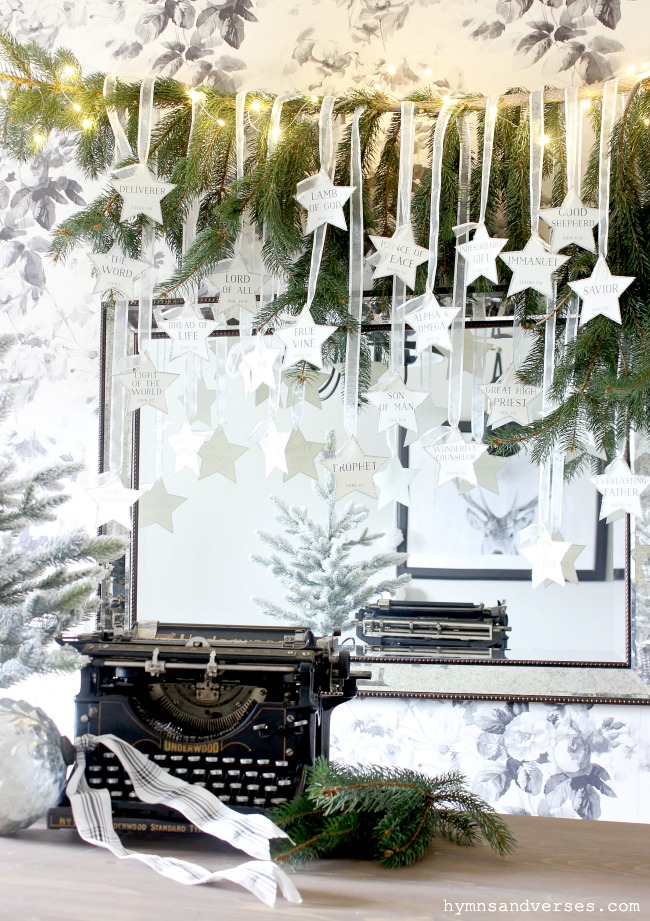 If you have kiddos that want to open something each day, put each star ornament inside an envelope or inside a small wrapped box. Add numbers to the envelopes or packages for opening each day! You could use silver cording or bright red ribbon to hang the ornaments.

I hope that in some way the Names of Jesus star ornaments will become part of your Christmas celebration this year!