A few weeks ago, I shared THIS POST about how to refinish a dresser. Today, I'm back to share the vintage baby dresser reveal!
*This post contains some affiliate links for your convenience. Please see my full disclosure statement HERE.
As a reminder, this is what this vintage baby dresser looked like before.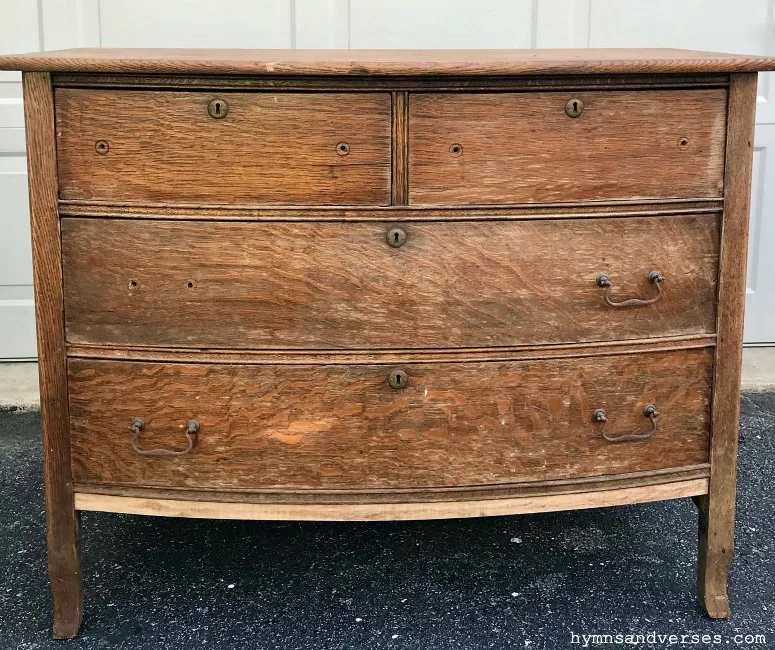 paint for baby furniture
The Mom-to-be is so happy with how this turned out! I used a new kind of paint for this dresser by Benjamin Moore, Natura. This paint was recommended for painting baby furniture. It is certified asthma and allergy friendly, has zero VOC, zero emissions, and provides a durable and washable film. All important for any painted surface in a nursery! This paint provides a really smooth finish that is durable.
WHERE TO FIND NEW HARDWARE FOR A DRESSER
Here you can see better the pulls Sarah chose for the dresser. We got them at Hobby Lobby. The two larger drawers got these brass cup pulls. But, we used these pretty flower knobs for the top smaller drawers. I will say that we did have a hard time finding hardware to fit the holes that were already in place for the larger drawer hardware. Because this dresser wasn't made in a factory, the size of the holes for the original hardware aren't standard. But, But, we finally found these brass cup pulls that fit the existing holes! Hobby Lobby has a huge variety of hardware, especially if you are looking for something unique! In this picture you can also see that I lined the interior drawers.
HOW TO LINE DRESSER DRAWERS WITH FABRIC
I made the quilt shown on top of the dresser and picked up some extra fabric to line the dresser drawers. If you've followed me for a while, you may remember THIS POST where I shared how to use fabric as wallpaper. Lining a dresser drawer with fabric uses the same method. Basically, you use liquid fabric starch to attach the fabric to the bottom of the dresser drawer. I cut the fabric close to the size needed and then painted fabric starch on the bottom of the drawer. Then you place the fabric into the drawer and smooth it out, removing any air bubbles. Then, I painted even more liquid fabric starch onto the top of the fabric. This really secures the fabric to the drawer. Once the liquid fabric softener is dry, you can use a utility blade or Exacto knife to trim around the edges.
Here's a closer look at the baby quilt I made! This was my very first quilt! It's a pretty basic half triangle quilt, but I had so much fun choosing the fabrics and putting it together for our future granddaughter! We are counting down the weeks now, and I can't wait to hold her!
HOW TO ADD A CHANGING TABLE FRAME TO A DRESSER
Because this dresser is also going to serve as a changing table, we added some trim to the top of the dresser to hold the changing pad in place. It's just a 1″ x 2″ frame that Mark built based on the changing pad dimensions. He screwed the frame to the dresser top from inside the dresser. We also added new wheels to the dresser. This dresser had wheels when we purchased it, but one was broken. So, I ordered THESE WHEELS from Etsy and I couldn't be happier. They are wood wheels, just like the vintage ones, but are brand new!
I hope you enjoyed seeing the transformation of this vintage baby dresser! It was such a fun project! Later this week I finally have some Christmas content to share with you! I have a fun DIY Christmas Countdown that I can't wait to share and I also have a new piece of jewelry for Christmas that I'm super excited about! So, please stay tuned!