I can't believe it's Friday! This week has flown by! Here's a super simple project for your weekend – maybe you could do it during the big game (if your not into football)! All you need is a simple frame, a piece of scrap fabric, your home printer, and a key to make this sweet piece of art for Valentine's Day – Only You Hold the Key to My Heart!
I have a thing for old skeleton keys. If I find a piece of antique furniture that has the original key, it's super exciting! A few years ago I was at an antique shop and asked if they had any skeleton keys. After looking around, the owner came back with a brown paper lunch bag with about 20 skeleton keys. I asked how much she wanted for the entire bag – $2!!! That little brown bag was like a pirate's loot to me!
I made this little framed piece for Valentine's Day, but it could be left out all year. Just a simple framed key with the words – "Only you hold the key to my heart". Simple – easy – done!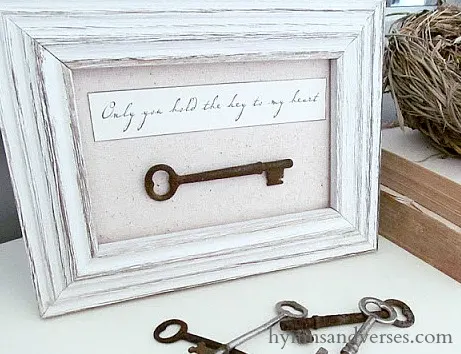 Many of the other keys are hanging from the birch branch arrangement on my mantel. If you don't have any old rusty skeleton keys, you can always use a decorative key found at your local craft store – I've seen skeleton key scrapbook embellishments, jewelry findings, and even some in the dollar bins.
I bet you could purchase old skeleton keys on Ebay or Etsy too! Check at garage sales in the spring or at your local antique shops! I hope you have fun with this little project!