I'm popping in today with a printable Thanksgiving placemat and place cards that will dress up your Thanksgiving table!  First, is this vintage sheet music page from The Graphics Fairy.  I had the page enlarged at Office Depot as a 12″ x 18″ engineering print.   It's so easy to do this.  I send my file to Office Depot via their website.  Once on their website, click on Print and Copy.  Then click on Document Printing.  Then, click on Blueprints.  Then you will be prompted to upload your file.  Make sure the size is set to 12″ x 18″ and that you click "fit to size".   By clicking "fit to size", the image will fill the page, except for the side edges, which can be trimmed off!  So, the finished size is about 12″ x 16″,  the perfect size for a placemat and I love that it is an actual piece of vintage sheet music!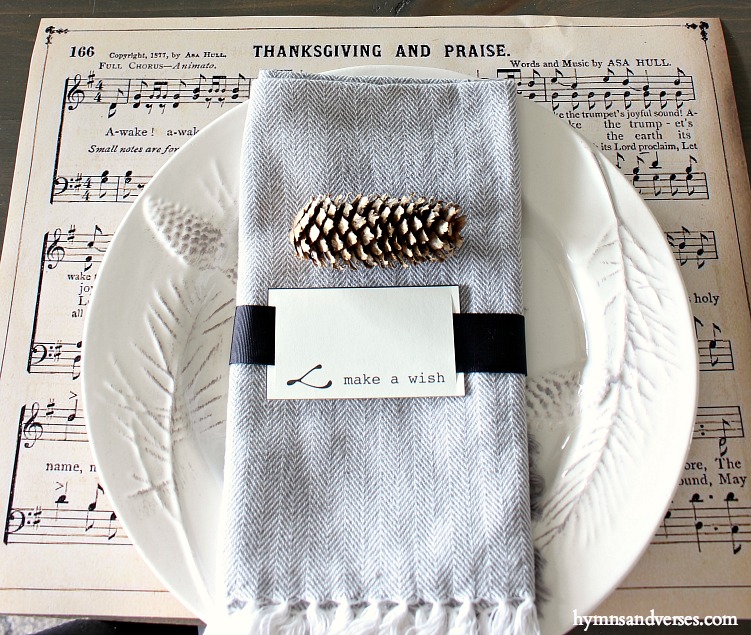 Then, I created a little place card with a wishbone that reads "make a wish".  There's plenty of room to write a name OR you could have your guests write down a wish or prayer to review next year.  I used an exacto knife to cut slits on the two sides of the card and wove black gross grain ribbon through the slits and wrapped the ribbon around to the back of the napkin.
I printed the place cards on ivory card stock on my home printer.  I love the classic black and white and the little twist of this "make a wish" place card.  You can find the printable place cards in the FREE printable library.  They are set up to print 8 placecards on one sheet of paper.  I know you are probably busy getting ready for Thanksgiving and I wanted to give you something that you could still use  to help set your table!   If you aren't cooking this year – yay!  If you are, enjoy the process!
I hope you enjoy these last minute printable Thanksgiving ideas for your  table!  Or, if you are too busy to use them this year, pin them to your Fall or Thanksgiving Pinterest board so you will have them when you are planning for next year!!!