Are you looking for some creative spring ideas, but don't want to get involved in a big project? How about some good, old fashioned coloring? You know coloring isn't just for the kiddos anymore! A few years ago the new adult coloring book craze took hold. And, this is a great time to bring out those colored pencils, markers, or watercolors to make something pretty. So, I created six spring coloring pages for you with garden theme and paired each one with a quote.
Welcome to Cozy Living Saturday hosted by Jennifer at Town and Country Living! On the first Saturday of each month, my blogging friends and I share a cozy living tip to inspire you to adopt a hygge lifestyle! At the end of today's post, you'll find the links to my friends' posts for April! I hope you'll stop by to see their creative ideas for cozy living this month!
*This post contains some affiliate links. Please see my full disclosure statement.
If you receive my emails, you probably saw that I've been working on a very detailed paint by number the past few weeks. I work on it for an hour or so each evening. I turn on some music and sit at my new kitchen island and paint and it's so relaxing.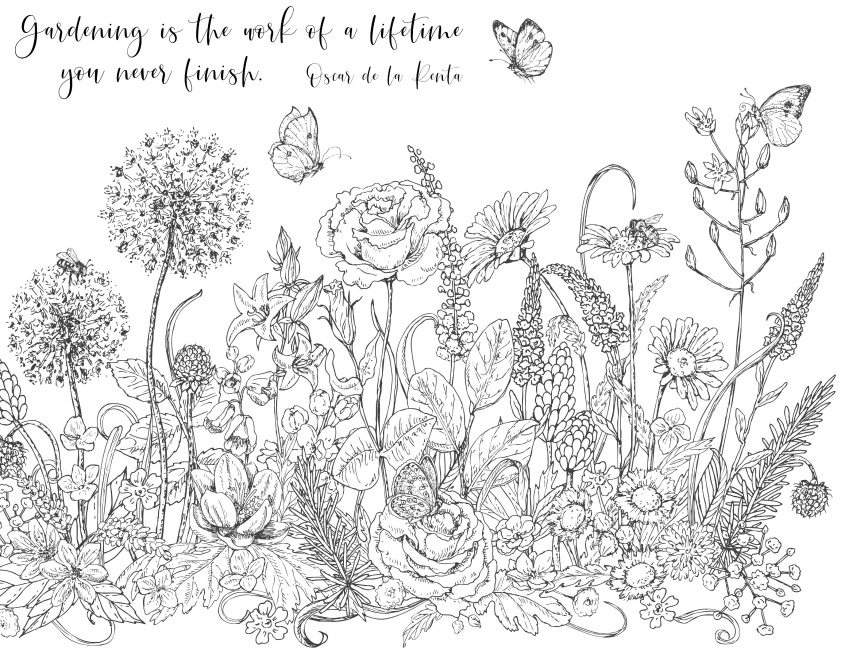 That's what gave me the idea to create these coloring pages for you. I wanted to give you something to fill some time, something relaxing, and making something beautiful all at once. These spring coloring pages should do the trick! You can download them directly from this page (just drag and drop them onto your desktop or send them to your printer from your mobile phone. They are all formatted to 8 1/2″ x 11″ size.

I like to use colored pencils because you can sharpen them and keep a tight point. But, you can also use fine point markers, colored chalks, watercolors, or watercolor pens. If all you have are crayons, use crayons!

I decided to make these spring coloring pages with a garden theme because I'm so anxious to get out into my own garden/flower beds. But, it's been pretty cold here and rainy this past week. Thankfully, it looks like we are going to be having some sunny days soon with warmer temps!

I hope that you'll share these printables with your friends and family who may also be looking for something to do! And, coloring is so relaxing and don't we all need something to help us relax right now!

Or, how about printing some sets to send to your local nursing homes with some colored pencils? I know the residents would love to have something like this to do! Thank you for stopping by today! Now, let's see what my Cozy Living friends are sharing for the month of April!

It All Started with Paint / Duke Manor Farm / Finding Silver Pennies / Town and Country Living

Making It in the Mountains / Creative Cain Cabin / Hymns and Verses