Hi, Friends. These past five days have been flying by fast and furious! I was super busy filling all those Etsy sale orders (thank you so much by the way), my youngest son's girlfriend is in town, we celebrated Easter a week early on Sunday, and my spring home tour was yesterday (if you missed it, see it HERE). Even though it's been busy, it's the good kind of busy – making memories and having fun! Today, I want to share a few finds from Walmart (yes, Walmart) and how I used them to put together this fun spring succulent garden!
*This post contains some affiliate links for your convenience. Please see my full disclosure statement HERE.
First, I want to say – Hey Walmart – you've been stepping up your game! Thank you!!! Have you seen the fun galvanized items at Walmart? I picked up this fun galvanized tub for $7.94! Have you purchased anything galvanized lately – normally they cost so much more than this!!! They had lots of other galvanized items too – here's a look.
I'd been shopping for some succulents at the local greenhouses, but seriously, some of these tiny beauties are pricy! So, again, while at Walmart, I decided to take a look in their garden center to see if they had any succulents. Well, guess what? They do – and there was an amazing selection with some varieties that I have never seen in a greenhouse! They were priced under $4 each. Here you can see a close up of some of the varieties I chose.
Don't you just love the one that looks like lettuce! And, there were many more varieties that I didn't choose. While at Walmart, you can also pick up some sheet moss in the craft aisle. When you plant a succulent garden, start with a layer of gravel or stones, then mix equal parts potting soil and sand. I know I've been sharing a lot of Walmart love in this post, but I don't want to leave out Target. I found the cute cement bunny at Target in the Garden section and he's the perfect size for this mini spring succulent garden and I can use it outside later this summer!
Here's a look at the entire vignette in my dining room.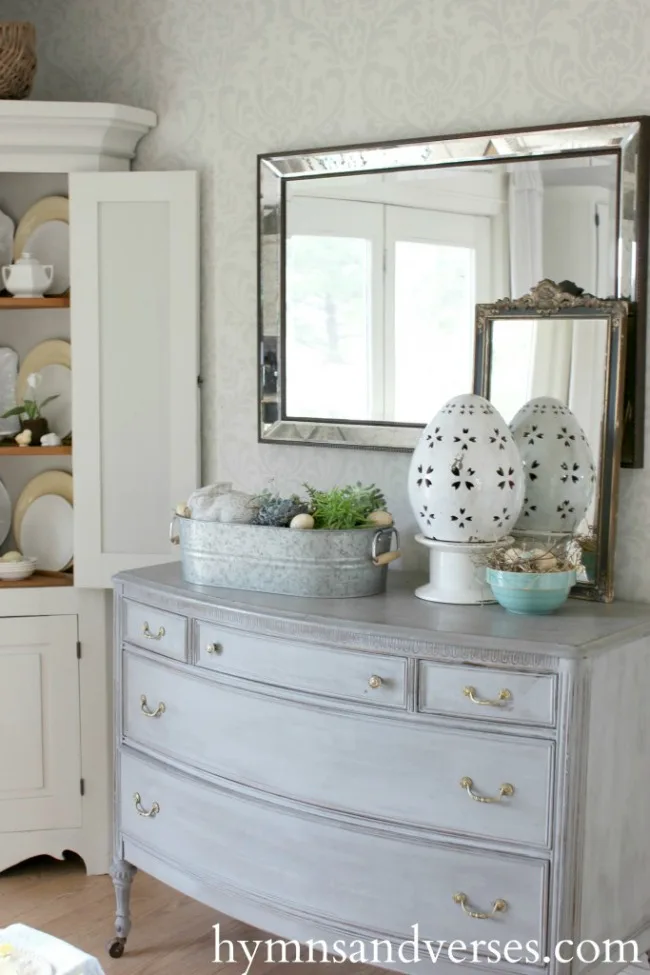 Thanks for stopping by today to see my spring succulent garden! Do you like succulents? Do you have any in your home?
Here is another spring post you might like: