Wow – I can't believe it's Friday! This week just slipped away from me. I had such good intentions for getting this post to you on Monday and here it is – just four days late!!! I'll spare you the details, because I know you've had a week like this before too where you have such good intentions and things happen that you can't control. I thought about keeping this post for next Monday, but decided not to wait one more day! So, here's a look at my living room with a cottage summer style.
Simple Summer Style Living Room
I brought in a bleached jute rug layered with this pretty vintage style rug with touches of red and a tiny bit of blue! I fell in love with it and the price was too good to pass up! I'm finding that having a few rugs that can be switched out is a fun way to change up the look of a space. And, rugs have become so much more affordable! Both of these rugs were under $100! I'm working on a post to share with you with sources to purchase reasonably priced rugs for your home!
On my mantel, I brought in some pretty zinnias from a bouquet that I purchased from a local farm stand. We may not have a Trader Joe's in Lancaster, PA, to buy pretty flowers, but we do have lots of industrial Amish and Mennonite ladies who make the prettiest bouquets from their flower fields to sell at farm stands by the side of the road! I bought a large colorful bouquet and pulled out the reds for my mantel, added some burgundy to a little white pitcher, and added the purples to a large gray pitcher! Now, I have three arrangements for under $10!
The little quilt piece you see below I picked up at a barn sale earlier this year. It was just a piece of a quilt and was really worn, but I loved the red and white pattern and knew it would be so pretty in this barn wood frame!
I found these amazing floral botanical prints on Amazon! The first one is called "Botany" and the second is "Wildflower Specimens" The quality is excellent. You can purchase the wood chart hangers for them HERE.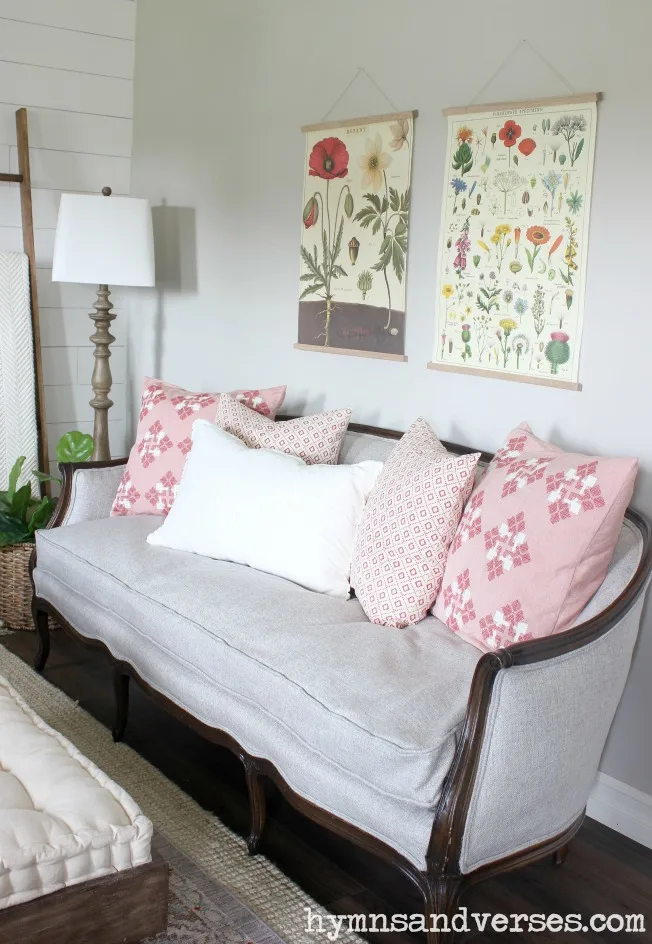 The large cross stitch pillows on the sofa are from Pottery Barn last year and unfortunately they are no longer available. The patterned pillows are from H & M Home and are some that I shared in that great sale last week (they are just $2.99)! The white lumbar pillow is an Ikea favorite pillow cover.
I made the pillows on my gray chairs. Actually, the floral print I had from last spring (you can see more about them HERE), and I made the red ticking pillow covers this year. And my faux fiddle leaf fig is still one of my favorite decor purchases ever! It looks realistic and the price is the best I've seen for one this size!
The round "Jessica" basket is the one I purchased at Magnolia Market. It has a galvanized rim that makes it special!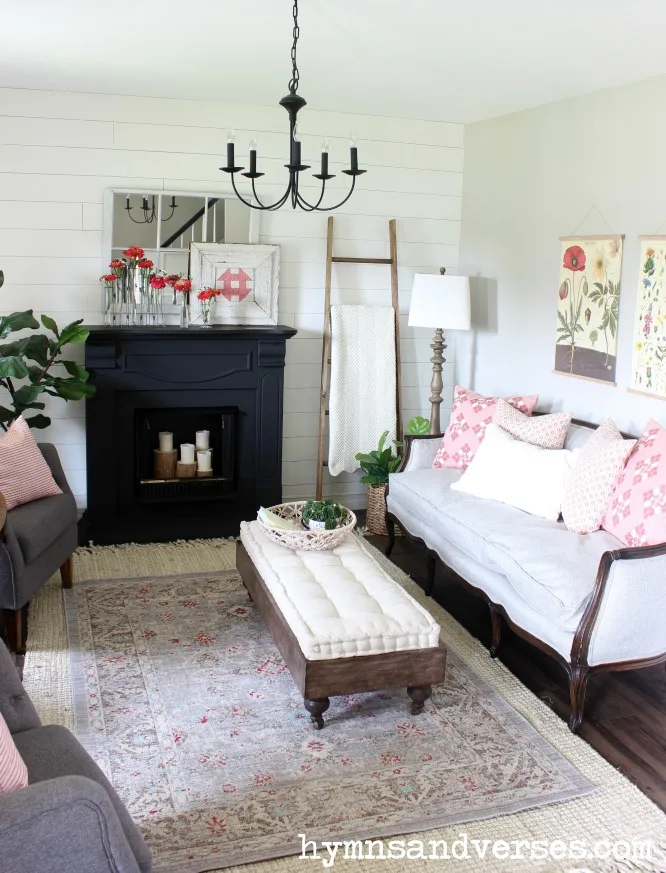 It's a pretty simple look, but I find that I'm liking that style more and more! Less, can sometimes be more! The other thing I'm liking is adding pretty plants into my interior spaces. I picked up this little plant at my local nursery. It's a Ripple Peperomia, and I'm going to try to keep it alive! Isn't the leaf texture amazing! And, this book is so good! You can check it out HERE.
Thanks for stopping by to see my simple summer style living room! Have a great weekend!!!
You can see more of my home's summer style in these posts!
Summer Front Porch
Summer Screen Porch
Good Day Sunshine Summer Bedroom