Looking for some Sunday morning prayers and blessings to add to your routine?
Sundays hold a special resonance, often signifying rest, reflection, and spiritual rejuvenation. As we greet this sacred day, let's delve into a collection of prayers and blessings, tailor-made to align our souls, celebrate our blessings, and fortify our spirits for the week ahead.
Embrace the serenity and intent of each word, making your Sunday a truly divine experience.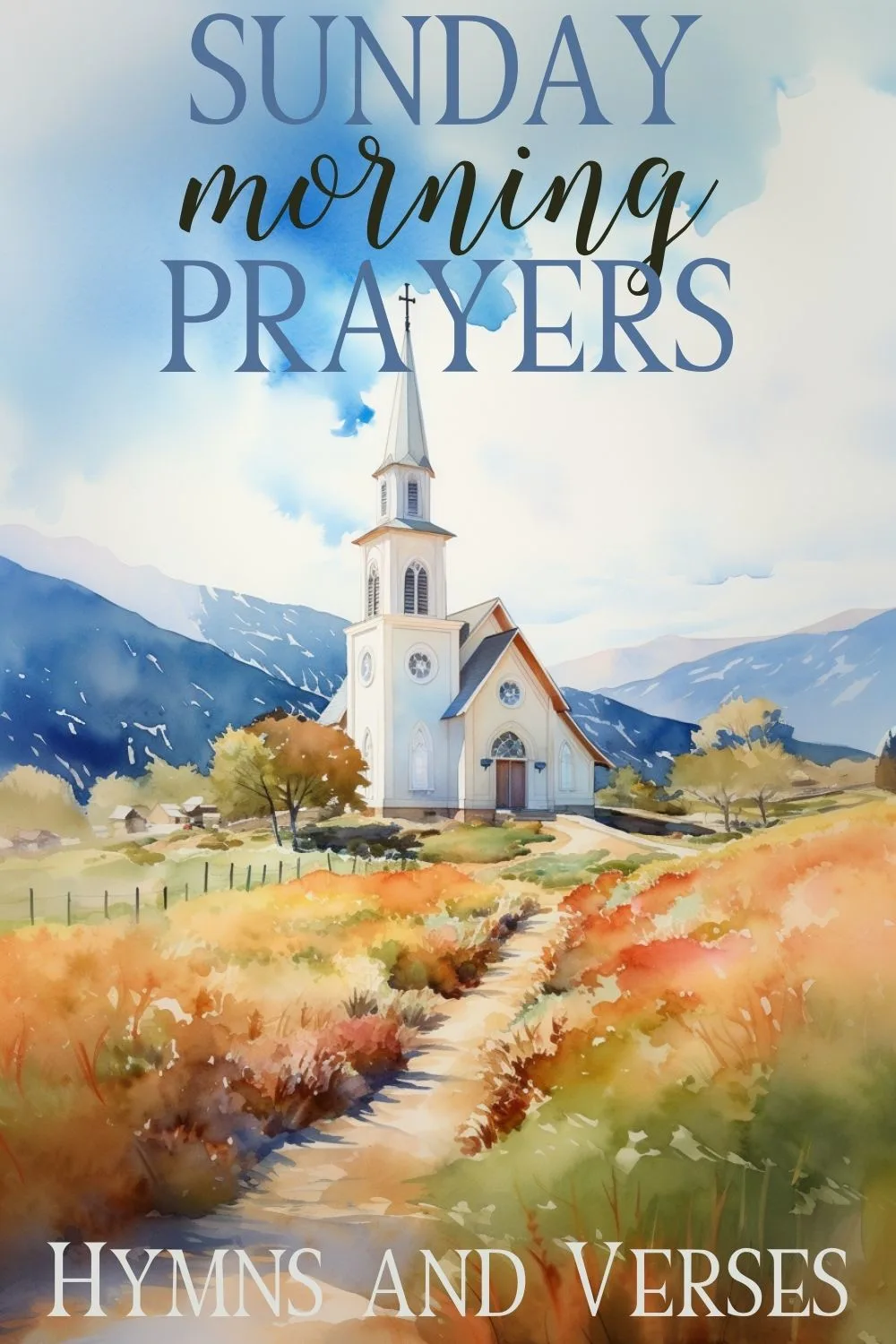 Sunday Morning Prayers
Embracing the Day: Heavenly Father, as the first rays of Sunday pierce the horizon and the world awakens anew, may our minds and hearts be attuned to your presence. Let every moment today stand as a testament to your unending love and grace. Guide our thoughts, words, and actions, so that we may honor you in each encounter and every fleeting moment.

Celebrating Togetherness: Lord God, with heartfelt gratitude, we acknowledge the gift of this day. As families reunite and friends come together, let our gatherings be infused with joy and thankfulness. May our collective voices rise in harmony, celebrating the magnificence of your creations and the unbreakable bonds you've helped forge among us.

Guiding Light: Creator of the universe, as the brilliant morning light touches every corner of our world, may the illumination of your wisdom and love touch the innermost corners of our souls. Guide our decisions and actions, ensuring they resonate with your divine intent, and in doing so, allow our lives to be living testaments to your eternal love.

Symphony of Devotion: Dear Father, as we rise this Sunday morning, readying ourselves for worship, we seek solace in your eternal embrace. May the melodies of our songs, the sincerity of our words, and the depth of our silent prayers come together, forming a heartfelt symphony of love, devotion, and reverence to you.

Week Ahead: God of infinite grace and mercy, as we stand at the threshold of a new week, we pray for your guiding hand. Refresh our spirits and fortify our faith, ensuring that, in every challenge and joy we face, we are acutely aware of your comforting presence and guiding light.

Recognizing Blessings: Holy Spirit, on this serene Sunday morning, we are reminded of the precious gift of life and time. Open our eyes to recognize the myriad blessings that adorn our lives, both the grand and the subtle. Let our hearts swell with gratitude, transforming every thought and act into an anthem of thanks to you.

Healing and Renewal: Merciful and Compassionate Lord God, we bring before you our vulnerabilities, past regrets, and the scars of old wounds. As we immerse ourselves in worship and reflection today, shower us with your healing grace. Renew our spirits, allowing us to step into the future with hearts that are mended and spirits that are whole.

Wisdom for Challenges: Almighty God, as we contemplate the week ahead, filled with its unique challenges and decisions, we seek your wisdom. Illuminate our paths with clarity, enabling us to face every challenge with grace and discernment, making choices that reflect your divine will and our commitment to you.

Testament to Teachings: Father of All, let this Sunday be more than just a day; let it be a reflection of your teachings. As we interact with the world around us, may we exemplify kindness, radiate understanding, and be bearers of light and love, channeling the very essence of your teachings.

Nature's Inspiration: Lord of all Creation, as the world awakens to the harmonious tunes of nature and the gentle rhythms of life, invigorate our souls. Fill us with wonder and admiration for the beauty that surrounds us, allowing the symphonies of nature to inspire hope, gratitude, and a zest for life as we journey through the day and into the week.

Spiritual Nourishment: O Sustainer of Life and Light, nourish our spirits with the timeless teachings of your sacred word. As we delve into the scriptures and reflect upon their wisdom today, let those lessons be the seeds of transformation, leading us towards a deeper understanding and evoking positive change in ourselves and the world around us.

Embrace of Community: Gracious God, you've shown us that every gathering in your name becomes a beacon of your boundless love and unity. In the embrace of our community, let us find comfort, acceptance, and strength. Strengthen the bonds of fellowship, ensuring they serve as our anchors during times of storm and calm alike.

Global Unity: Eternal One, in every corner of this vast world, believers gather to seek your guidance and love. May your universal message of love, peace, and unity resonate profoundly in every heart, transcending boundaries and uniting us as one global family under your protective watch.

Guided Conversations: Benevolent Father, let our words be reflections of your wisdom and love. As we engage in conversations today, guide our thoughts and speech, ensuring they embody understanding, patience, and compassion. May our dialogues sow seeds of unity and mutual respect, drawing us closer to one another and to you.

Lifelong Fellowship: Loving God, as we cherish the fellowship of this day, remind us of the sacred bonds we share with one another, bonds that extend beyond time and place. Embolden us to be consistent bearers of unity, love, and support, living out our days as beacons of your eternal love.

Resilience and Optimism: O Source of boundless hope and energy, as the tapestry of the upcoming week unfolds with its array of challenges and opportunities, endow us with resilience. Kindle in us an unwavering optimism, fortified by the profound knowledge that you journey with us at every step, guiding and guarding our path.

Beauty in Stillness: Lord of Infinite Beauty, in the serene moments of this Sunday, gift us clarity for introspection. Allow us to marvel at the intricate beauty of the world, finding inspiration in every sunbeam, leaf, and breath of air, reminding us of the grandeur of your creative genius.

Embrace of the Lonely: Compassionate Savior, turn your loving gaze towards those who wrestle with loneliness or feel engulfed by life's overwhelming tides. Wrap them in your comforting embrace, letting them feel the depth of your love, understanding, and the solidarity of a world that cares.

Agents of Change: Holy One, fan the flames of passion and purpose within our hearts. Move us to act selflessly, championing causes that uplift and heal. May we emerge as agents of positive change, shaping a brighter, kinder world with each act, thought, and word, beginning this very day.

Awakening and Growth: Creator God, as the world greets the promise held within the new dawn, let a similar awakening stir within our souls. Propel us towards continual growth, broadening our horizons of understanding, compassion, and peace, so that we may walk in harmony with your divine plan.

Reverence in Worship: God of Holiness and Majesty, as we set foot in your sacred house of worship today, let our hearts pulse with profound awe and reverence. May every hymn we sing, word we utter, and thought we harbor be a tribute to your boundless grace. Let the sanctity of this day envelop us, drawing us closer to the very essence of your divine presence.

Seeking Guidance: Shepherd of Souls, in the midst of life's vast maze of uncertainties and crossroads, we humbly seek your direction. Guide our steps with your unwavering hand, enlighten our thoughts with your wisdom, and ensure that each path we tread and decision we make is in perfect alignment with your divine will and purpose for us.

Embracing Nature: Lord of Creation, on this serene Sunday morning, as the wonders of nature unfold before us—the chirping birds, the rustling leaves, the golden sunrise—let our souls be stirred with gratitude and wonder. May each marvel we witness deepen our connection to you and serve as a testament to the intricate, beautiful world you've so lovingly fashioned for us.

New Beginnings: Lord of Renewal and Hope, as the horizon of a new week emerges, infuse our spirits with a sense of anticipation and joy. Inspire us to embrace new opportunities, challenges, and fresh beginnings with unwavering enthusiasm and faith, secure in the knowledge that you are with us in every new endeavor.

Protection and Safety: Guardian of All, our refuge and strength, we entrust ourselves and our loved ones into your protective embrace today. Be our shield, warding off any harm or adversity. Keep us safe in our comings and goings, ensuring that your benevolent watchfulness surrounds us at every moment, allowing us to walk in confidence and peace.
Sunday Blessings
May the tranquil peace of this sacred Sunday envelop you, serving as a rejuvenating balm for your soul, preparing and invigorating you for the challenges and triumphs of the week ahead.

On this radiant day, may joy and laughter not merely light your path, but also resonate in every step you take, guiding you towards unparalleled serenity and harmony.

Wishing you a Sunday brimming with moments of profound reflection and profound gratitude. In each of these moments, may your heart expand, absorbing warmth, kindness, and boundless love.

As the sun majestically rises on this serene Sunday morning, casting its golden rays, may it not only brighten the world but also illuminate the myriad blessings and promising opportunities that await you.

May the fellowship and communion you experience today deeply nurture your spirit, fostering bonds of lasting love, unity, and an abiding sense of community.

Sunday blessings abound for you! In the gentle rustling of leaves, the melodious songs of birds, and the harmonious chorus of faith, may your spirits be uplifted, touched by nature's hymn and heaven's hope.

Let this Sunday serve as an armor, a protective shield against anxieties and concerns, bestowing upon you the fortitude, valor, and indomitable courage to greet the forthcoming week with optimism.

On this day of rest and reflection, may you encounter moments so precious and heartwarming that they etch themselves into your memory, becoming cherished keepsakes filled with love, joy, and boundless affection.

As the tranquil calm of this Sunday gently descends upon us like a comforting blanket, may it bring with it a clarity that sharpens your vision, and a hope that illuminates your aspirations and dreams for the days that beckon.

Today, may every beat of your heart resonate with peace, every thought in your mind radiate clarity, and every action you undertake be a testament to love's transformative power.

Let the grace of this holy and revered day cascade over you like a refreshing waterfall, washing away weariness, rejuvenating your soul, and reviving your spirit for the journey ahead.

On this blessed Sunday, as the wind gracefully dances around you, may it whisper age-old secrets and blessings into your ears—promises of happiness, prosperity, and a contentment that remains unwavering.

May the narratives, parables, and teachings you encounter on this day not only enlighten your path but serve as a guiding compass. Let them inspire you deeply, fortifying your faith and anchoring your beliefs in the vast ocean of divine wisdom.

As the sun graces our world with its radiant light, casting golden hues and shadows that dance, may your life, too, be touched by such beauty. May this Sunday be a canvas painted with illuminating moments of joy, gratitude, and awe, reminding you of the infinite blessings and possibilities each day holds.

Wishing you a Sunday that blossoms like a radiant flower in full bloom, with petals of love, moments that make your heart flutter with delight, and a core that resonates with deep reflections of serenity. May this day be a fragrant bouquet of peace, love, and happiness.

As the soft murmurs of this gentle day wrap around you, may they whisper tales of hope, songs of joy, and tales of past adventures. Let these gentle reminders comfort your soul, pointing towards the countless blessings and cherished memories that decorate your life's journey.

On this serene Sunday, envision your day as a tapestry, rich in texture and design. May it be intricately woven with threads of lasting peace, vibrant joy, and timeless moments that you'll cherish, a masterpiece reflecting the beauty and depth of your experiences.

With every sunrise, the world is touched by a magical renewal, where darkness gives way to light and new stories are born. Similarly, may this Sunday act as a portal, revealing the beauty, wonders, and blessings that are destined for you, awaiting your embrace and appreciation.
How to Personalize Sunday Mornings and Blessings
Personalizing Sunday morning prayers and blessings adds a unique touch to your spiritual journey.
Begin by reflecting on personal experiences and aspirations you can intertwine these memories and hopes into traditional prayers or craft your own heartfelt blessings. Whether seeking guidance, giving thanks, or asking for strength, infuse your words with personal details.
By doing so, you create a sacred connection, making your Sunday rituals more intimate and resonant with your spiritual needs.