I've begun the process of reupholstering my vintage French Bergere sofa. Let me tell you, this is not for the faint of heart! But, it is doable! I'm taking it step by step and have the old upholstery off. I still have loads of small tacks to remove. Thankfully, this sofa was really well made and the base – burlap, strapping, batting, frame, etc. are all in excellent shape. So, that will save me both time and money. Looking at the sofa in it's deconstructed state, has me thinking about the deconstructed furniture trend. As a reminder of what the sofa looks like, here it is shortly after I purchased it.
I do believe this is a trend that has been born of the popular farmhouse style. I don't really see this style having much longevity. But, seeing the back of my sofa with is bare wood frame and hand-stitched burlap backing, does have me thinking about leaving the back bare? I do say I'm thinking about it, because I'm not quite sure. So, I decided to see what you think about this new trend in furniture. First, I'll show you some examples of deconstructed furniture that have caught my eye.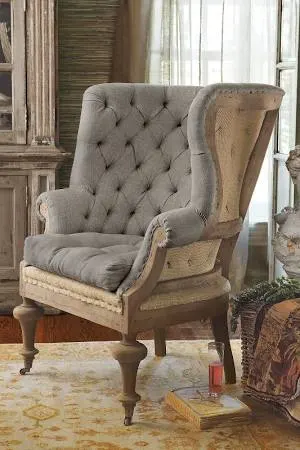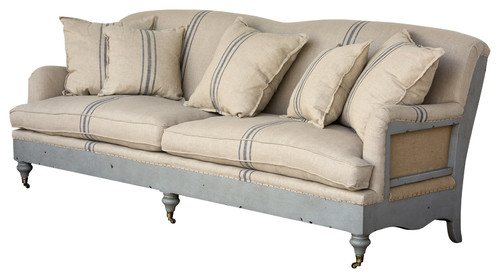 Source
And, here are a few DIY deconstructed furniture pieces by fellow bloggers!
Now, I'd love to hear what you think about deconstructed furniture! And, more importantly, should I leave the back of my vintage sofa open with the frame exposed and burlap showing – maybe just temporarily? I'm so anxious to hear what you think, so please leave a comment!