Many of you know I grew up on a dairy farm in western Pennsylvania. My grandparents lived in the farmhouse and my parents had a house on the same property. The farmhouse had a sun porch with a vintage metal glider, and my grandmother and I would often sit on the glider in the summertime and talk.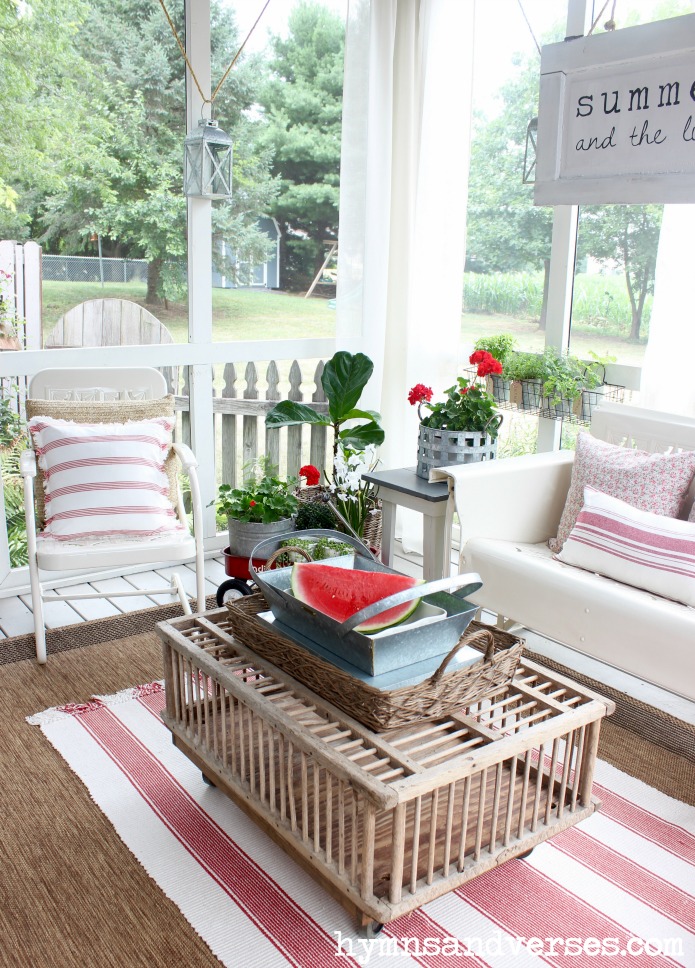 I've been on a hunt for a vintage metal glider for my screen porch. I searched at local barn and yard sales, antique shops, Craigslist, and E-bay. These gliders are getting hard to find and when you do find one, they can be pricy – even with multiple layers of peeling paint and rust.
I really wanted a full size glider, but wasn't having any luck finding one in my price range. When I found this two seater on Craigslist for a reasonable price, I decided it was worth the drive to take a look. The glider was in pretty good condition with only some surface rust. The price was right, so we loaded the glider in the minivan and on our way home; we dropped it off at a local sandblasting and powder coating company to be restored.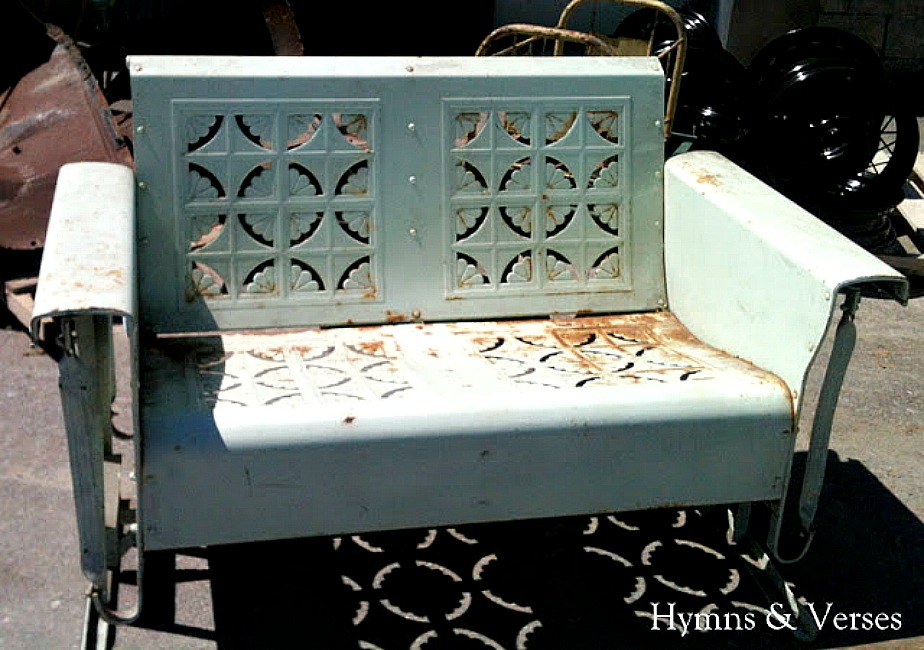 About a week later, I was driving by one of my favorite antique shops and outside there were some vintage metal spring chairs. I quickly pulled off the road and saw that one of the chairs matched my glider! I ran into the shop and asked the owner about the chair and she told me that she had another one like it at home! One was a spring chair and the other a rocker, but both were the same pattern and matched the glider. I asked how much she wanted for both chairs – $30!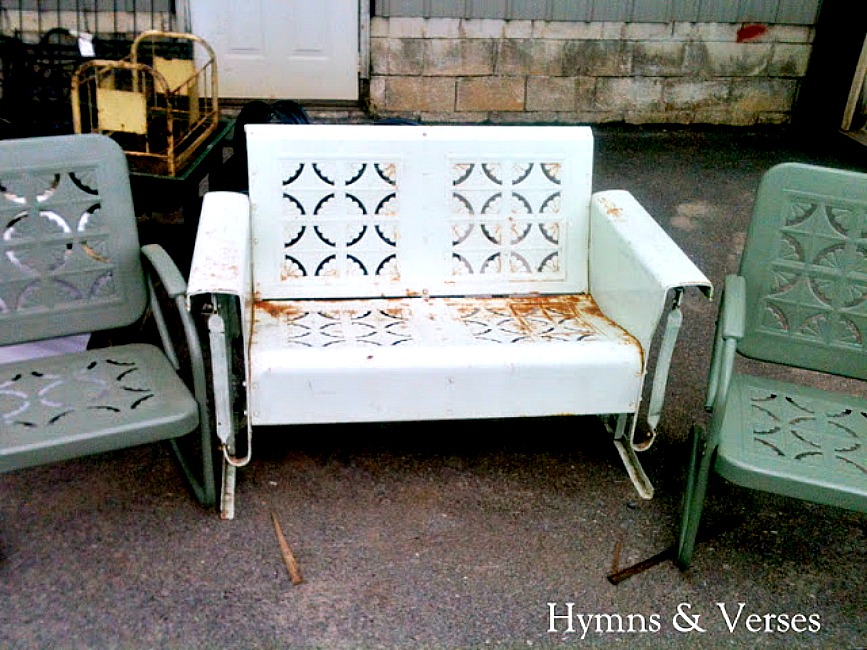 Tips to Restore a Vintage Metal Glider
I thought about attempting the restoration myself – sanding and spray painting. After a few phone calls to local companies; I found that they could be sandblasted and powder coated for a reasonable price. The cost to sandblast and powder coat the set was only $150 and the quality is so much better than what I could have ever done myself. I decided to keep it simple with a soft off white color and add color with throw pillows and blankets. As I was editing my photos, I noticed that the pattern of my vintage quilt matches the pattern on the glider!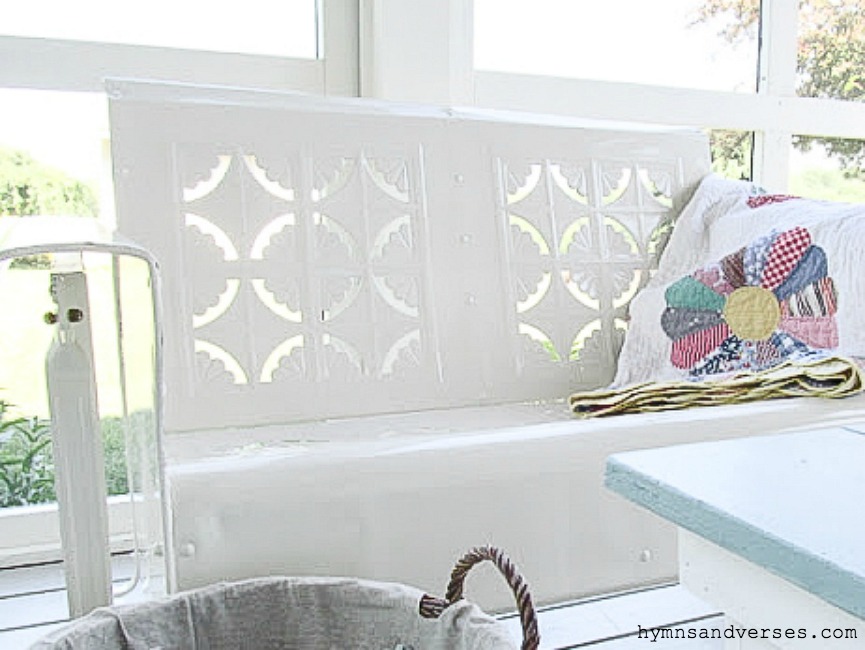 The pattern of this set is called Piecrust and it's my favorite of all the different styles of vintage metal furniture. I found a similar restored set on Etsy in this pattern for $1750! I paid a little over $300 for the three pieces and that includes the restoration!

My metal glider and chairs are on the screen porch, which was also painted. Before, it was hunter green and now is a bright white with a grey/beige floor.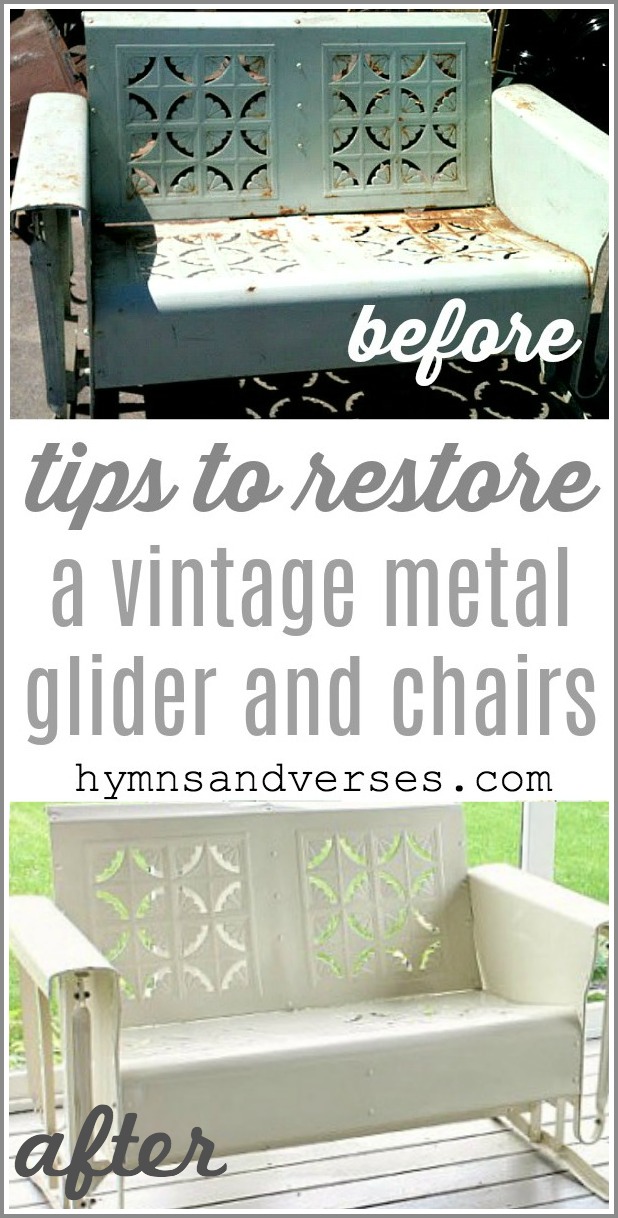 Here are a few more vintage style posts you might like:
How Old is Your Vintage Mason Jar
Turn Your Vintage Photos into Canvas Artwork