I feel like it's the official first day of summer, even though it's not on the calendar! Why – it's the week of the summer home tour series hosted by Marty of A Stroll Thru Life! If you are here visiting from Thrifty and Chic – Welcome! Wasn't Alicia's summertime home just lovely! Those framed lavender prints in her dining room is such a genius idea! For this year's tour, I'm sharing my dining room and kitchen. I've recently made some changes in these spaces, so today is the big reveal! Summertime brings back memories of childhood on the farm – helping my grandmother in her garden, my mom making lemonade for the farm workers bringing in the hay, making homemade ice cream, catching tadpoles in the creek . . . and, I think it's why I am drawn to a vintage style in my decor for the summertime.
*This post contains affiliate links for your convenience. Please see my full disclosure here.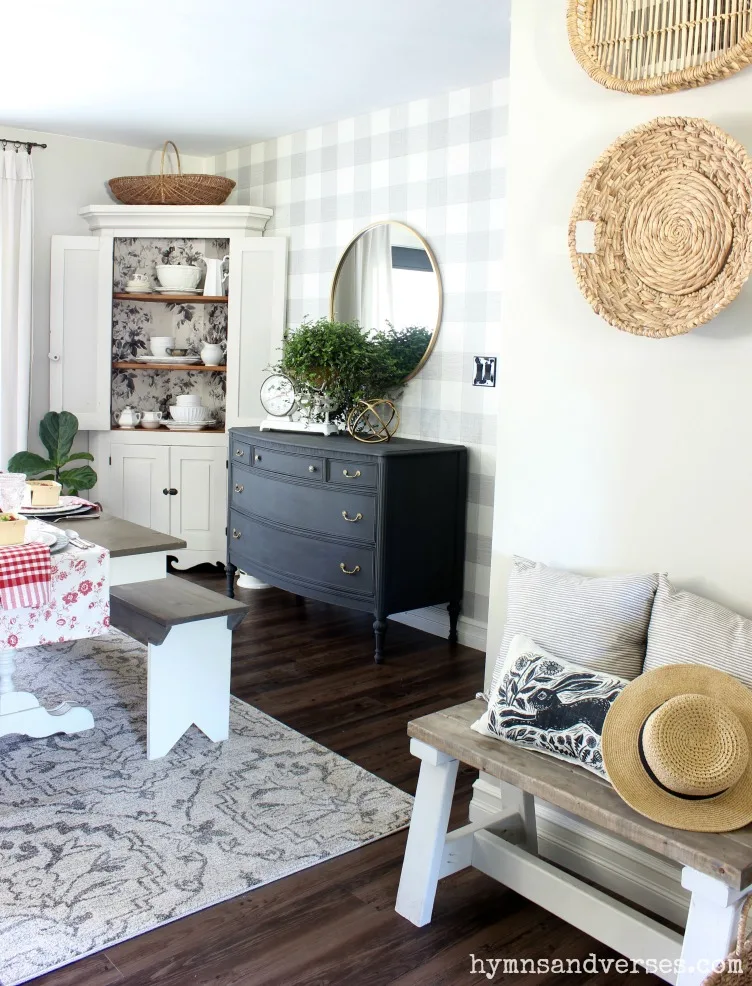 If you follow me regularly, you know I'm drawn to black and white and buffalo check! And, summertime is no different! As a contrast, I added in some red and white to my summertime tablescape. To me, red and white is classic summertime! When it gets closer to July, just add in some navy and patriotic touches for the Fourth of July celebrations! And, you may have noticed a new rug! I am replacing all of my jute rugs and I'll be sharing more about that in another post. I found this rug HERE and love the cottage style print and warm gray and ivory tones.
The big change in this space is the checked feature wall in the dining room. I decided it was time to change out the stenciled damask wall for something more current and when I saw this wallpaper from the Magnolia Home collection, I was smitten! It's called Vintage Threads because the buffalo check is made up of tiny lines that criss cross. I like that it's a bold pattern, but still light and bright.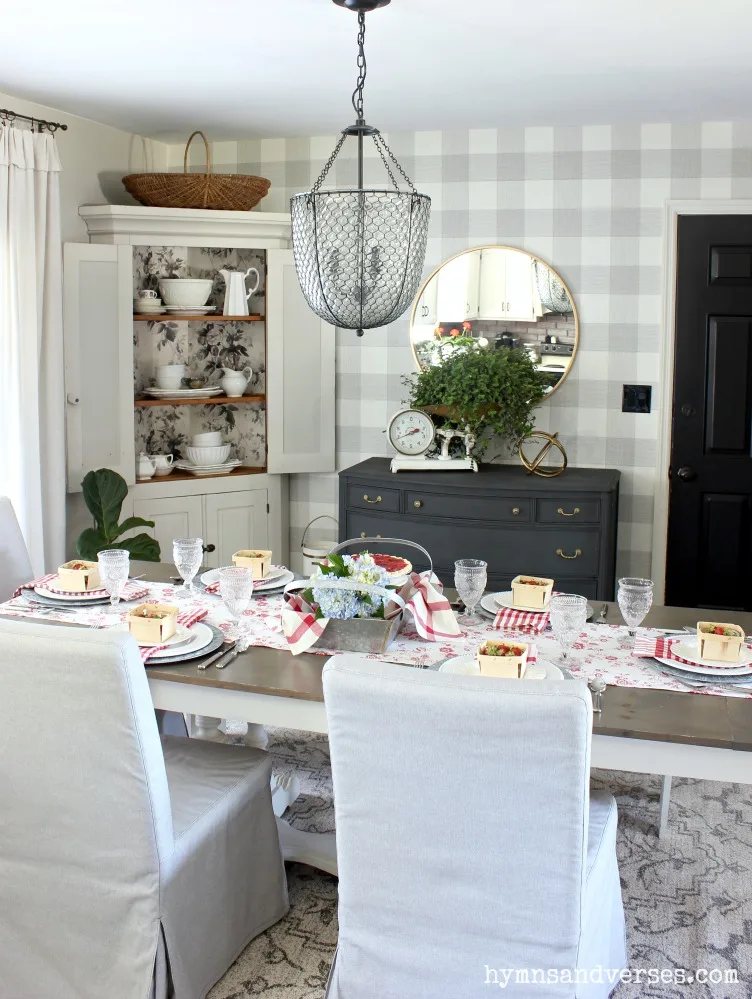 You can see the pattern a little bit better in this photo of my vintage scale with a Wandering Jew plant. Fingers crossed that I can keep it alive! I did my research to find the right trailing vine for the scale that wouldn't be toxic for cats – just in case Sadie decides to give it a taste!
And, did you notice the inside of my corner cabinet? I used leftover wallpaper from my office ( House of Hackney London Rose) to line the inside walls. I love how the two wallpapers work together! I used repositionable spray adhesive to lightly attach the paper, because I do like to change things from time to time and I didn't want the wallpaper to be permanent.
I love the look of the vintage ironstone and silver against the wallpaper. That little pitcher was what my grandmother used for milk on the table. Since we lived on a dairy farm, our milk came straight from the cow!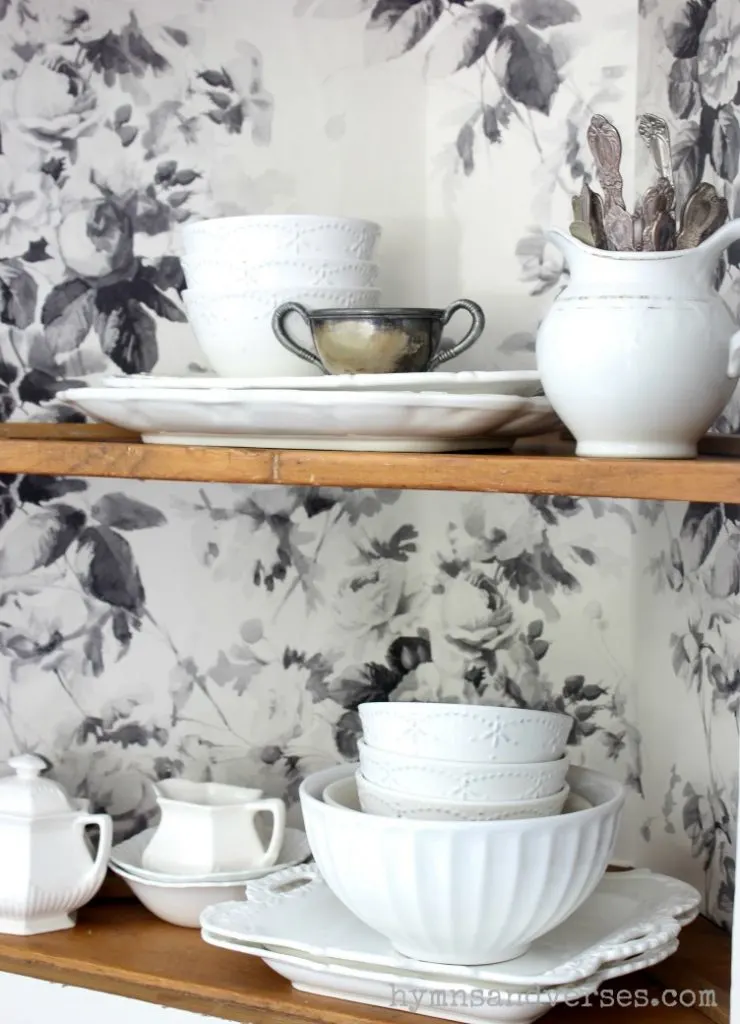 And, what's better on a summer day than a slice of homemade strawberry pie! If you haven't tried my recipe for the Perfect Strawberry Pie, what are you waiting for! Strawberry season is so short – make a pie while those sweet berries are plentiful! You can get the recipe HERE.
For each table setting, I layered a galvanized charger, white dinner plate, a red and white plaid napkin, a vintage ironstone salad plate, and a berry basket filled with strawberries. These small glass custard cups fit perfectly inside the berry baskets.
I shared recently on instagram and facebook that I don't often share my kitchen because it really needs a major update. But, those updates take time to save for. But, that doesn't mean there aren't things that I can do to make it look nicer while I wait for those big upgrades. I'm often asked about my concrete countertops and if they have held up. It's been almost six years now and they have held up great.
I did add a couple new things. I fell in love with this metal dairy sign from Decor Steals earlier this month and had to have it! It works perfectly above the kitchen sink. And, I recently got this bold buffalo check throw rug for in front of the sink area. I like it because it's washable!
Another vintage scale and some summertime red and white flowers brighten up this area. And, I had to add the tiny red vintage sneakers I found a few years ago at a local antique shop.
Lastly, the space opposite the kitchen counter is where I have the kitchen cart that Mark built. I love to style this space, but it's so hard to photograph! I used a mix of vintage and vintage style reproduction pieces in this space.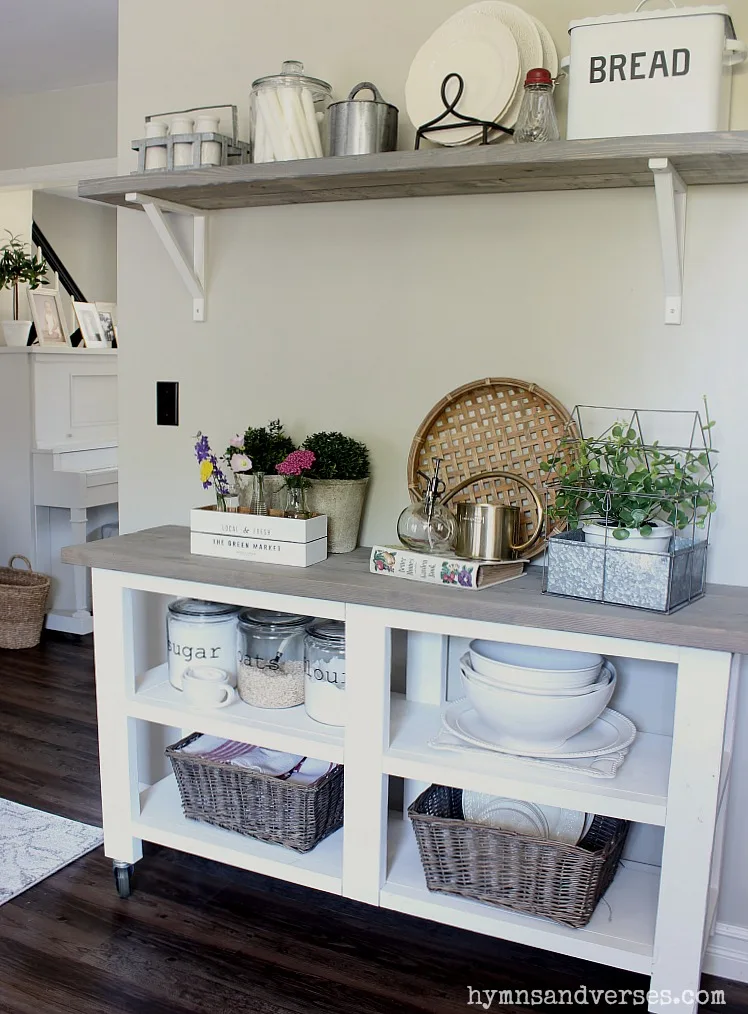 I found this galvanized mini greenhouse at a local shop and fell in love! The vine is faux, but is pretty realistic. I found the vintage Better Homes and Gardens Garden Book from the 1950's at a local thrift shop! There are some for sale on Etsy if you'd like one too!
And, what's better than being able to bring in flowers from your own flower garden to decorate in the summertime! Something else that I learned from my grandmother! She always had the best flower garden!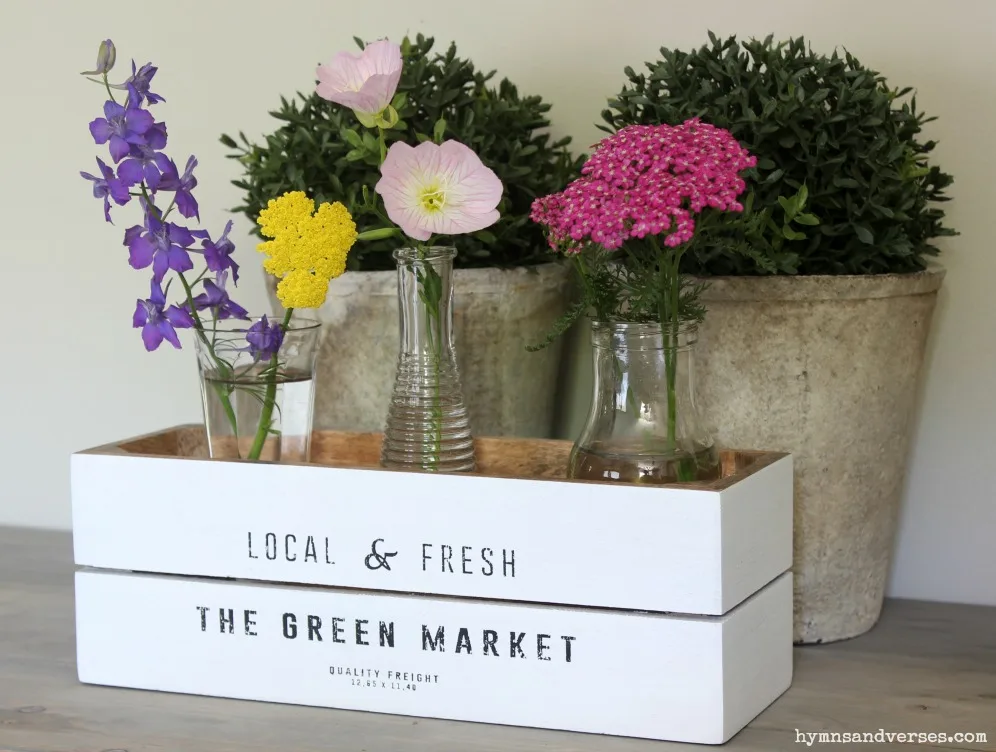 Thanks for stopping by today to take a look at my summertime vintage style dining room and kitchen spaces. Next up on today's tour is Starfish Cottage. You are going to love Kristy's beachy boho style! If you missed any of this week's tours, you can find the entire line up with links below! This is such an eclectic group of bloggers and styles – there's something for everyone!!!
Monday – June 11
Tuesday – June 12
Wednesday – June 13
Thursday – June 14
Fri –June 15
Sources:
Bunny Pillow
Basket