Happy Thursday, Friends! It's a rainy day here, but we do desperately need the rain, so I'll be thankful for it! Today, I wanted to share this "We Gather Together" printable chalkboard art for your fall and Thanksgiving decor. The print is available to download and print in my FREE Printable Library for my email subscribers. If you haven't signed up to get my posts in your email inbox, sign up today to get access to my password protected Printable Library! You can sign up HERE. Once you sign up, you will receive a password to access the Printable Library!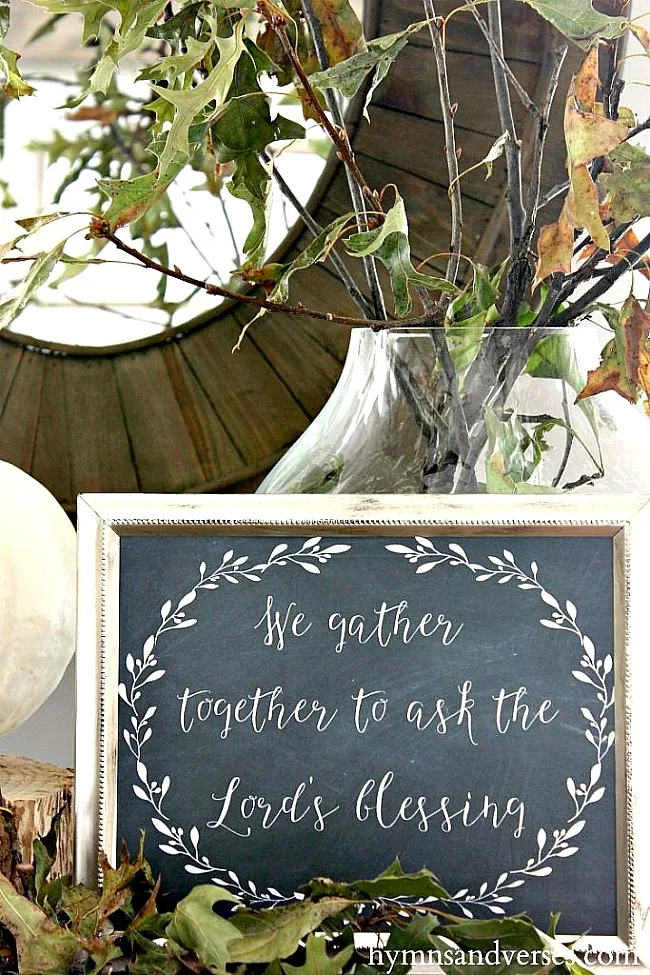 It is sized as an 8″ x 10″ that you can print on your home printer. Just pop it into a frame and you have a piece of fall chalkboard art for your home!
You could also have the We Gather Together print enlarged at your local copy center and frame it like I did in this post. Another option would be to enlarge the print and make it into a wall chart – as shown in this post.
Here are some other ideas for this print:
Use it as a screen saver for your computer.
Size it down to a 4″ x 6″ or 5″ x 7″ and use it to create Thanksgiving invitations. You could even make it post card sized and write the invitation information on the back.
In the same line, use it to make your own Thanksgiving greeting cards.
Have the print enlarged to 11″ x 17″ at the copy center on heavy weight paper and use as paper Thanksgiving placemats.
If you have any other creative ideas to display the chalkboard, I'd love to hear them!
I hope you like this We Gather Together chalkboard printable for Thanksgiving! As always, I would love it if you would share this with your friends by pinning it on Pinterest and by sharing it on Facebook, and Instagram!