I'm back today with a spring project that brings the outdoors in! It's an easy spring planter that you could use as a centerpiece for your Easter table or anywhere you want to make a bold spring statement! I got the idea for this willow branch cage planter many years ago in a Martha Stewart Magazine.
How to make this Willow Branch Cage Planter
Isn't this such a unique idea? The inspiration photo, shown above, shows that the base of this willow branch cage planter was wheat grass and Easter eggs. I didn't take the time to grow the wheat grass, so I adapted the idea a bit. And, I used a wicker basket instead of a planter like the one pictured in the inspiration photo. This basket is made to be a planter since it is lined with plastic. But, if you don't have a basket that is lined, you can always line one yourself using the plastic from a heavy duty trash bag cut to size.
You can use whatever flowers you like. But, I used these bright blue grape hyacinths that had just started to bloom. Then, I added some sweet white alyssum to the planter as well. The remaining potting soil was covered with some craft moss. And, to complete the look, I added a faux bird's nest and a few tiny eggs to the planter.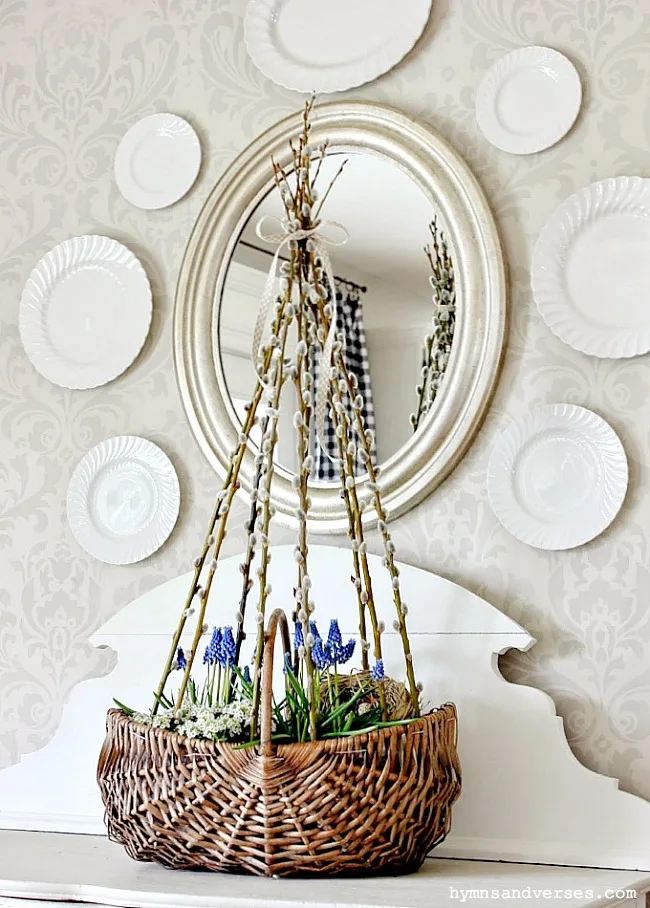 Willow Branches
Now, for the part that I love – the willow branches. I picked up a bunch of these branches from a local grocery store and cut them all to the size that I wanted (keep in mind how deep you are placing the branches into the dirt when you make your cuts). Whatever container you choose, I think the deeper, the better. Placing the branches in deeper soil gives them more stability. Once the branches are cut, place them into the dirt around the perimeter of your planter. Now, find a pretty ribbon and tie it around the top of the branches.
What do you think? Keep in mind, thinner willow branches bend more than the thicker variety. And, you can use more of them. The willow branches I found were thicker and didn't bend like those in the inspiration photo.
If you like this project, here are a few more you should check out!