For me, I feel like the first sign of spring is when I'm awakened by the sounds of birds chirping outside my window! When I was out doing a little shopping at HomeGoods, I spotted such a pretty bird house and had to bring it home! But, before it becomes a home for the birds, I thought I would use it to create a Spring bird house tablescape.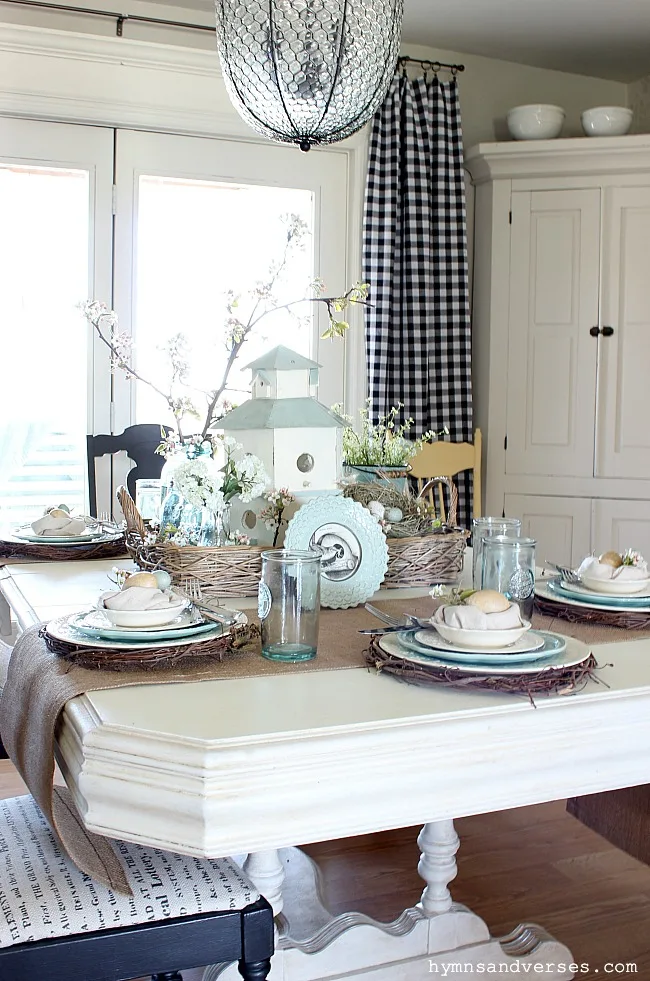 birdhouse centerpiece
My favorite part of the birdhouse is the light blue tin roof! For the centerpiece, I used a rectangular willow basket and placed the bird house in the center. I surrounded the bird house with vintage ball jars filled with branches from my flowering pear tree.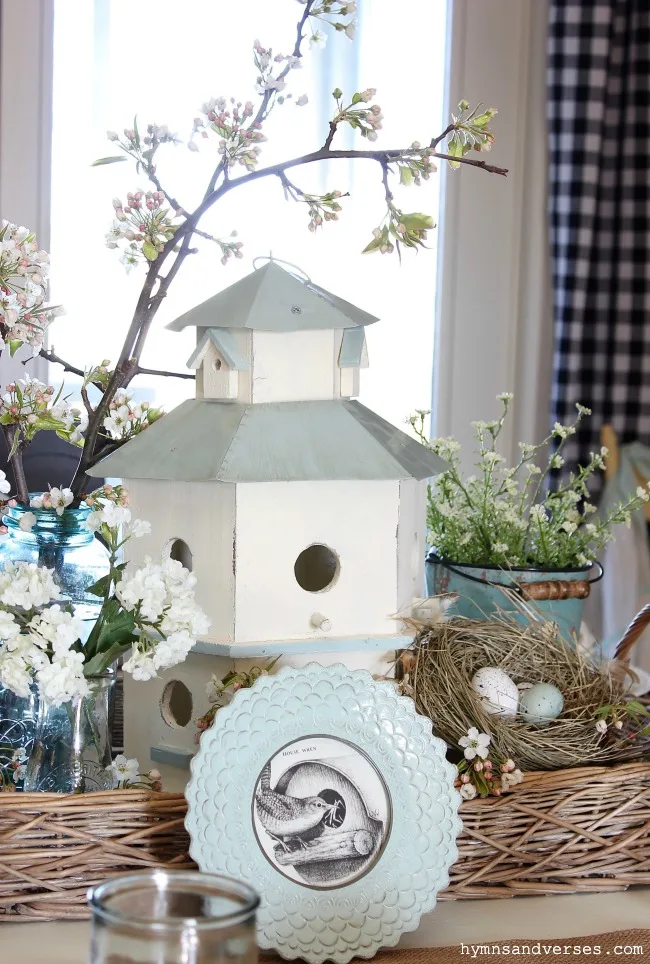 BIRD NESTS WITH EGGS
I also added a faux bird nest with eggs, and a blue tin bucket with some faux flowers.
VINTAGE BIRD PRINTABLE
At the front of the basket, I used this light blue round frame (also from HomeGoods). I knew I had an old book on North American birds from my great aunt (she was an avid birdwatcher). The book proved to be just what I needed! I found this image of a sweet House Wren building her nest. I scanned the page, printed it out and cut it to fit my frame.
You can download and print the image too if you like!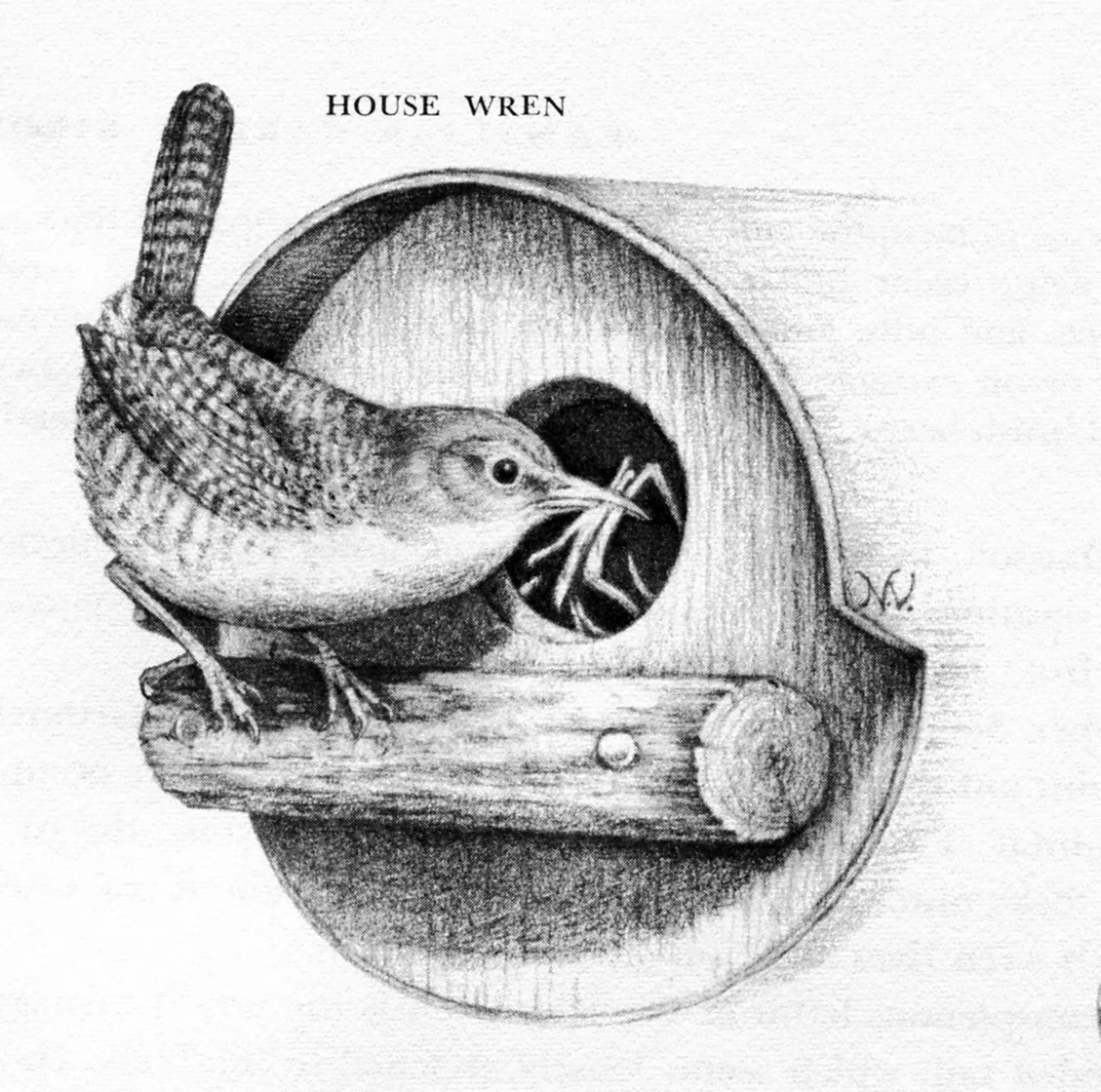 BIRD NEST PLACE SETTING
For each place setting I started with a round grapevine wreath underneath my dinner plate. It gives the look of a much more expensive nest charger. The dishes I used are a mix of vintage patterns in white and the blue salad plates are from Home Goods. I tied my everyday silverware with twine to fit the natural theme. The napkins are placed inside a small dessert dish like a bird's nest (I made my own napkins. The
napkin tutorial is in this post
). Inside my napkin nest is a sprig of flowers from the flowering pear and a natural colored paper mache egg and a smaller faux Robin egg.
The drinking glasses are from TJ Maxx. I got them about a month ago – again because I loved the pale blue color and the embossed stamp on each glass. I thought they would be perfect for spring and summer. Instead of a tablecloth, I used two burlap runners placed horizontally across the table.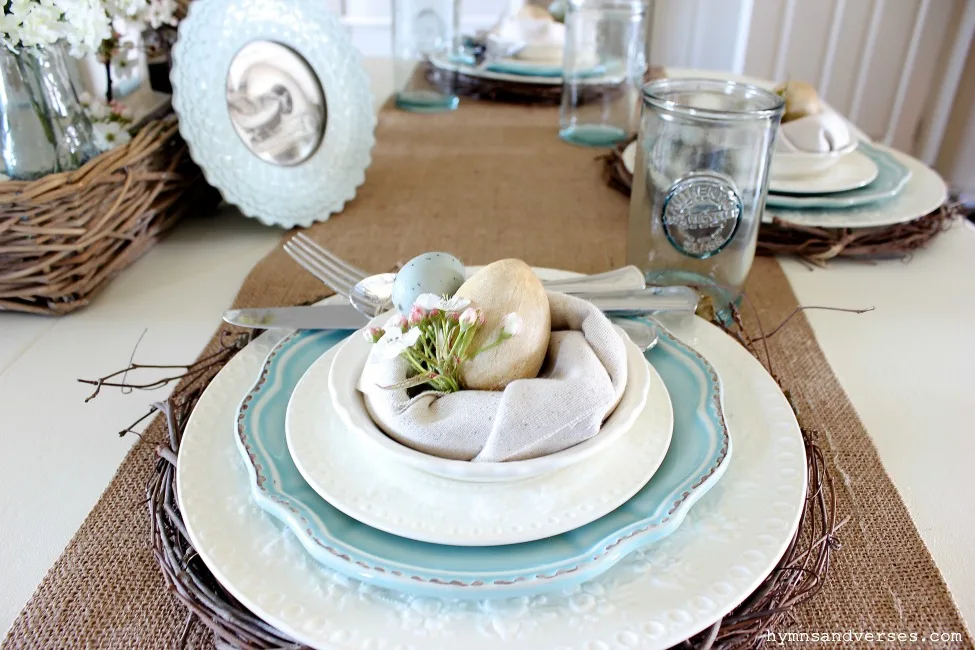 This Spring bird house tablescape was so much fun to put together! I know it's been a long time coming, but spring is finally here! I feel this tablescape is a celebration of the season! Thanks for stopping by today!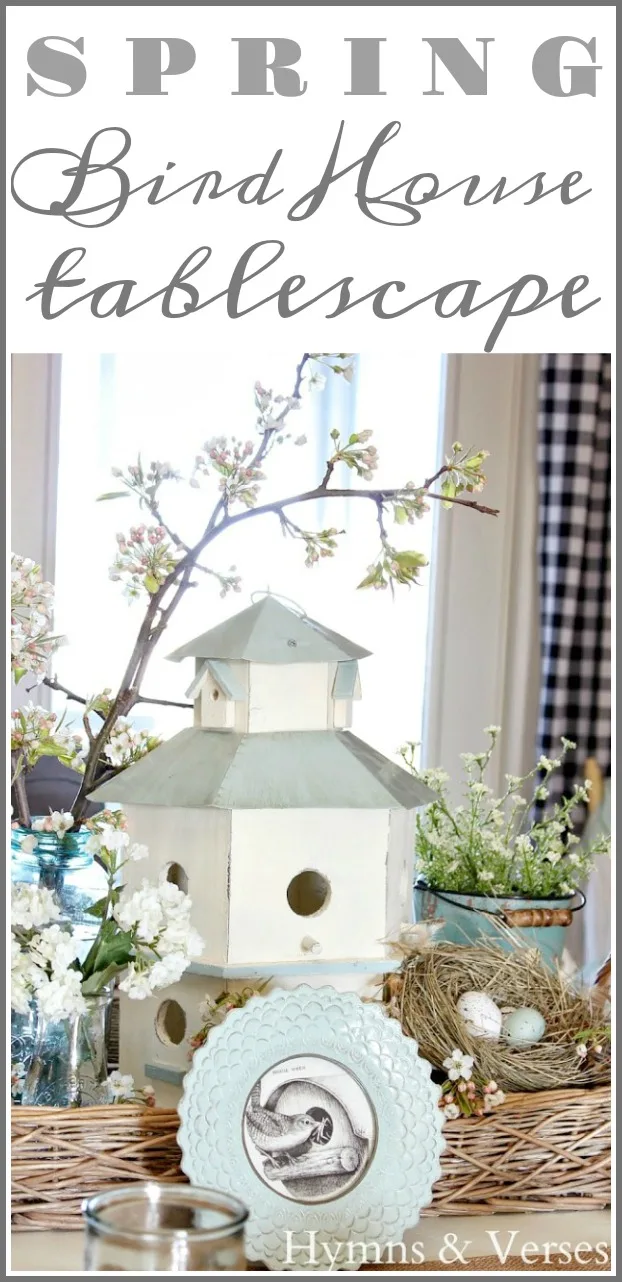 Click the links below to see more posts like this one!