Happy Monday!  I'm beginning to transition my decor from winter to spring.  But, I'm not quite ready for florals and bunny rabbits, do you hear me?  That will come next month when I share my yearly Spring Home Tour!  Right now, we're in that period where mother nature is transitioning from winter to spring.  Where one day the wind is whipping and there are snow flurries in the air and the next day the sun is shining and the temps rise into what feels like spring!  But, those days don't last!  It's just a glimpse of what is to come.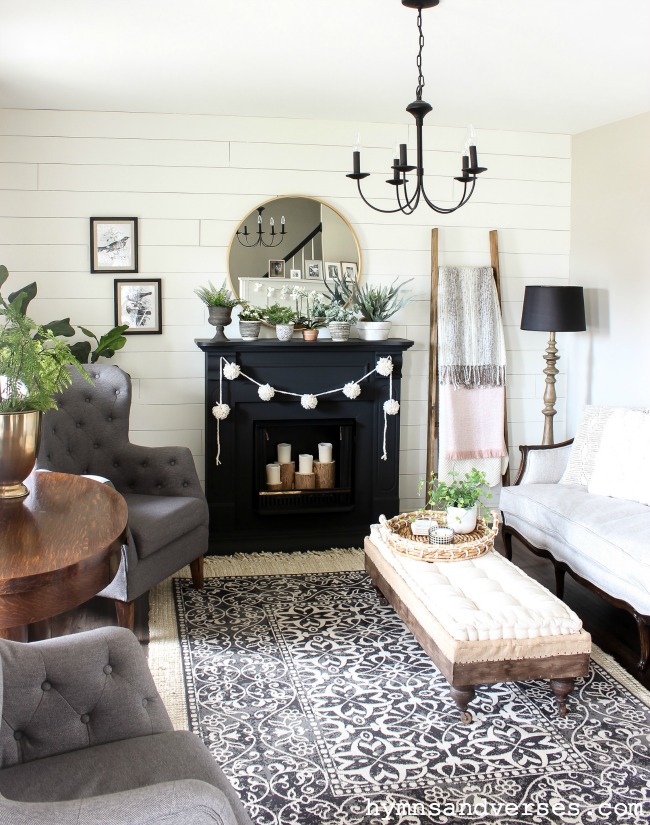 And that's how I approach my decor this time of year.  I want to bring just a glimpse of spring into my interior spaces.  To do that, I first remove all of the deep and dark tones from my accessories.  Like the velvet burgundy pillows and the black marble tray on my ottoman.  On my sofa I kept the shades to black and ivory – soft and simple.  And, I replaced the black marble tray with a lighter wicker tray.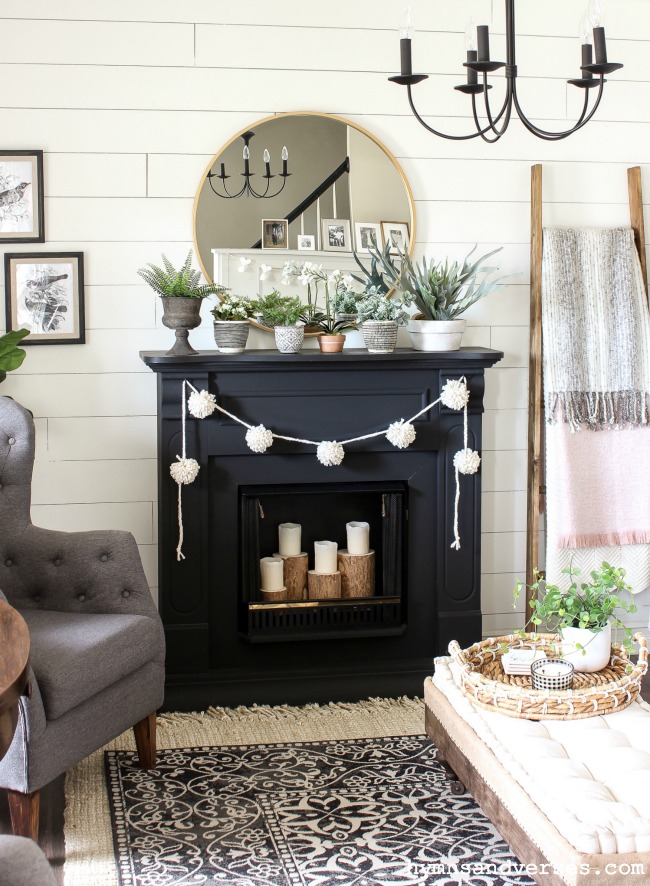 I also changed up the throws on my blanket ladder.  I packed away the quilted velvet burgundy throw and replaced it with a lightweight pale pink one.  And, I replaced the black and ivory plaid throw with a gray and ivory lightweight throw.  Just a simple change, but removing those darker shades does lighten up the space.  You can see the before images in THIS POST.
I did keep the DIY pom pom garland on the mantel, but I'll soon be putting it away because the cozy texture lends itself to fall and winter decor.  On the mantel top, I brought a variety of plants.  Plants and greenery indoors mirror the changes we will soon see outdoors with new growth.  I love to have live plants inside, but for the mantel I decided to go with faux.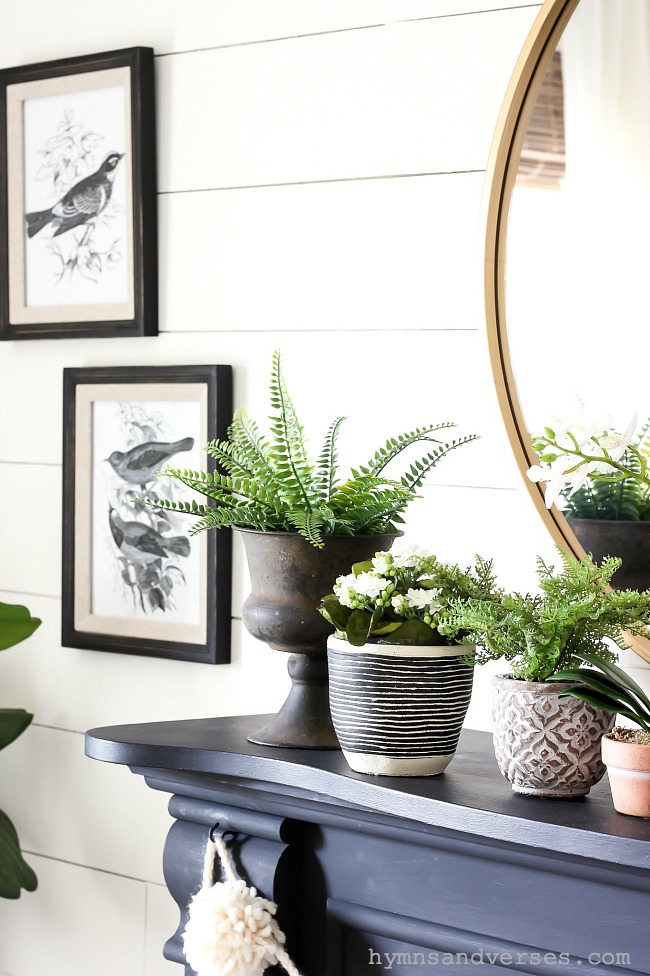 You can find very realistic faux plants now and to me, I love that I don't have to worry about keeping them alive!  Especially for a mantel design like this with a variety of smaller plants.  And, I can use them anywhere without having to worry about how much sun they are getting, because my house doesn't have a lot of natural sunlight.  Now, don't get me wrong, I love live plants and they have great benefits to the environment in your home.  I'd say using a combination of real along with great-looking faux plants is perfection!

So, have you begun to transition your decor from winter to spring?  If I lived in a warmer climate, I think I would have begun even sooner!  I'll be sharing more spring decor as we move into March.  If you'd like to see some inspiration, I'll link to my past Spring Home Tours below!  I hope your week is full of sunshine and springlike weather!