It all started with packaging for my Etsy shop Christmas orders! I have been wrapping my orders in brown paper packaging, tied up with string . . .
Or, it could have been the yearly Oprah extravaganza! Either way, "My Favorite Things" has inspired a few Christmas ideas this year.
Like my Christmas tree – I think of it as a Silver White Winter tree! It's full of white glittered snowflakes, tin icicles, wintery white birds, silver glass pinecones, and silver walnuts.
The white glittered snowflakes were wood snowflakes that I got at Michael's in the clearance section for $1.49. I spray painted them white and then added some Diamond Dust glitter to make them sparkle. The tin icicles were hand crafted and I have had them for years. The glass pine cone ornaments were gold (last year my tree was more traditional in reds and gold). I spray painted them with Real Silver spray paint – easy transformation!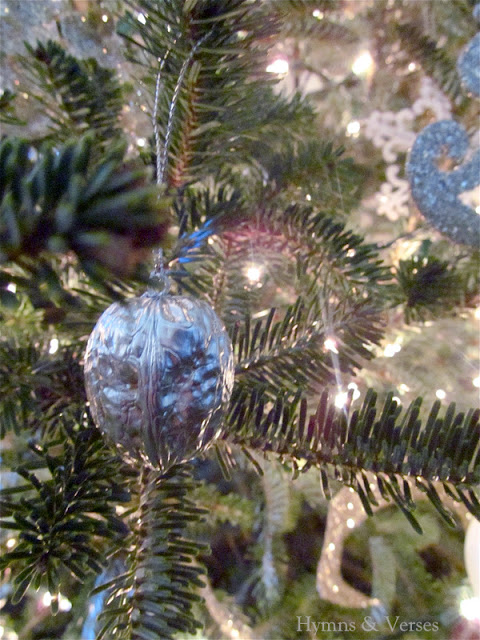 The walnut ornaments I made last year and were also gold. They are real walnuts with a small eye screw in the top and cording to hang on the tree. I just hung them all on a stick and spray painted them with the Real Silver spray paint – cords and all!
There are some glittered words, white pearl stems, glittery leaves, frosty white and silver glass balls, and this cool silver German glass glitter ribbon I found at my favorite local shop to complete the look.
So, there you have it – my Silver White Winter Christmas tree!