Happy New Year!  It's a fresh start and it's time to get organized!  I don't know about you, but I'm a write it down kinda person – I love my gadgets, but there's nothing like a printed planner to keep me on schedule!   So, I created a 2016 Printable Planner and Calendar for me to get my days/months/and year organized & I have all the pages here for you to print as well!  To download each page, click the title in ALL CAPS under each printable.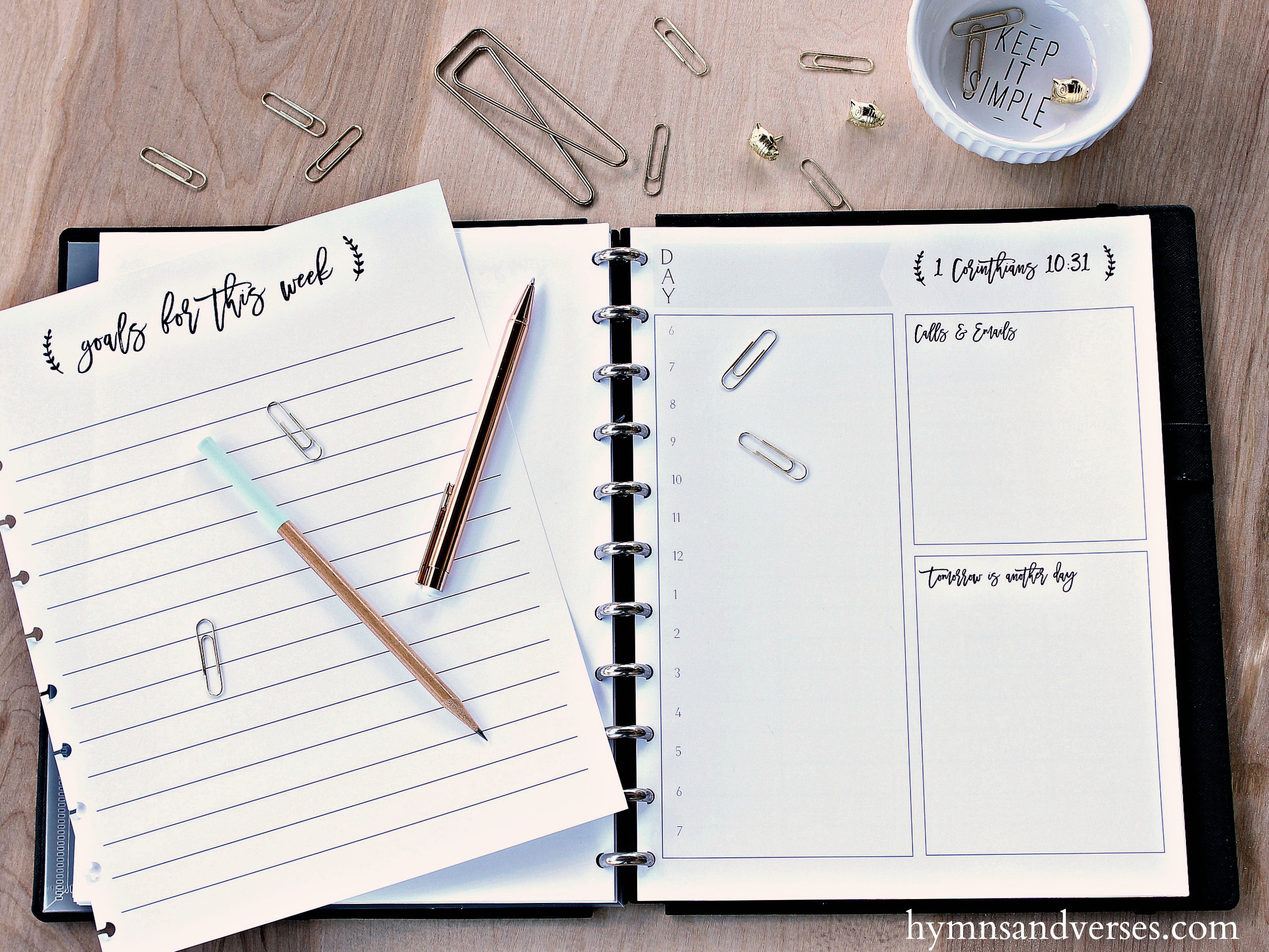 First up is a WEEKLY GOALS PAGE – because it's always good to have a goal to strive toward and better yet – to have those goals written down. And, a DAY PLANNER PAGE.   I'm using this page to keep me on track by hour – 6 am – 7 pm.  There's a space to write down what I need to do hourly (or block off a section of hours), a space for any calls or emails that I need to make that day, and a space to write down the things I didn't complete – to add to tomorrow's DAY PLANNER PAGE.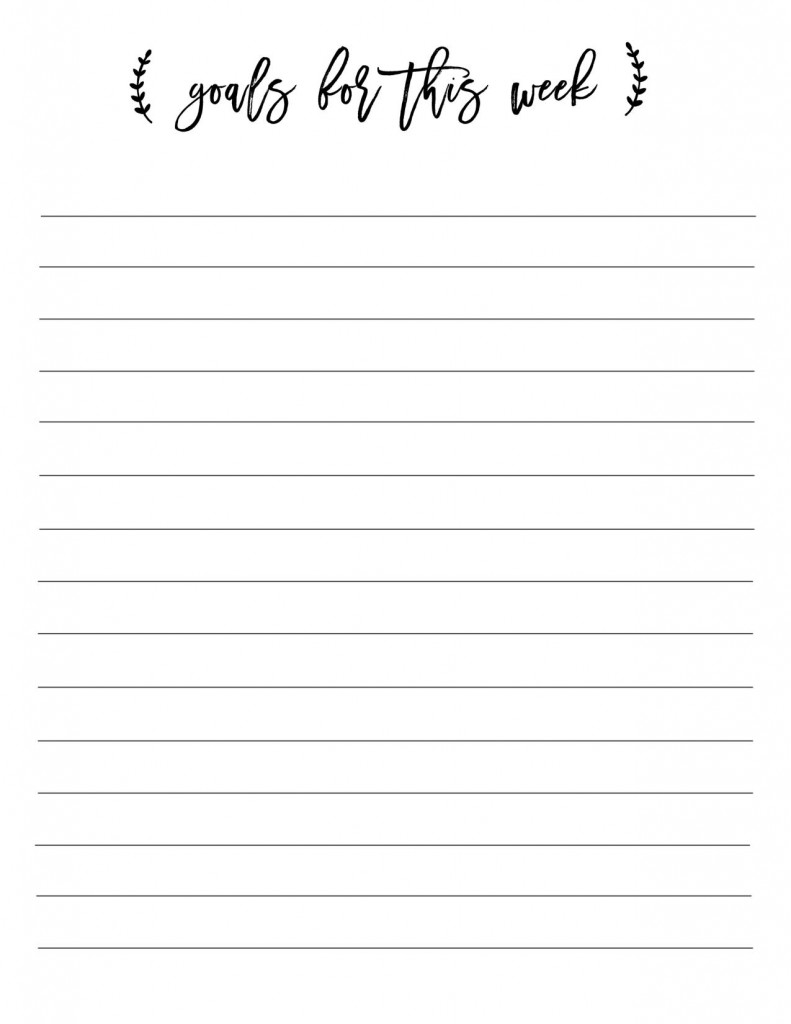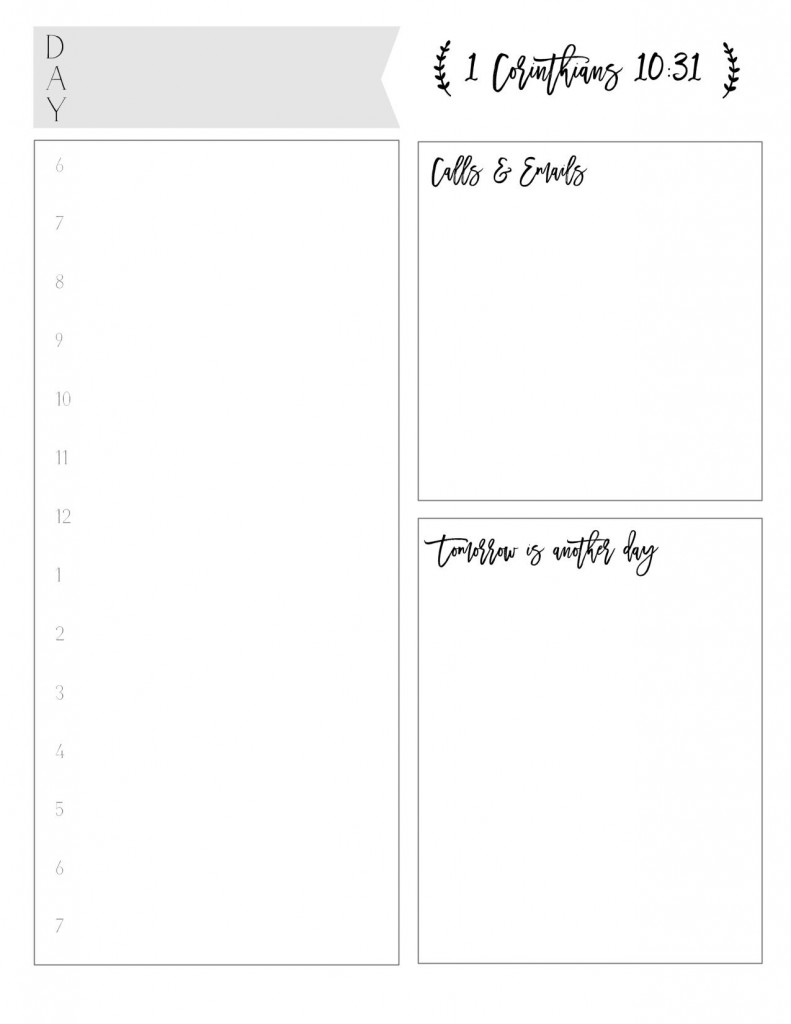 Next are  WEEKLY "AT A GLANCE" PLANNER PAGES.  Two pages that include spaces for Monday through Friday, Calls & Emails, and Notes. I didn't include Saturday or Sunday – basically because I want to be intentional this year about the time I spend working.  I work long days, so I'm going to attempt to keep my weekends clear for family, fun – AND REST!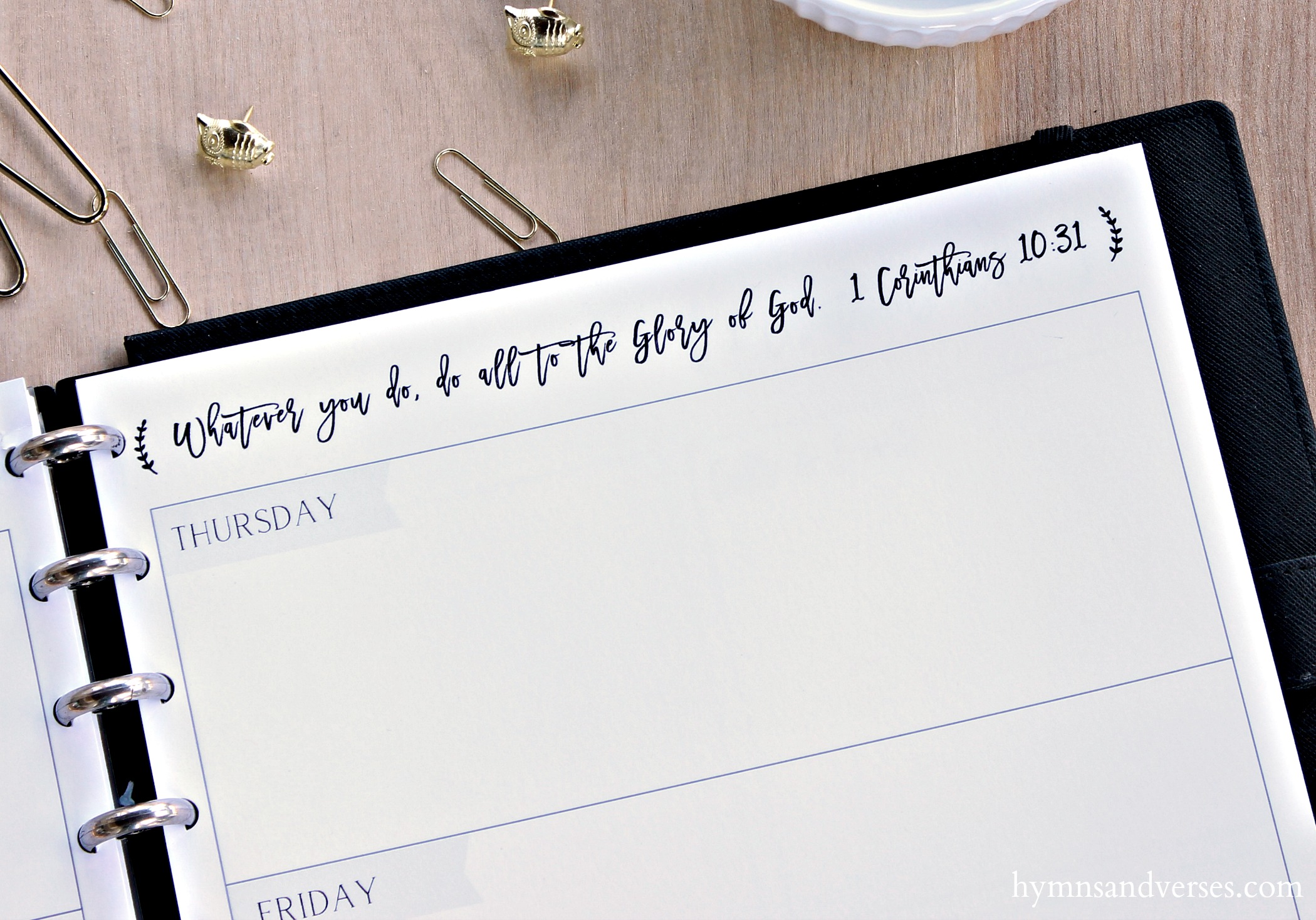 At the top of the second planner page is the verse – "Whatever you do, do all to the glory of God."   1 Corinthians 10:31
WEEKLY "AT A GLANCE" PLANNER PAGE 1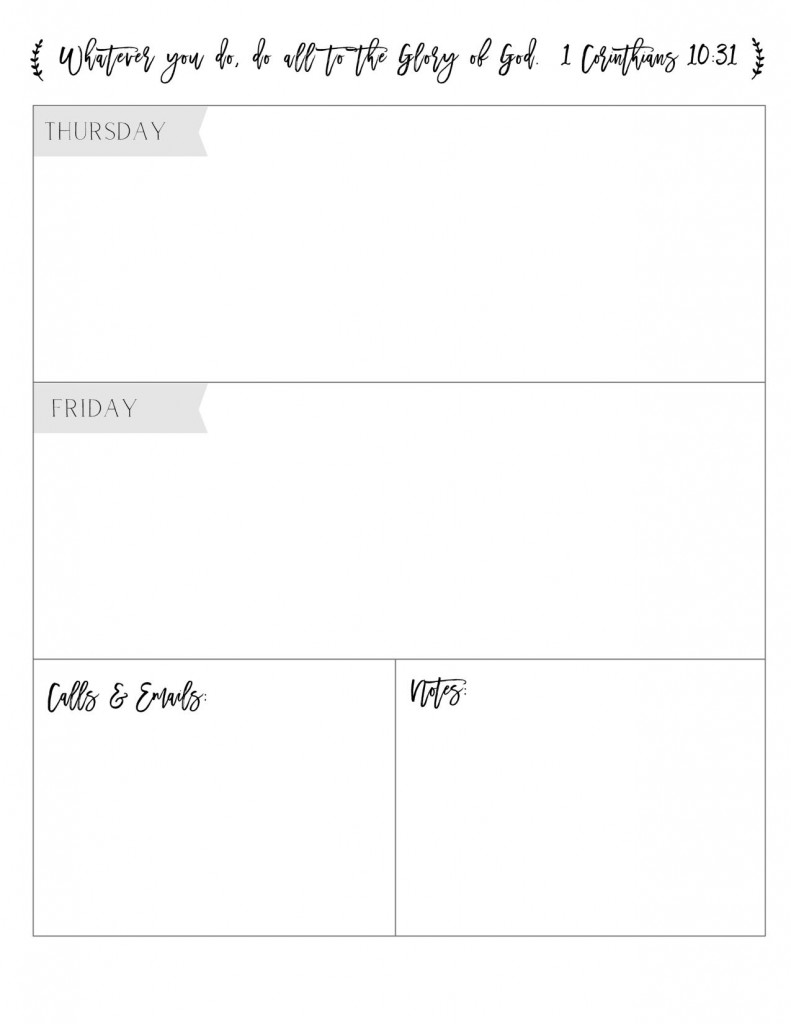 WEEKLY "AT A GLANCE" PLANNER PAGE 2
This year I decided it was important for me to set some BIG goals – I'm writing down those BIG goals on the MY GOALS FOR 2016 page.  I've always had dreams and wishes for my blog and Etsy shop, but this year I'm making goals and writing them down.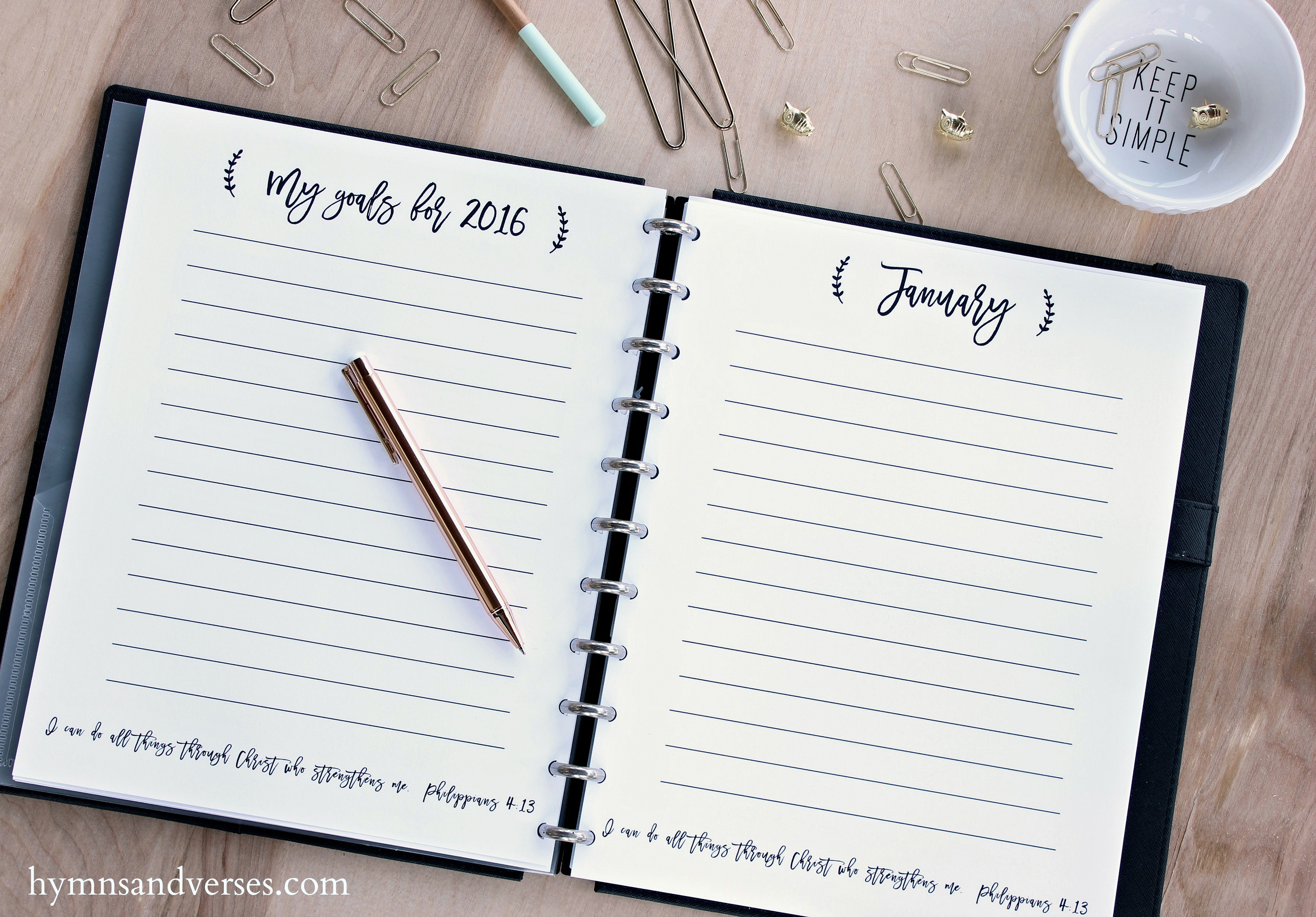 In addition to those BIG yearly goals, I'm going to set some goals by month.  I'll write them down on a MONTHY GOAL PAGE.  And, above I shared the WEEKLY GOAL PAGE.  Feel free to print whatever pages you like – I just know that if I have goals written down, it makes me more accountable!  Again, I included an inspirational verse to these goal pages – "I can do all things through Christ who strengthens me."  Philippians 4:13.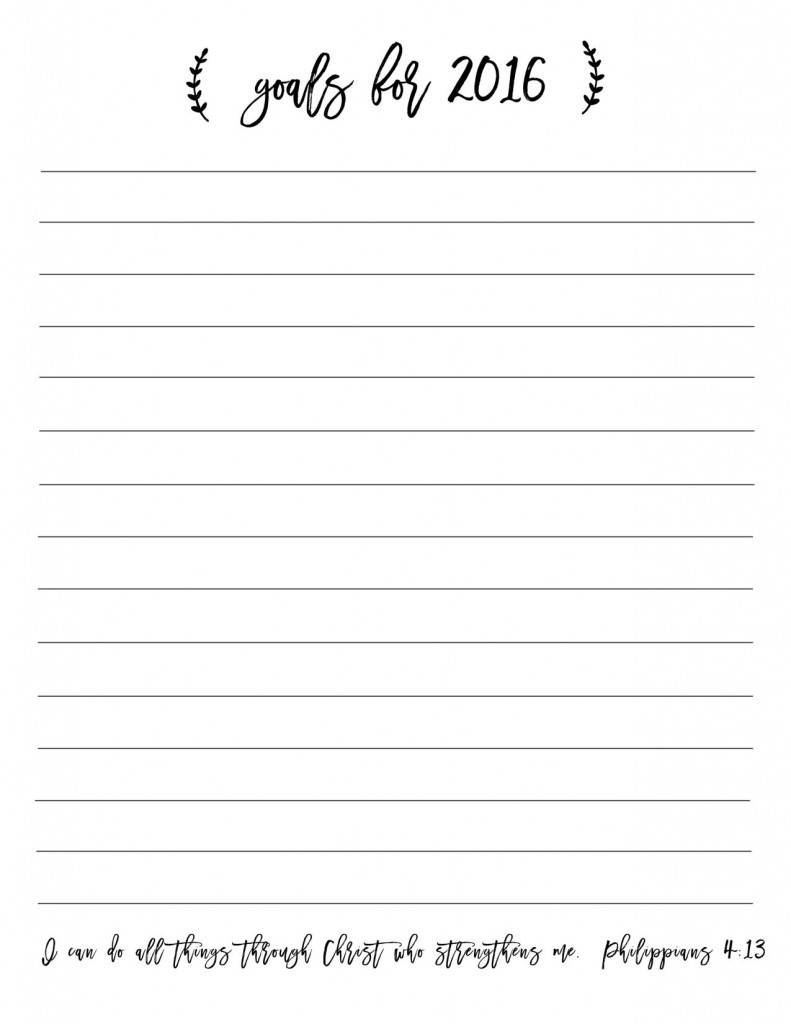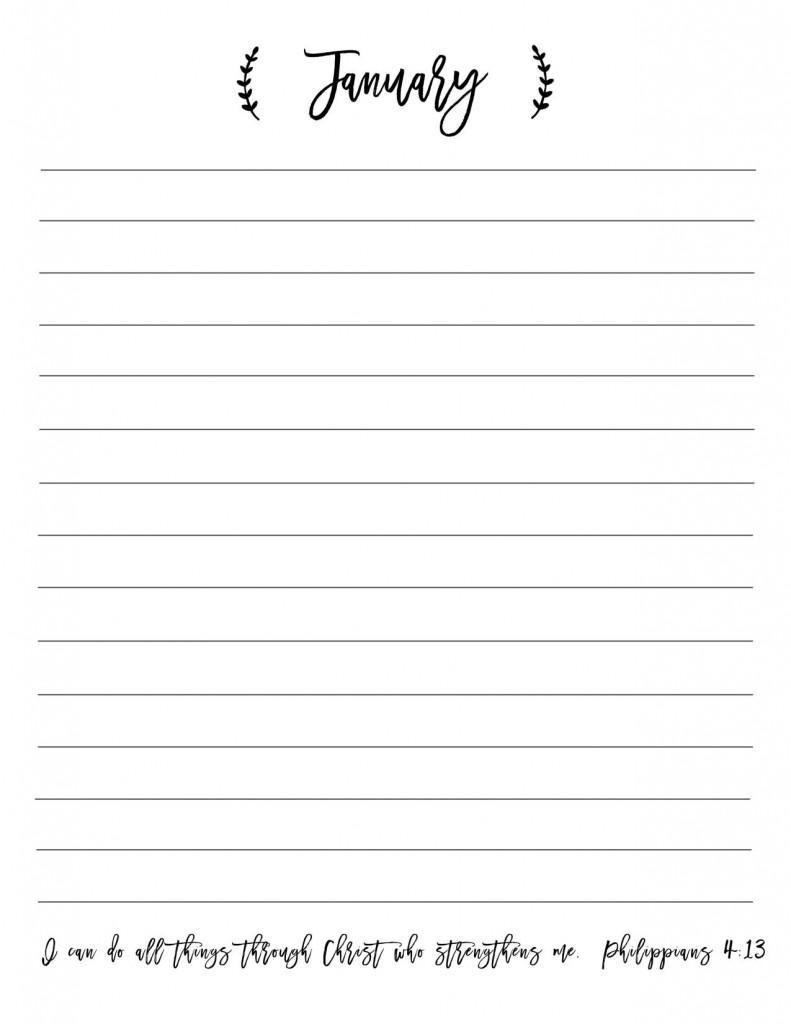 Lastly, it's always nice to have a monthly calendar – so I created this PRINTABLE JANUARY CALENDAR to get us started!  I also included a verse for the month –
Lamentations 3:22-23 – "The steadfast love of the Lord never ceases, His mercies never come to an end; they are new every morning.  Great is thy faithfulness (oh Lord).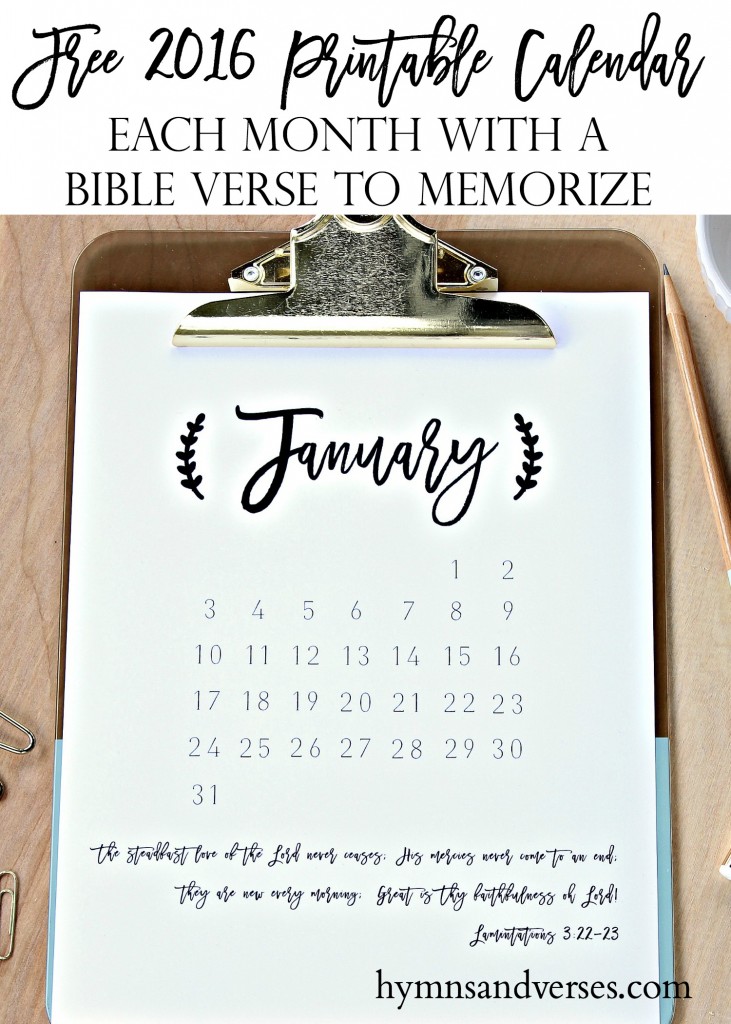 I'm going to keep this monthly calendar on the wall near my computer.  I attached mine to a clipboard for easy hanging.
On February 1, I'll have a "February" calendar for you to print with a new verse, and a February goals page.  I hope that these printable 2016 planner and calendar pages will come in handy for you as we start this new year afresh!   I am going to do my very best this year to be more organized with my time!   Here's to an organized 2016!
This week, I'm joining some of my blogging friends in the Ultimate Organization and Cleaning Blog Hop.  Below you will find links to each post!  I know I can't wait to see what my friends are sharing to help keep my home clean and organized in 2016!
Check out these great cleaning and organizing ideas:
SUNDAY – CLEAN AND ORGANIZATION PRINTABLES
Domestically Speaking | Simply Designing | Hymns and Verses
Fresh Idea Studio | Decor Adventures
MONDAY – CLEANING TIPS & RECIPES
Refresh Restyle | Cupcakes and Crinoline | Stone Gable
What Meegan Makes | My Uncommon Slice of Suburbia
TUESDAY – KITCHEN ORGANIZATION AND DIY PROJECTS
Postcards from the Ridge | H2O Bungalow
Yesterday on Tuesday | Inspiration for Moms
WEDNESDAY – BATHROOM ORGANIZATION AND DIY PROJECTS
Petticoat Junktion | Redhead Can Decorate
The Silly Pearl | Cleverly Inspired
THURSDAY – LAUNDRY ROOM ORGANIZATION AND DIY PROJECTS
The Interior Frugalista | Setting for Four
FRIDAY – PANTRY & LINEN CLOSET ORGANIZATION AND DIY PROJECTS
Duke and Duchesses | Organized Island
Occasionally Craft | Organize and Decorate Everything
Sharing today at: