Growing up on a farm, I can remember my mother and grandmother making apple dumplings every fall.  They were soooo good.  We would even have an apple dumpling as an evening meal, and I remember my grandfather having a warm apple dumpling with milk for breakfast!  Apple dumplings are definitely a Pennsylvania Dutch treat and are a staple here in Lancaster County.  The Historic Ephrata Cloister even has an apple dumpling festival each fall.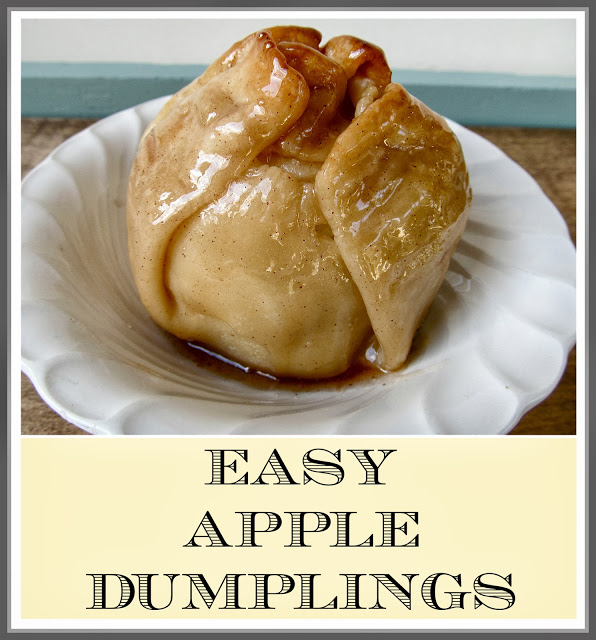 I searched the internet and found a recipe from Southern Living that I tweaked a bit to make it even easier – because I like a good recipe shortcut!  I used to be intimidated by the thought of making these dough wrapped apples.  I thought it would be difficult.  But, guess what – they were easy to make and are so delicious!!!  Mark and I taste tested them last evening with some vanilla ice cream  – and they are as delicious as I remembered!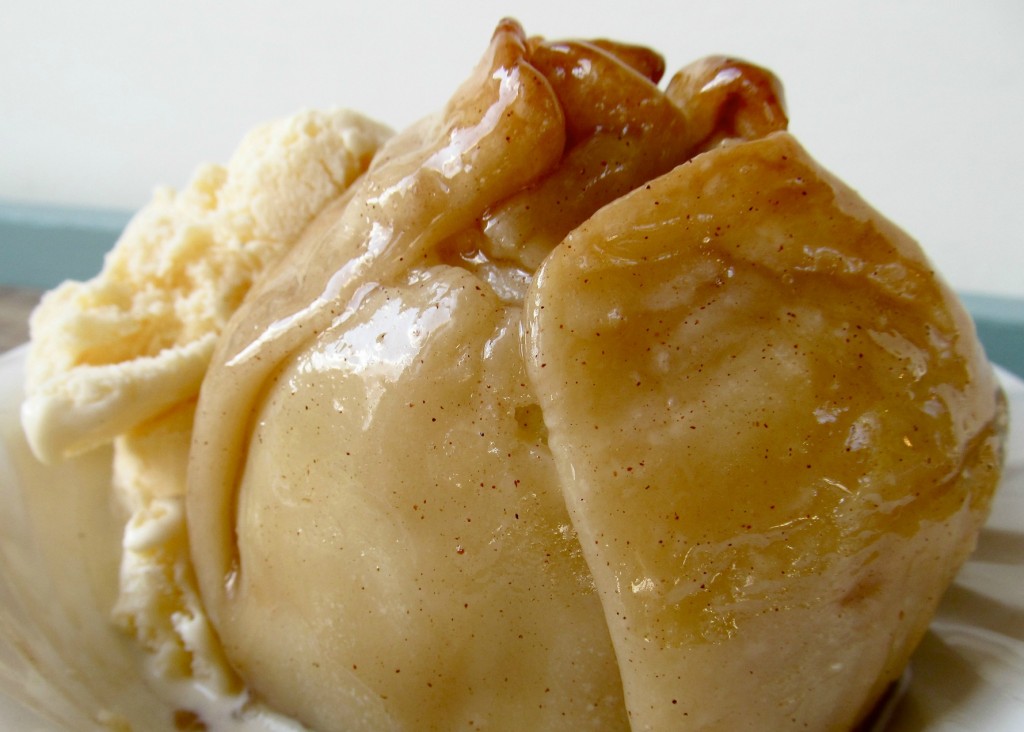 So, here's my easy recipe for apple dumplings.  I hope you will give them a try!
Easy Apple Dumplings
Syrup Ingredients:
1 1/2 cup sugar
2 cups water
1/4 tsp cinnamon
1/4 tsp nutmeg
1/4 cup butter
Apple Filling Ingredients
1/2 cup brown sugar
1 tsp cinnamon
1/4 tsp nutmeg
2 tbs butter, softened
8 medium Granny Smith apples
2 (15 oz.) packages refrigerated pie crusts
Combine sugar, water, cinnamon, and nutmeg in a medium saucepan and bring to a boil over medium-high heat, stirring constantly.  Reduce heat and simmer for 10 minutes, stirring occasionally.  Remove from heat and add 1/4 cup butter.  Set syrup aside.  Combine apple filling ingredients in a small mixing bowl.  Mix with a fork until you have a crumb consistency.  Cut each pie crust in half.  Form each half into a ball and place on a lightly floured surface.  Roll into 8 inch circles.  Place each apple onto the center of each circle and fill the empty core with the crumb filling.  Fold the dough over the apples, pinching at the top to seal. Place each apple in a lightly greased 13″ x 9″ baking dish.  Drizzle with the syrup.  Bake at 375 degrees for 40 – 45 minutes.  Serve warm with vanilla ice cream.
If you like this recipe, you may also enjoy these fall sweet treats!
Pumpkin Cupcakes with Sea Salt Carmel Buttercream Frosting
I hope you'll give this recipe a try this fall – and don't forget to Pin it!!!