Welcome to my 2016 Fall Home Tour! Thank you to Marty from A Stroll Thru Life for organizing this annual event! If you are visiting from The House of Silver Lining, Welcome! I'm so glad to have you here! This is always such a great week to gather inspiration for your own fall home! And speaking of gathering, that's just what I did for this year's tour! I'm calling this year's tour a foraged fall home tour.
Foraged Fall Decor in the Living Room
I spent a few days traveling Lancaster County in search of some great natural elements to add into my space. I had a main color that I wanted to incorporate this year – shades of plum, eggplant and berry. So, as I foraged, I kept an eye out for anything with those shades.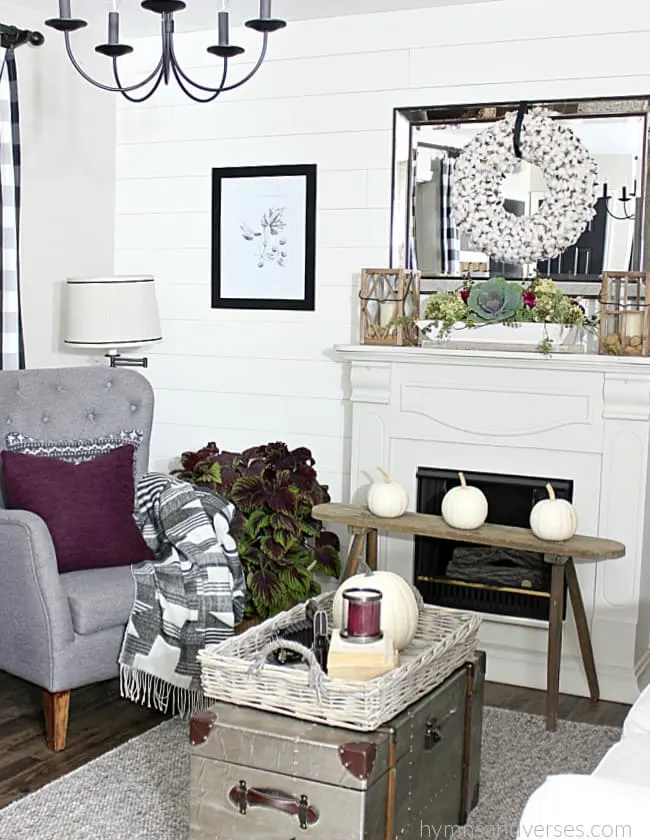 Even the plant in the corner came home with me because of the color! Yes, it's just an annual that got really big and it's not meant to be an indoor plant – but it was only $5 on deep discount clearance at the local nursery. I have a spot for it outside, but I thought it looked perfect in the living room for this photo shoot.
For my mantel, I was inspired by a trough arrangement I saw at Terrain. I had the wooden trough and added an ornamental cabbage, dried hydrangea, dried seed pods, berries, celosia, and a few other fall grasses and plants. And, I love how it turned out!
I picked up the cotton wreath at Marshall's earlier this year. And, I added walnuts to the base of each lantern.
The flowers in this arrangement are from a sedum plant. I was driving by a garden market and saw the color from the road. I quickly turned in and grabbed a pot for $4.50. It was so large and had plenty of blooms to fill this vintage silver urn. I added some bridal veil branches from my own yard as well.
FORAGED FALL DINING ROOM
Now, lets's move into the dining room. Again, most of what I used to decorate this space is natural – pheasant feathers, pumpkins, wood, wheat, and crabapple branches.
A huge Cinderella pumpkin looks perfect perched on top of this wood slab stand.
I love the green from the crabapple branches. I have to be honest and say that those green gourds are not real, but I had them in my fall stash and they look perfect with the branches.
Here's another look into the dining room and you can see my bar cart and shelves with a little fall added.
Lancaster County is known for whoopie pies! At this time of year, pumpkin whoopie pies with cream cheese frosting is a favorite at my house! There was to be no touching of the whoopie pies until after my photos were taken! I can assure you, that these will not last long with three men living here!
I hope you've enjoyed seeing a bit of my foraged fall home tour. If you missed my fall screen porch, you can see it HERE. And, don't forget to visit all of the other tours this week.