When we first moved to Lancaster County, Pennsylvania, our boys were little. We didn't eat out often, except for breakfast (because it's more affordable with a large family)! I found something new on Lancaster county breakfast menus – baked oatmeal. After one try, I was hooked!
Today, I'm joining Jennifer at Town and Country Living and my Cozy Living friends to share how we are Hygge living (incorporating a cozy lifestyle) in the month of October! You can see all of these cozy-living ideas at the end of today's post.
If you've never had baked oatmeal, it's a little bit like an old-fashioned bread pudding, except with oatmeal. It's especially good when served warm, either right out of the oven or heated up in the microwave! A traditional Lancaster County Amish baked oatmeal recipe will not be the healthiest option! As with most Amish recipes that are undeniably delicious, the traditional Amish recipe for baked oatmeal has a LOT of butter and a LOT of sugar! The recipe I'm sharing today is still delicious, but is a healthier version that I like to make! This version substitutes unsweetened applesauce for the butter and uses a smaller amount of brown sugar in place of white sugar. I also add a bit of cinnamon and vanilla for more yummy flavor.
You can serve baked oatmeal warm or cold. It's most commonly served with milk, but I like it without. You can add seasonal fruit or chocolate chips to this basic recipe for even more goodness! I like to add fresh berries to my recipe in the spring and summer months! Peaches are sooo good in baked oatmeal and is my absolute favorite fruit to add! Apples with raisons are a good combination for fall. If you are adding fruit to this recipe, just add it right into the batter before baking.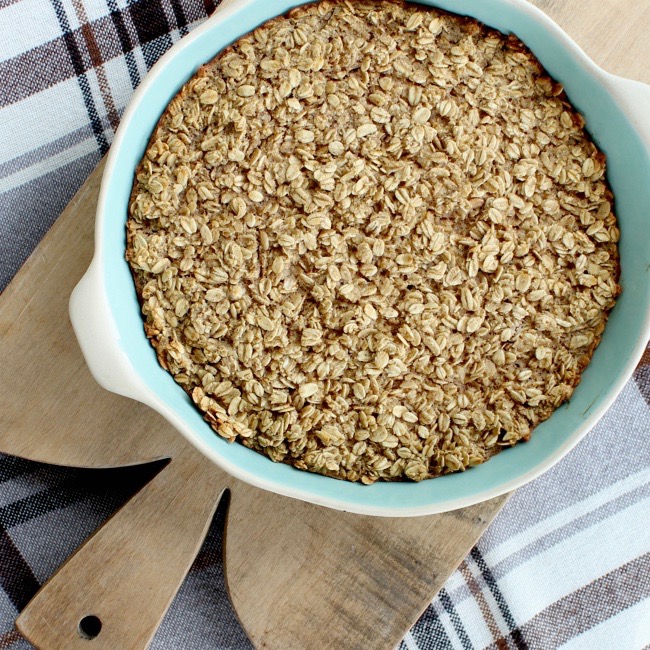 This baked oatmeal recipe is my "go to" breakfast in the fall and winter months! Because, there's nothing better than a warm breakfast on a cold day!
Yield: 8 servings
Baked Oatmeal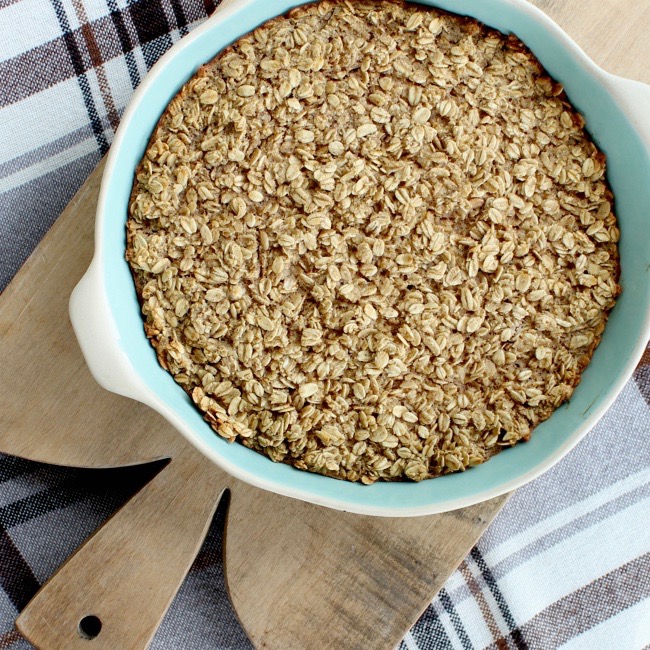 A healthier version than the typical Lancaster County Amish recipe!

Prep Time 10 minutes

Cook Time 30 minutes

Total Time 40 minutes
Ingredients
1 TBS coconut oil (melted) or vegetable oil
1/2 cup unsweetened applesauce
1/3 cup brown sugar
2 eggs or 4 egg whites
3 cups uncooked old fashioned rolled oats
1 tsp cinnamon
2 tsp baking powder
1 tsp vanilla extract
1 cup milk of choice
Instructions
In a bowl, combine the oil, applesauce, brown sugar, vanilla, and eggs until blended. Add the dry ingredients and milk and combine. Spray a 9 x 9" baking pan with cooking spray. Spoon the mixture into the pan. Bake uncovered at 350 degrees for 30 minutes. This recipe can be prepared the night before and stored in your refrigerator. Then bake in the morning.
Notes
Add fruit or chocolate chips to batter if desired.
Nutrition Information:
Yield:
8
Amount Per Serving: Calories: 204Total Fat: 4gSaturated Fat: 0.7gTrans Fat: 1.9gUnsaturated Fat: 1.4gCholesterol: 0.5mgSodium: 105mgCarbohydrates: 34gFiber: 4gProtein: 8g

I'd love to hear if you've ever had this Lancaster County specialty? And, please let me know if you try it!

Here are a few more recipes that are perfect for Fall!
Easy Pennsylvania Dutch Apple Dumplings
Pumpkin Cupcakes with Sea Salt Buttercream
And, don't forget to check out my friends' cozy-living posts for October! Here are the links!

Duke Manor Farm / Creative Cain Cabin / Sincerely Marie Designs / Town and Country Living

Vinyet Etc. / Finding Silver Pennies / Hymns and Verses / It All Started with Paint