You all know that I love to find great deals for decor that I use in my home! I often share these deals inside a styled room post, but I decided it might be good to share more of these finds in one place. So, today I'm introducing a new feature here on the blog – Friday Finds! I'll be sharing some of my finds here from time to time! It might be new decor items, great gift ideas, or like today, vintage treasures that I find! I hope you enjoy this new feature here at Hymns and Verses!
Today, I'm sharing some of the vintage treasures I've found in the past few months! I often find things and don't use them right away, but I always have a purpose for what I buy! One thing I always am on the lookout for are great items to use in my holiday decor! Decorating for Christmas is something that I look forward to all year long! And, I like to change things up every year! So, I need things to rotate in and out of my holiday decor arsenal! And, I especially want to find things that are unique and can't be found at Hobby Lobby, etc. First on my Friday Finds list, is something that I found at a local auction this summer! It's been hanging out in my garage just waiting for Christmas!
Isn't this old, handmade doll house amazing! I don't know that I will do anything other than give it a good cleaning! It's open on the reverse and has two floors with a set of stairs! There was even some circa 1950's carpet on the floors, the only thing I did remove! Because I don't like carpet even in my doll house! What do you think! Do you love it as much as I do! Can't you just see this in my home this Christmas!!!
FRIDAY FIND – A VINTAGE DOLL HOUSE
That sane day, I found several great vintage finds! So, I'm going to be sharing those next! This French vintage chair was was another purchase from the auction that day! It obviously needs to be reupholstered, but it has good bones! I probably won't get to this project until the new year, so it's hanging out in the garage too! Can you see why we can't park our cars in the garage! It's currently being used as a cozy place for our outdoor cat, Oreo, to sleep!
VINTAGE FRENCH CHAIR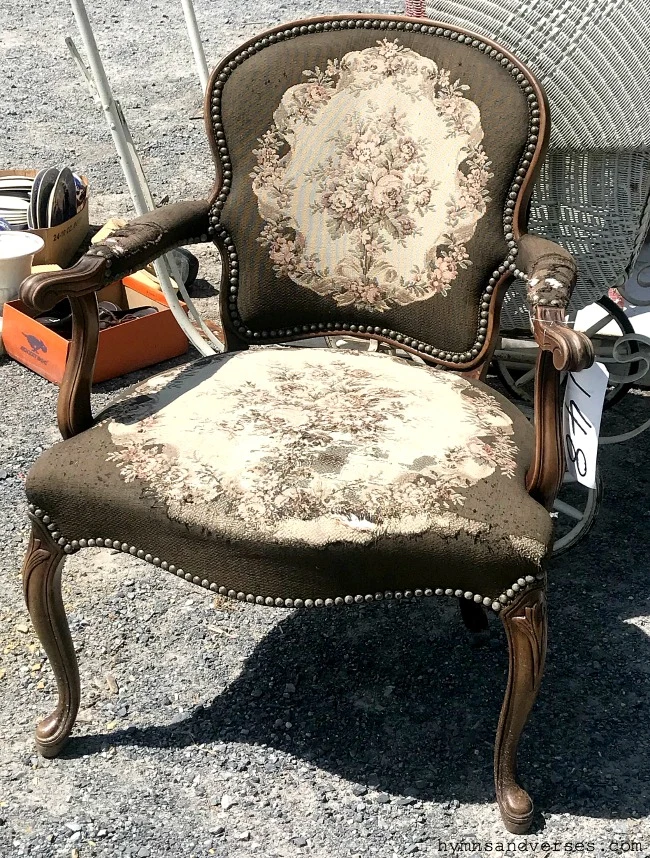 I'm hoping to use this next piece the beginning of November! It's a vintage wicker pram! I just could not pass it up! If you've followed along for a while, you know I've purchased vintage prams and carriages before! I've used them for decor at baby showers for my friend's daughters! Once those baby showers were over, I decided to sell them instead of storing them. When I saw this one, it was shortly after we found out we were going to be grandparents! So, I had to buy it – right!!! And, Sarah's baby shower is next month! After that, well, I may be selling it too! It's a full sized pram and takes up some space!
VINTAGE WICKER PRAM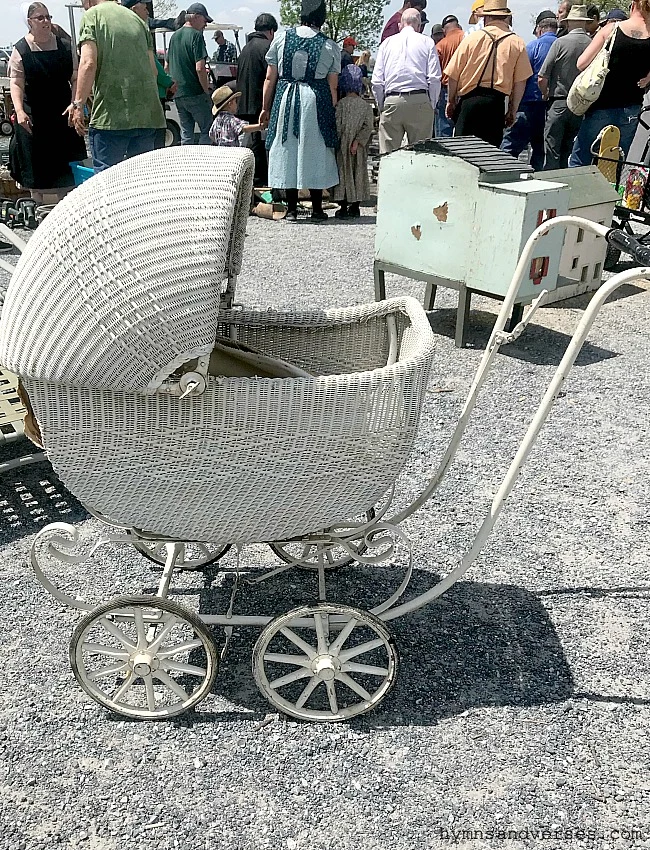 This next piece I envisioned on my porch when I saw it – a vintage wicker tea cart! I actually hoped to have it to the point where I could use it this year, but removing the chipping paint is going to be a bigger project than I thought! But, I think it will be worth it in the end! Because of this cart's age, there is a good chance that some of the paint (and there are layers of it) is lead based. So, I'm taking my time to remove it the right way. And, it does have to be removed because it's chipping so badly that a lot drops off even when it is bumped. So, this is another project I'll work on for next spring!
VINTAGE WICKER TEA CART
And, there are times when I get caught up in the auction frenzy and buy something that I shouldn't! This next piece is something I really shouldn't have bid on! But, no one wanted it and I thought it had potential! And, it does. I just don't have any need for it! I did remove the icky upholstery and gave it a fresh coat of white chalk paint, thinking it could be a planter outdoors. But, I'm not really liking it. So, I'll be selling it too!
VINTAGE CARVED CHAIR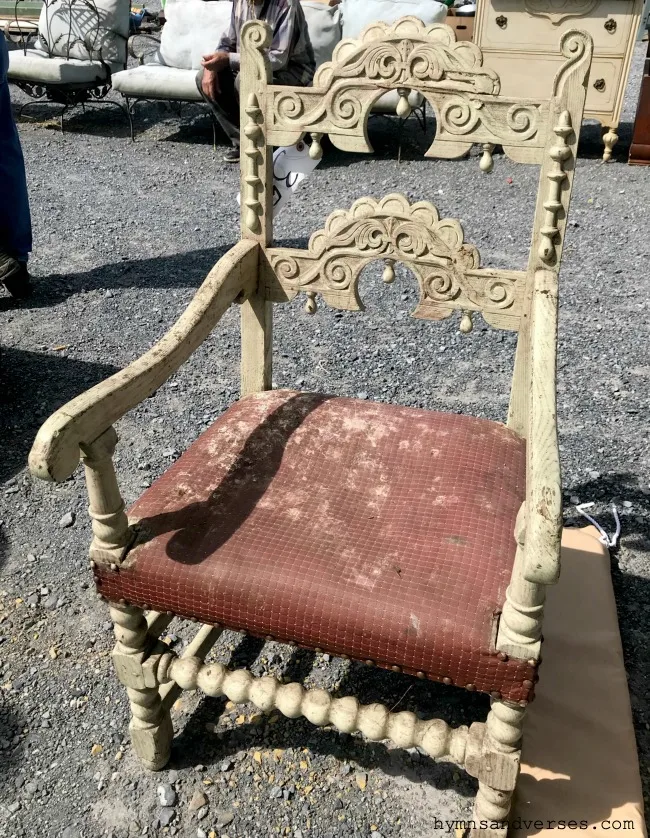 Can you believe I also purchased two old tables and a book shelf that same day! I didn't post the prices I paid for each item, but I will tell you that my total for that day for everything was under $70! I told you it was a great day for me at the auction! So, I think I'll close for now with these pieces for my first Friday Finds! I hope you liked seeing them and will now have a good before pic when these pieces finally show up on the blog! I'd love to hear what you think about this new Friday Finds feature! Have a great weekend!
Here are a few blog posts that feature more vintage finds!
Add Some Vintage to your Holiday Decor
Fall Pumpkins in a Vintage Bicycle