This Be Thou My Vision eye chart is one of my favorite prints that I sell in my Hymns and Verses Etsy Shop . Eye charts have been on trend in wall decor for some time and I don't see that changing! You see them most often in gallery walls like this one by Golden Boys and Me. But, sometimes you'll see an eye chart large and in charge all alone like this one from a Fixer Upper house! Vintage eye charts can be hard to find, but there are a lot of replicas. And, many DIY versions featuring clever phrases like these from Jaderbomb.
My version features the words to the hymn, Be Thou My Vision, which dates back to 8th century Ireland. It was translated from ancient Irish to English by Mary E. Byrne in 1905. The music is of Irish folk origin. Here are the words –
Be Thou My Vision
Be Thou my Vision, O Lord of my heart;
Naught be all else to me, save that Thou art.
Thou my best Thought, by day or by night,
Waking or sleeping, Thy presence my light.
Be Thou my Wisdom, and Thou my true Word;
I ever with Thee and Thou with me, Lord;
Thou my great Father, I Thy true son;
Thou in me dwelling, and I with Thee one.
Be thou my battle Shield, Sword for the fight;
Be Thou my Dignity, Thou my Delight;
Thou my soul's Shelter, Thou my high Tower:
Raise Thou me heavenward, O Power of my power.
Riches I heed not, nor man's empty praise,
Thou mine Inheritance, now and always:
Thou and Thou only, first in my heart,
High King of Heaven, my Treasure Thou art.
High King of Heaven, my victory won,
May I reach Heaven's joys, O bright Heaven's Sun!
Heart of my own heart, whatever befall,
Still be my Vision, O Ruler of all.


This print is available to purchase as an 8.5″ x 11″ that is ready to frame in an 8″ x 10″ opening. Or, as an 11″ x 14″. If you want the print larger, I also sell a digital file that you can purchase and have it printed in the size you wish at your local print or copy shop. The links to each are below. Just click and you will be taken to my Etsy shop and the appropriate listing.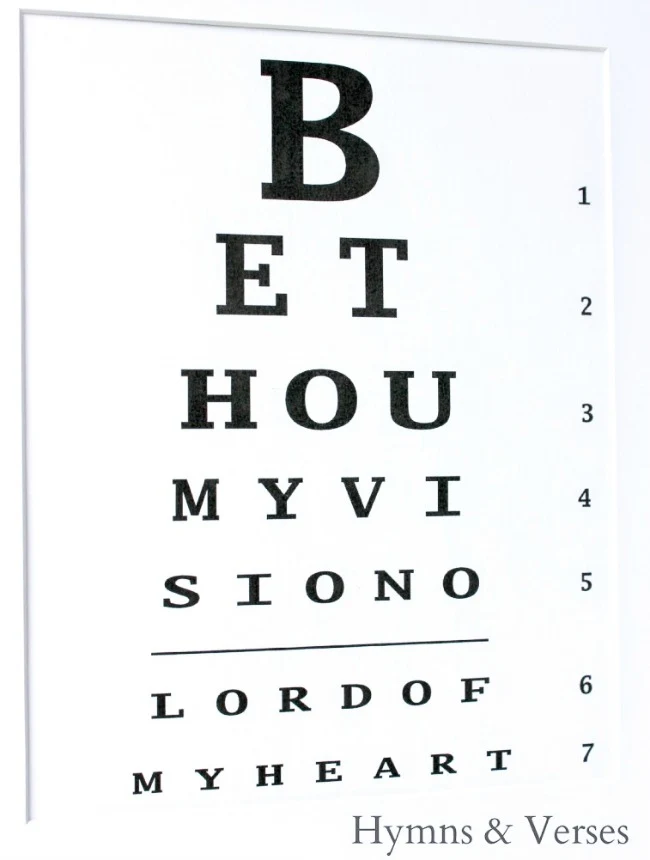 I like the idea of the 11″ x 14″ print being displayed as a wall chart using
THIS
frame.