Making cloth napkins for your home adds an extra bit of style and elegance to any table setting. With a few simple materials and a little bit of know-how, anyone can make their own unique cloth napkins. Whether you're looking to upgrade your dining room or just want to show off your crafting skills, follow this guide to learn how to make a stylish cloth napkin!
Today I wanted to show you how to make your own napkins! I know there have been many times when I haven't been able to find just the right color napkin to go with a particular tablescape, so I decided to try making my own and it's really pretty easy! And, I wanted to show you how I created the bird's nest napkin fold that was shared in my Spring tablescape. If you missed that post, you can see all the details HERE.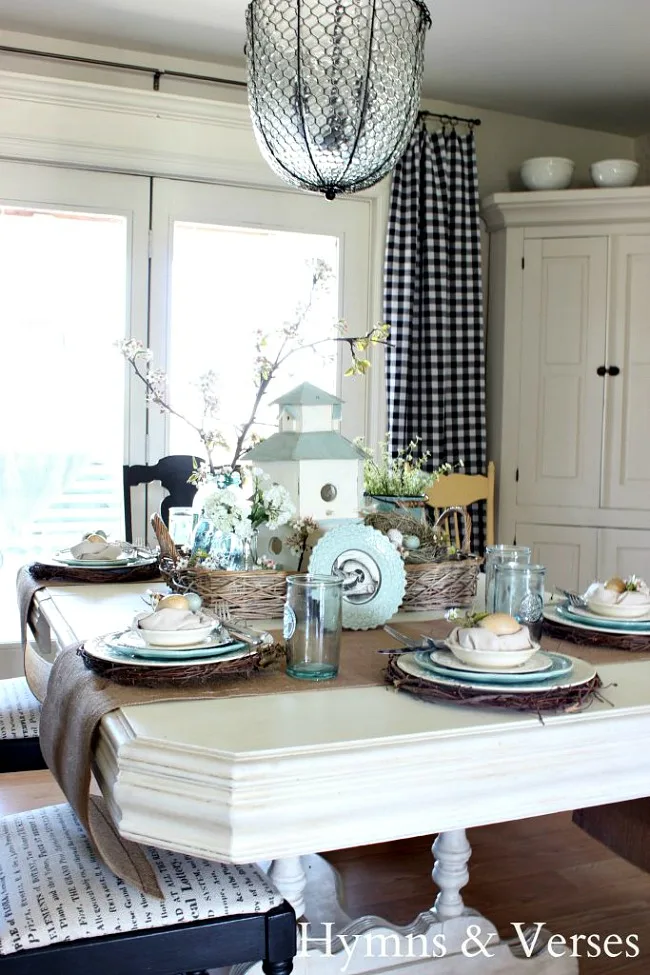 Why use boring paper napkins when you can get some of any fabric that you want to use and make your own DIY cloth napkins? This is a great way to make custom napkins that can match any decor theme you have going on. Making your own napkins is a great way to reduce paper waste and a fun way to make easy to wash, reusable napkins.
Additionally, you can also make your own reusable paper towels to use for everyday use rather than buying endless supplies of paper products. Just make bigger paper towel sheets than these make your own cloth napkins! Clean in the washer and dryer and they'll be ready to go again.
How to Make your Own Cloth Napkins
Step 1.
Cut your fabric into a 22″ square. I like to use a template made from cardboard or mat board and then I trace around it on my pressed fabric. Once your fabric is cut, use your iron to press a 1/2 inch fold on all four sides of your fabric square.

Step 2.
Fold an additional 1 inch and press into all four sides of your fabric square.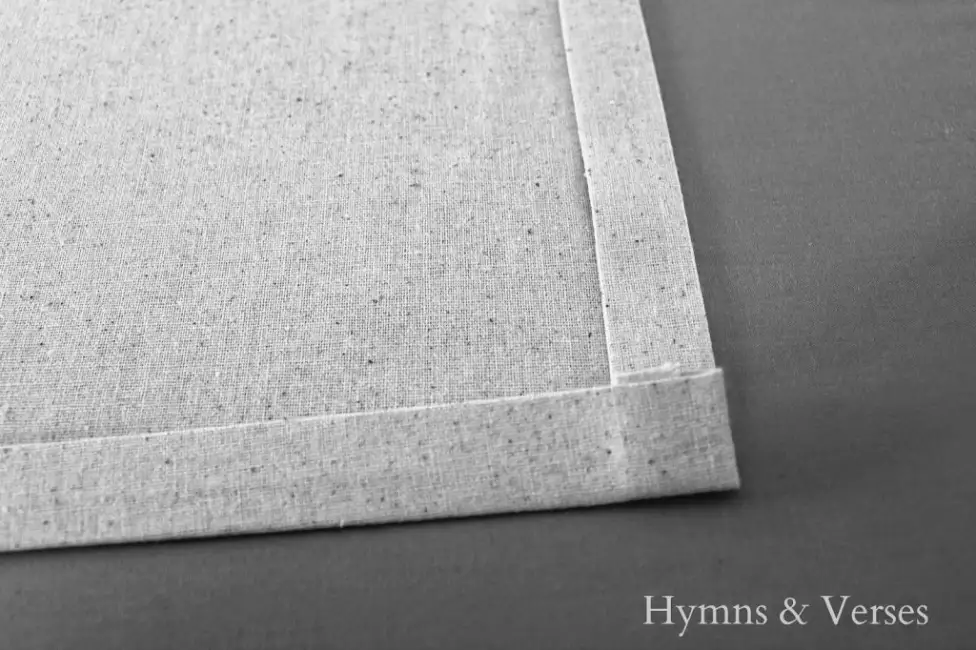 Step 3.
Now, open each second (1 inch) fold.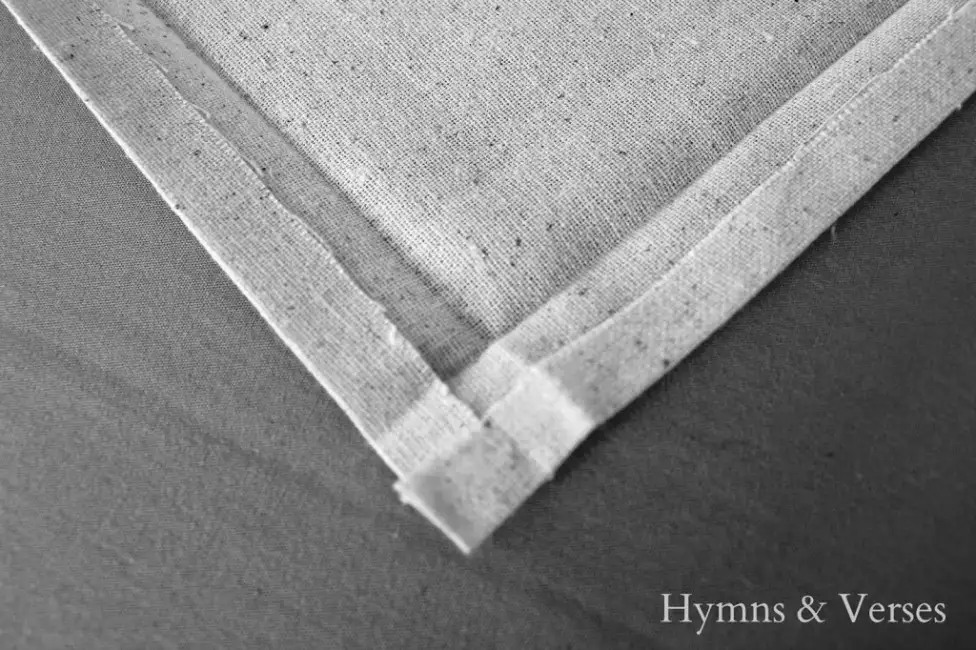 Step 4.
Fold each corner forward so the 1 inch creases line up. Press with iron. I marked my creases in red pen so they would be easier for you to see.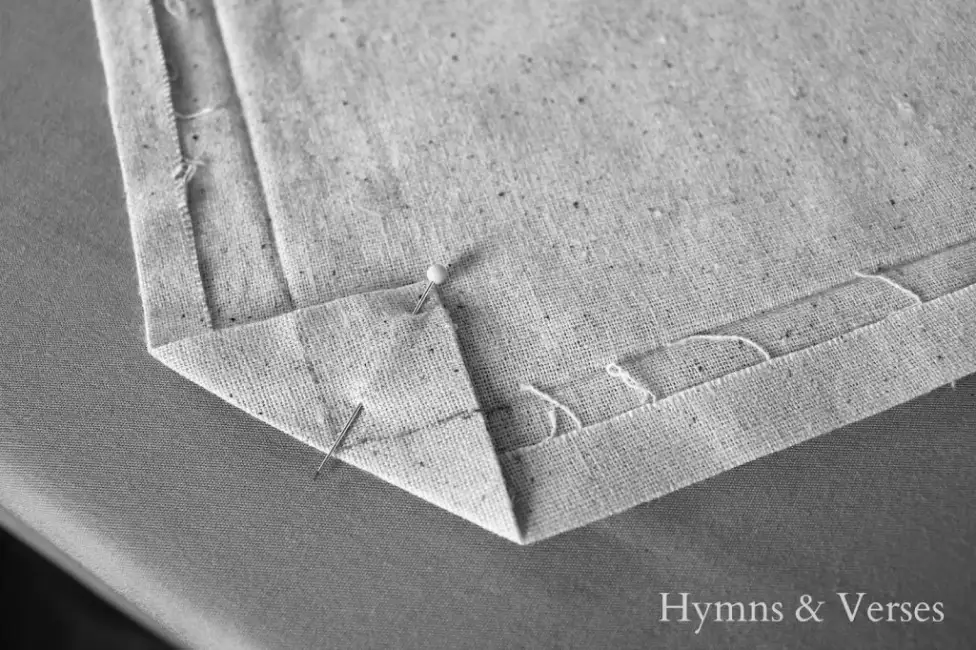 Step 5.
Unfold the corners you just pressed as shown below. You will see the crease your iron made.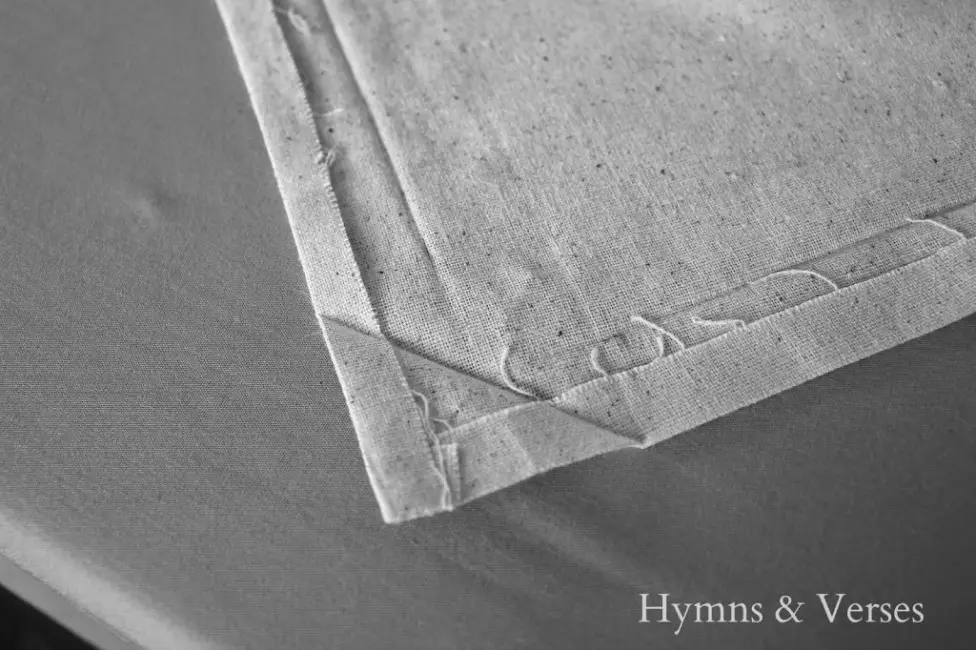 Step 6.
Now fold your entire fabric square in half (right sides together), so that the two ends of the crease you just made are lying on top of each other – as shown below. Again, I marked the crease line with red pen to make it easier for you to see. Pin on either side of this crease. Repeat for the remaining three corners.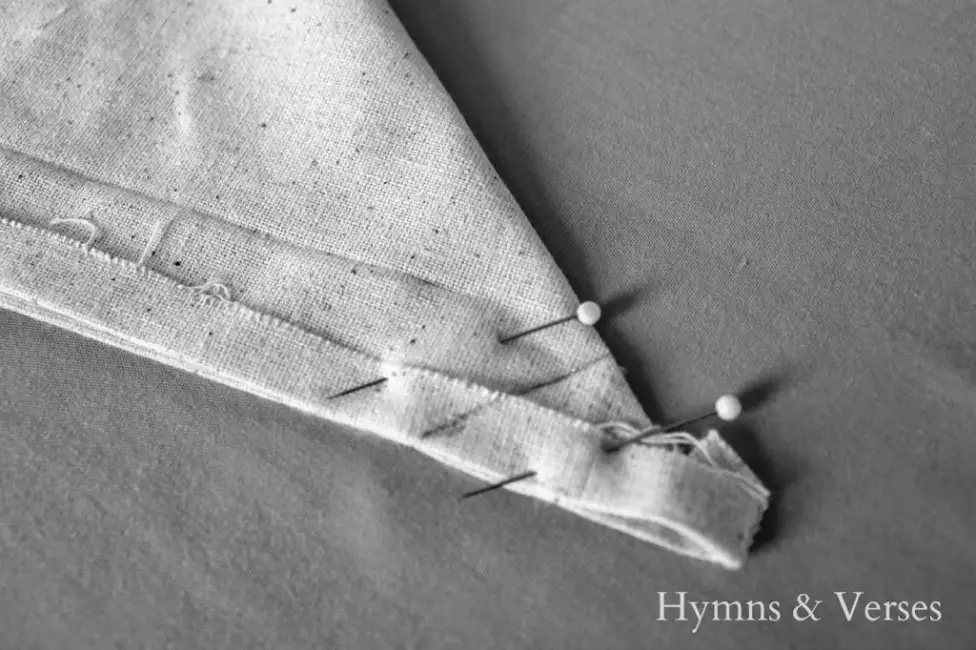 Step 7.
Sew a straight stitch over this line for each corner of your napkin. You can use your sewing machine to make this go easier.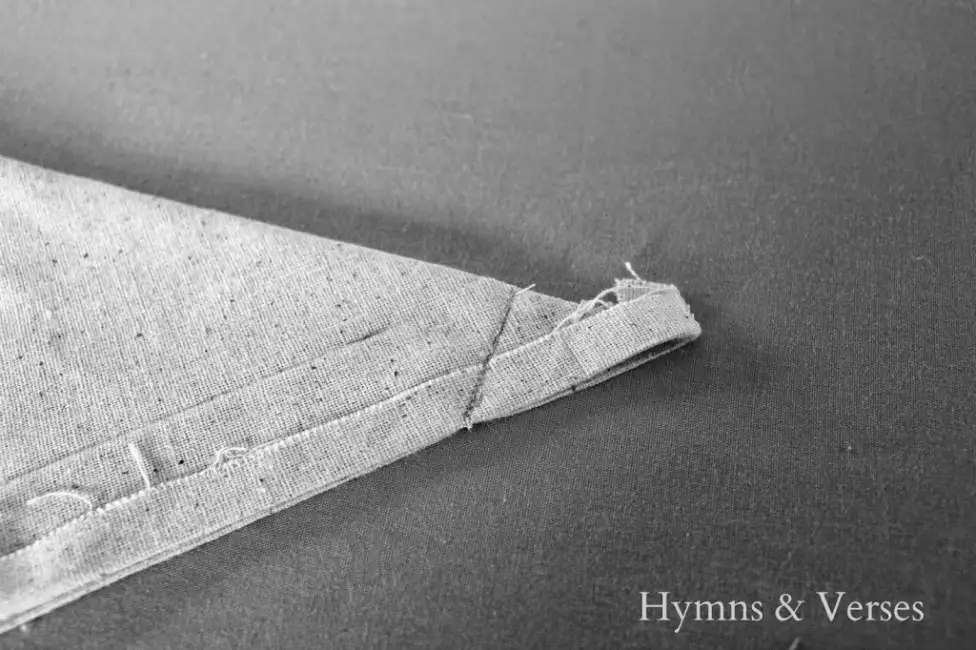 Step 8.
Cut off the fabric corners approximately 1/2 inch beyond the seam. Then, cut the tiny squared corners at a 45 degree angle as shown below.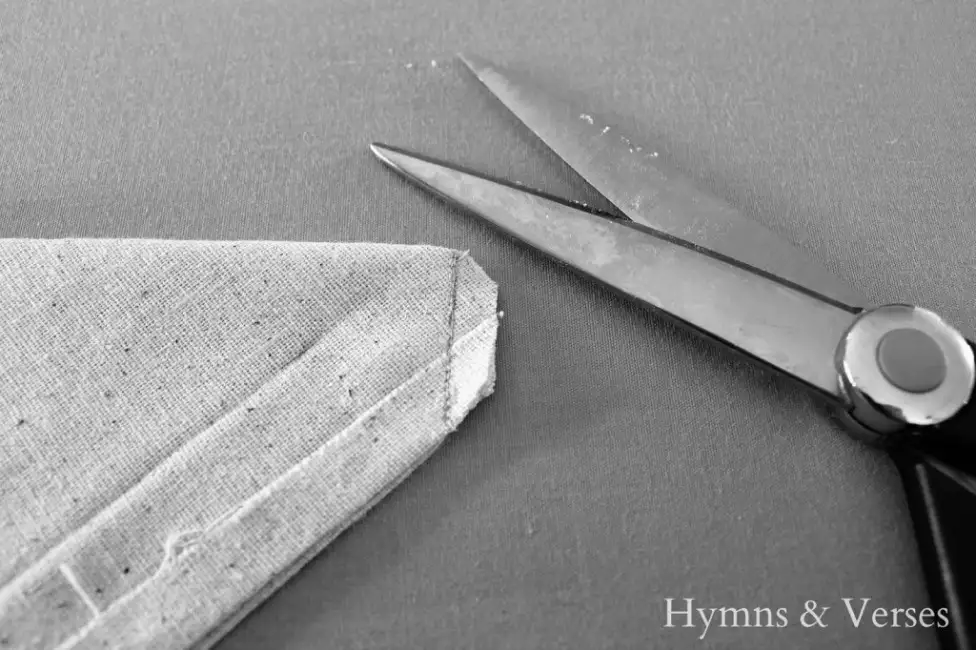 Step 9.
Turn the napkin inside out and use a point turner or the point of your scissors to push out the corners. Make sure the corner seam is open on the inside. Press the edges along the 1 inch crease all the way around your napkin and pin in place as shown below.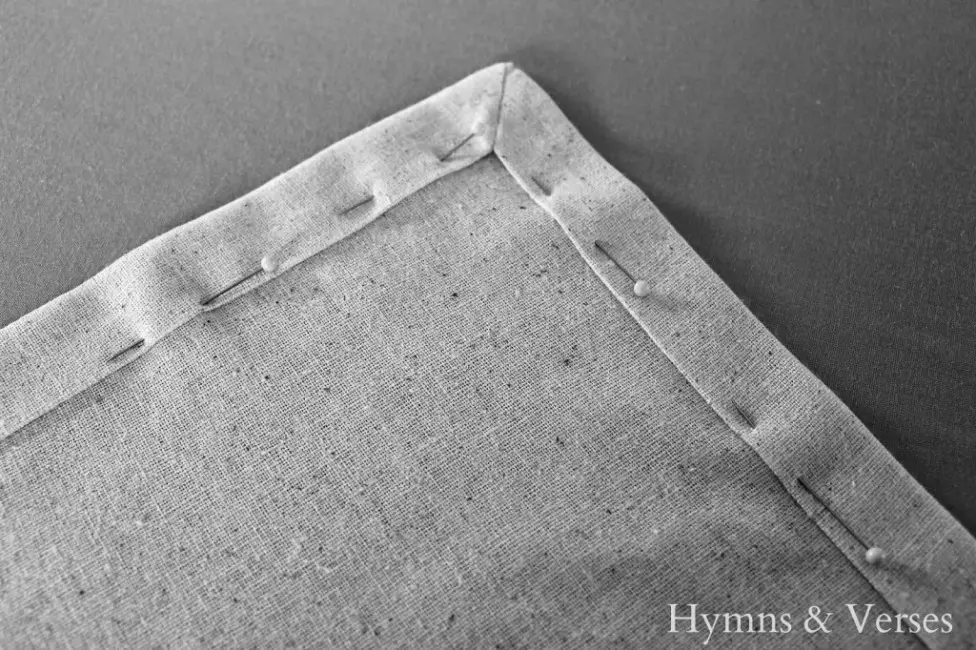 Step 10.
Stitch along your pinned line as close as possible to the edge of the inner fold. That's it – you have a professional looking, mitered corner napkin!
You can use these to dress up any dinner table when you make them from beautiful fabrics since they will become reusable cloth napkins.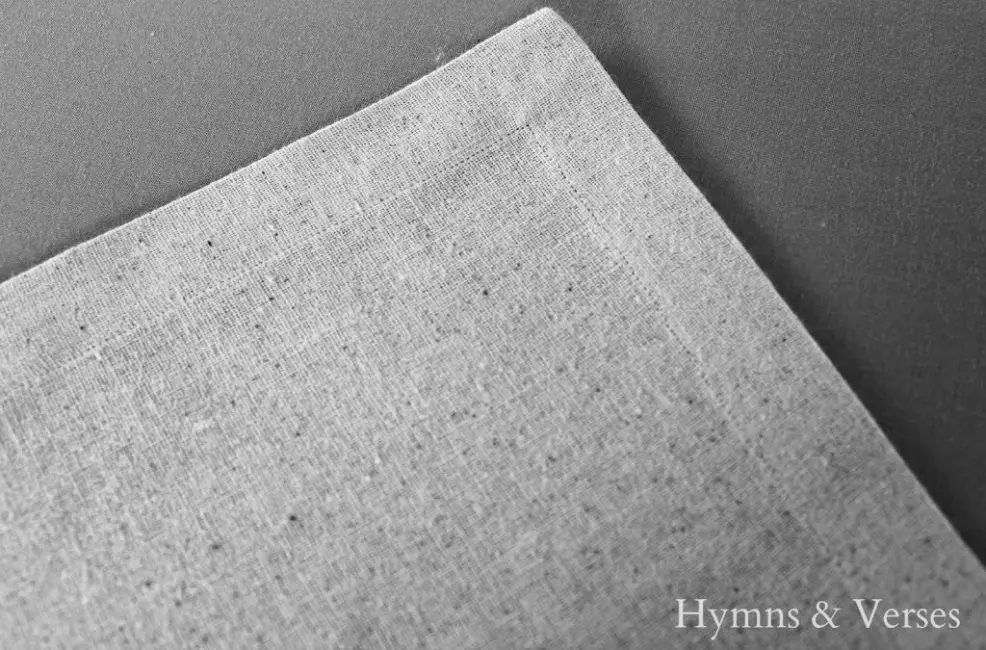 Now for the easy part – the bird's nest napkin fold! You can do this with any square napkin.
Bird's Nest Napkin Fold
Step 1.
Fold your napkin in half on the diagonal.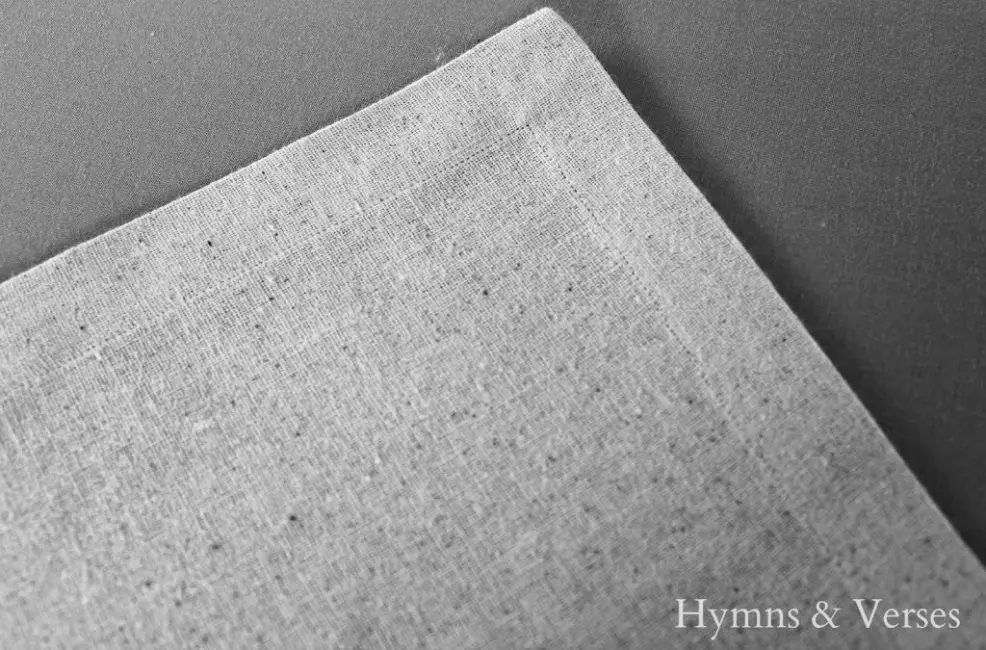 Step 2.
Roll the folded napkin as shown.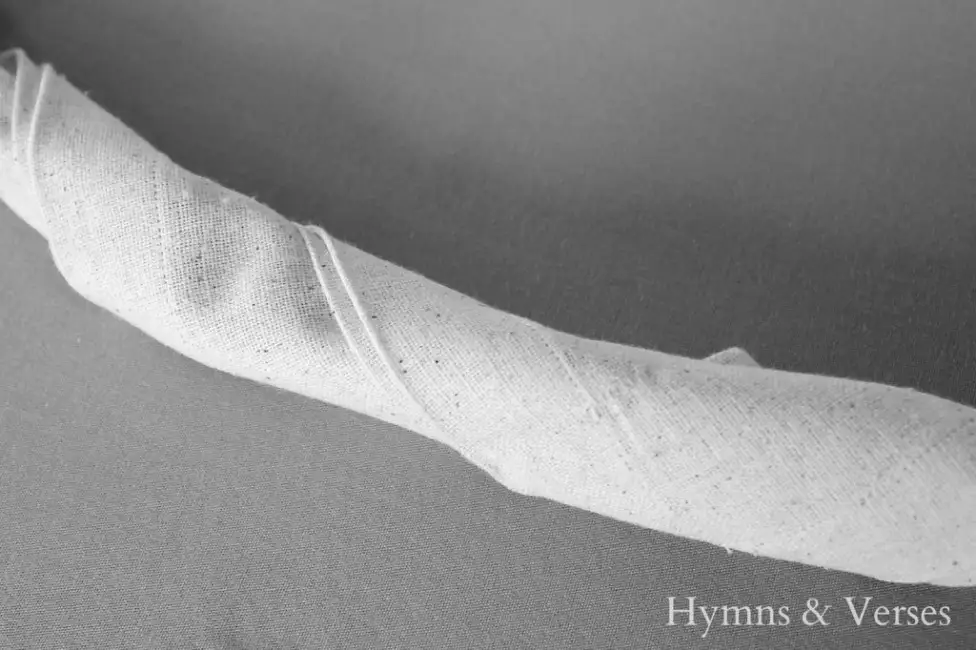 Step 3.
Take the left end and form a small circle and tuck it underneath the rolled napkin to hold in place.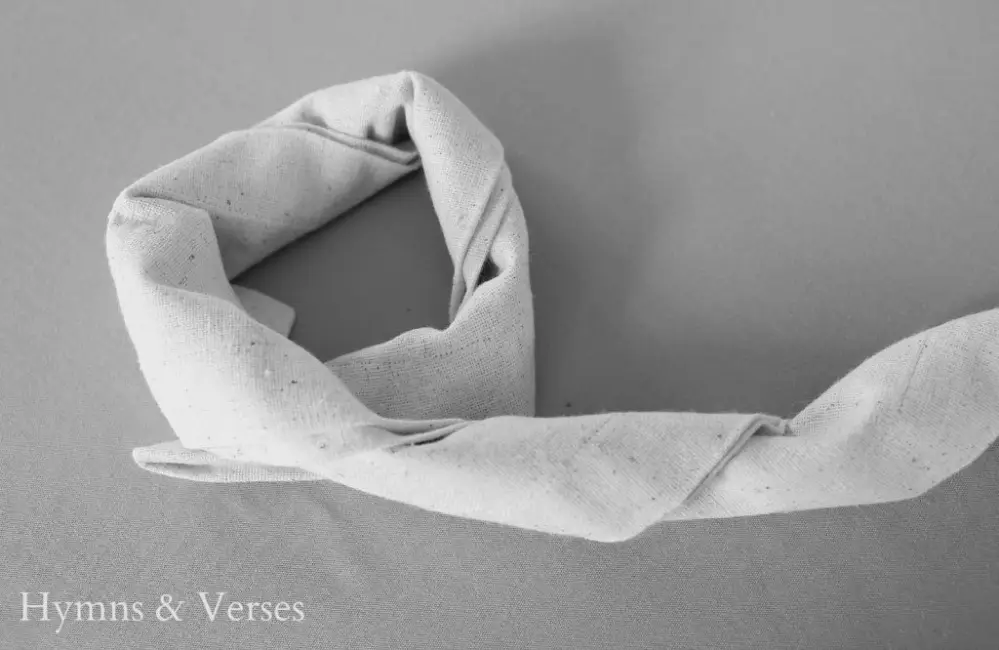 Step 4.
Repeat for the right side and place an egg in the center of your nest.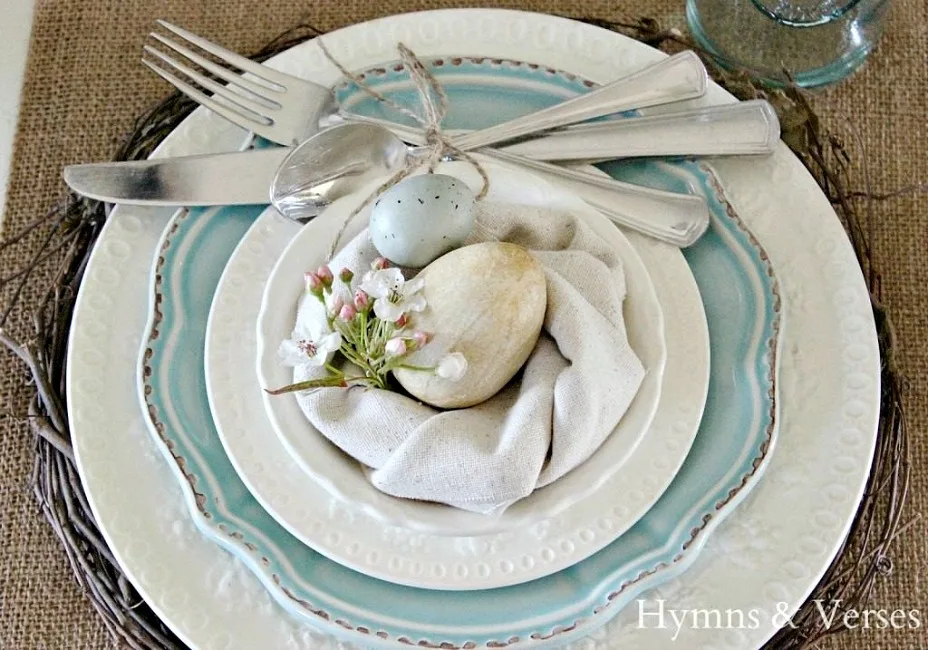 What size fabric napkins should I make?
​One thing I like about this kind of project is that you can use a different sized square to make another sized square cloth napkin. If you like a smaller napkin, you can make that happen with this simple tutorial.
You can use the size I made here, which was a 22″ square on your choice of fabric. But you can also use other sizes to make DIY cloth napkins.
Try a 16-inch, 18-inch, or even a 20-inch square and see what size you prefer for your table.
What fabric should I use to make a napkin?
You can use any cloth that you prefer. Linen is a little nicer, but it is a nice quality fabric that should last many washes in the washing machine after cleaning off many messes faces or spills.
Cotton fabric is another common option to use when making square napkins for your home.
You can experiment with different fabrics and see what you prefer. If you're an avid crafter or enjoy making your own things, you may have a nice fabric stash of leftover fabric squares that you could make an easy napkin with.
You may find yourself with a variety of fabric pieces to make a hodge podge of beautiful napkins with. Check your local fabric stores to see what they have and what may be on sale before selecting your fabric for your dinner napkins.
Feel free to iron your napkins on the ironing board once you wash them before you set them out for any special occasion or your upcoming next dinner party.
Making a friend a set of beautiful linen napkins would be a fun, easy sewing project, especially for beginners who want to make their first set of cloth napkins!
I hope you will give this simple cloth napkin tutorial a try and let me know how it goes!
Save money by ditching the disposable napkins and use this easy sewing tutorial to make your own DIY cute cloth napkins in n time!