If you've followed me for any length of time, you probably know that I like to change things up around my home! But, I don't want to spend a lot of money to give a room a new look! So, today I want to show you my plans to give our bedroom an update on a budget.
Let's begin with the last time that I shared our bedroom so you can see the things I want to change. The photo below is the most current photo series from our bedroom. I'd say it that it definitely has had a very cottage feel with the wood plank wallpaper, shutters and wood bead light fixture.
What's staying – What's going – What's getting a facelift
What's staying? The bed is staying. At this point, the plan is that it will stay this creamy white color. But, I may change my mind and give it a facelift?
What's going? The rug, the lighting, the shutters, the blanket ladder, the covered cedar chest at the end of the bed, the wallpaper, the chippy wood floor mirror and the white french country dresser on the other wall (pictured below).
What's getting a facelift? The nightstands will be getting a facelift. At this point, my plan involves new brass pulls, a color change, and caning on the drawer fronts.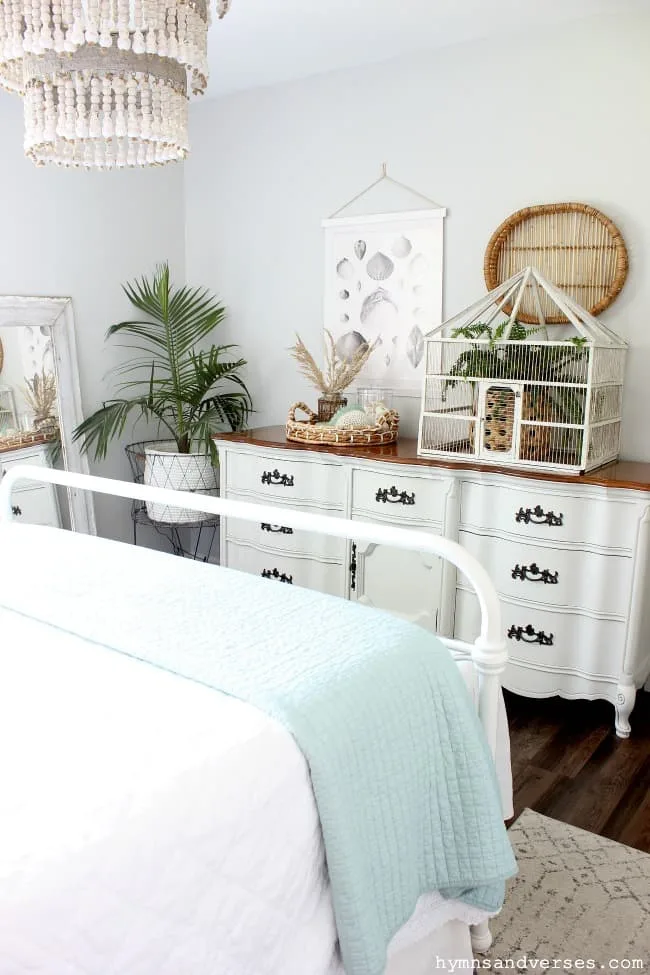 BEDROOM UPDATE – LIGHTING
I'll begin with the lighting. Even though I still like the lighting that I have, I am ready for a change. Light fixtures used to fairly expensive and people didn't change out fixtures often. But, now there are a variety of price points for lighting options. I definitely want to go with a more vintage style in this space. So, I chose these fixtures to replace the wood bead chandelier and our nightstand lamps. I have already sold my existing chandelier and lamps on FB Marketplace. With that money, I was able cover most of the cost of the new fixtures shown below. I did wait for a sale on the wall sconces and I purchased the ceiling light as an "Open Box" purchase, which really brought the cost down. Wayfair sells "open box" items, meaning they are likely returns made by someone. I've purchased several "open box" items from them and they've always been perfect!

Even though these light fixtures aren't vintage, they do have a bit of a vintage vibe to them with the cut glass and style. The sconces will replace the lamps on our nightstands.
Bedroom update – Wallpaper
I'm taking down the wood plank wallpaper. And, instead of just a feature wall with wallpaper, I'l be doing the entire room. My plan is to have beadboard going from the floor to just above the top of the bed headboard. I'll cap the beadboard with trim. From the top of the beadboard to the ceiling I've chosen a vintage floral pattern wallpaper, Anemone by Galerie Wallpaper.
For the beadboard, I'm using beadboard wallpaper. For me, it's easier to apply and less trouble to change down the road. Wall treatments with wood require lots of holes in the walls and/or adhesive. So, beadboard wallpaper it is! And, the fact that I already have what I need leftover from another project is a bonus! I'll be painting the beadboard wallpaper in the shade: Vintage Vogue by Benjamin Moore in a matte finish.
BEDROOM UPDATE – end of bed storage
The slipcovered vintage cedar chest at the end of our bed has provided extra storage for us. In its place, I am going to use this rattan trunk that I've had for several years. It has been in our downstairs family room, but I think it will work well to store extra quilts and bedding at the end of our bed.
Don't be afraid to shop your own home when updating a space! Moving an item to a new location can give it fresh life along with a new look for the space!

Doreen Cagno

Bedroom Update – Area Rug
To keep costs down, I always try to sell decor that I'm changing out. The money I make helps to offset the price of any new items that I purchase. So, I sold the gray and off white rug shown in the coastal bedroom photo above. But, before I shop for a new replacement rug, I'm going to try a rug that I already own in this space. I think this rug that I've used previously in my fall decor may work with the new color scheme in the bedroom. If it doesn't look good with the paint and wallpaper, then I'll start searching for a new rug.

bedroom update – dresser
Mark and I share one dresser and one small wall closet. Because of this, I store our seasonal clothing in a larger closet in our downstairs family room. Even though this dresser has served us well, I'm ready for a change! And, I'm on the hunt for a vintage dresser with an attached mirror. And, I want to find a piece where the wood is in good condition. I don't want to paint this piece, but prefer to keep a wood finish. I don't mind if I need to refinish it, but if there's tons of chipping veneer, then it's a "no go" for me! I've been looking on Facebook Marketplace now for over a month and still haven't found "the one". But, I'm pretty persistent and I know that eventually, I'll find the perfect dresser for this space!
BEDROOM UPDATE – ACCESSORIES
To replace the chippy wood floor mirror, we have a long tall mirror panel that we rescued from our son, who was going to throw it away. It's a door panel from an Ikea Pax wardrobe. So, we are going to use that mirror to create a framed floor mirror. It should be a great DIY that I can share with you!
For the space above our bed, my plan is to use the vintage gold framed oval mirror that I had hanging over our fireplace this Christmas. I actually purchased it for our bedroom above the bed, but it's so beautiful that I had to use it somewhere until we could get the bedroom makeover started!
I also found these gorgeous brass wall hooks that I want to use in the room. For curtains, I'll probably keep it simple with some linen panels. And, I also want to incorporate some jewelry organization for me. I saw these and thought about trying to DIY something similar!

And, of course, there will be new linens too. I've actually already purchased the most gorgeous green linen duvet cover and sham set that I found at a local consignment shop. It originally sold for over $200 and I purchased it, like new, for $50! So, I'm excited to use that in the colder months!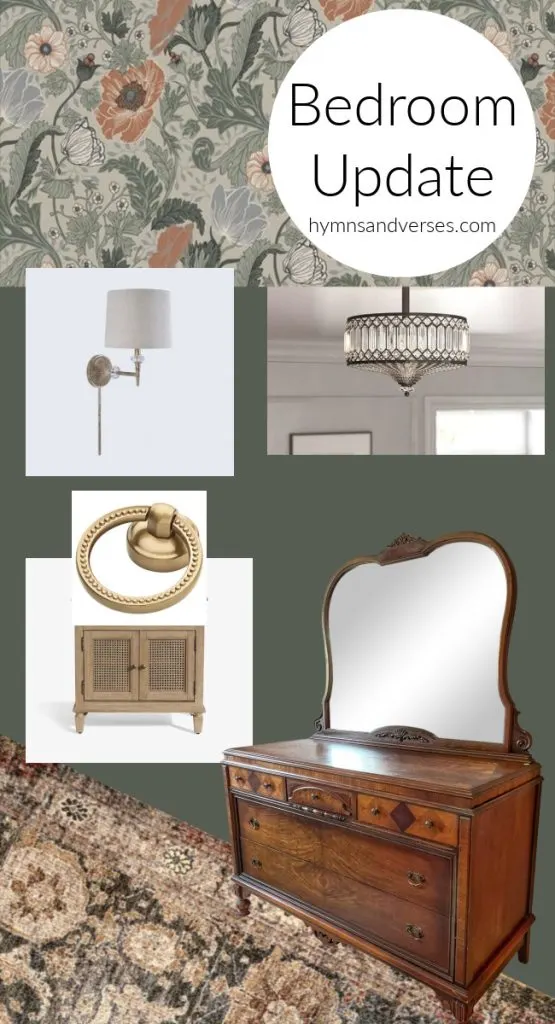 WHERE TO BEGIN?
For me, the first step is the walls! I'll remove the wood panel wallpaper and begin hanging the beadboard wallpaper. Then, I'll hang the floral print wallpaper and finish by adding the wood trim to cap the beadboard paper.
I hope you'll enjoy following along as I work on this room update! And, please let me know if you want me to share anything more in depth! I'm hoping to get started this week and share weekly updates with you!