I know it's still feeling like winter in most areas, but I just had to share this post so you can get some of the great new Target spring decor before it sells out!
*This post contains affiliate shopping links for your convenience. Please see my full disclosure statement.
Target has upped their game lately and some of their home decor items are on par with what you would find at Pottery Barn or similar stores. But, the prices are much more affordable! But, their seasonal items, especially anything related to a holiday, seem to sell out quickly. I've picked up several things in the past week for my upcoming Spring Home Tour. And, I'm already seeing that certain items are becoming limited, especially those that are Easter related. For that reason, I decided to share some of my favorites with you today so you don't miss out!
Best of Target Spring Decor
Click on the BOLD descriptive titles below each collage image to view on the Target website or purchase.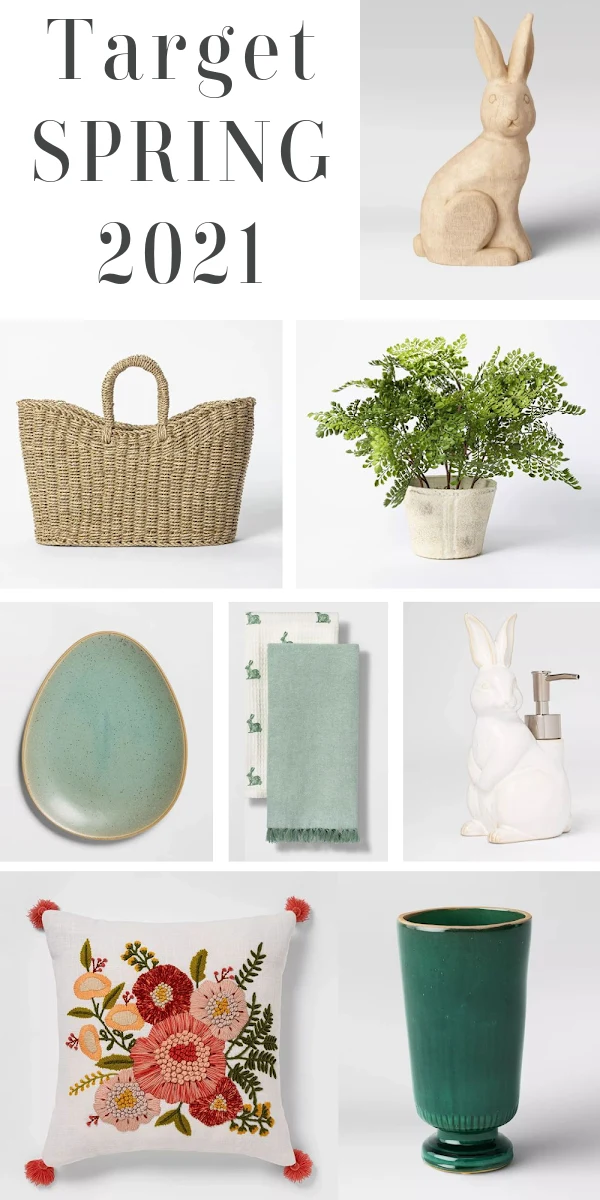 Items shown above, in order, from left to right:
Wood Bunny Figurine (2 Styles)
Studio McGee Faux Fern with Pot
Egg Salad Plate in Green (Also available in Yellow & Pink)
Items shown above, in order, from left to right:
Ceramic Egg Candle Holder (Available in White, Green, Yellow, and Pink)
Hearth and Hand Stoneware Egg Tray
Green Kantha Floral Stitch Lumbar Pillow
Bunny Print Happy Easter Candle
Embroidered Floral Pillow (4 colors: Cream, Yellow, Clay, and Teal)
Small Green Glazed Ceramic Vase
Items shown above, in order, from left to right:
Bunny Print Pillow (also available in yellow and white lumbar style)
Yellow and Green Pick Stitch Floral Quilt
Yellow and Green Floral Sheet Set
Green Glazed Ceramic Pedestal Bowl
So, what do you think? I would say there's a definite yellow and green color palate for the Target spring home decor line. And, I'm totally loving it! You know I love to use green in my home and it's been hard to limit my purchases with all of these fantastic choices!
I also wanted to mention that my absolute favorite way to shop at Target is to purchase online and pick up at one of my local stores. They make it so easy to shop this way. You can even choose the drive up option and you don't even need to go into the store! If I'm super busy, that's what I do and it's so convenient and contact free! And, I always shop with my Target RedCard. The basic RedCard isn't a credit card, but a simple debit card linked to your bank account. But, you automatically get 5% off when you use your RedCard to check out! And, there are often special offers for RedCard holders!
Before I go, I also wanted to share a few of the Target Dollar Spot (or Bullseye Playground) items I've picked up recently. I'm always checking this area when I stop into Target. In my local stores they have some really fun things that are perfect for Easter baskets. Remember, these items aren't online, so you have to go into the store. And, what you find is totally dependent on what that particular store stocks. Because the prices range from just $1 each to $5 each, these items sell out VERY quickly! So, if you want to check your local store for these goodies, do it soon!
Bunny Ear Egg Cups $1 each
Bunny Sunglasses for kids $1
Hanging Planter $3
Bunny Ear Measuring Spoons $3
Gray and White Bunny Salt and Pepper Shakers $3