Do you have a room in your home with an ugly ceiling? Maybe you purchased a home with popcorn ceilings and you just want to see them gone! Or, maybe your roof leaked and it stained the ceiling!
Or, in my case, you had three teenage boys who liked to steam up the bathroom until the ceiling paint began to peel off!
We tried fixing the problem by scraping off the peeling paint, sanding everything smooth, and then used a primer and paint specifically for a bathroom. It lasted for a while, but with time, the cracking and peeling started again.
Then, we upgraded to a better bathroom ceiling fan and went through the entire repair process again.
It lasted a while longer, but again, the cracking and peeling came back. So, we decided that we would look into ways to cover a ceiling for a more permanent fix.
Solution: Cover the ceiling
When I want to find a solution for a home problem, I usually reach out to the home and DIY bloggers that I know!
They are the "hand's on" experts who actually "do" the work themselves and they share tips and tricks that you won't find anywhere else on the internet! Well, my friends did not disappoint!
They shared so many great ceiling updates that they've done in their own homes and I was blown away!
You really don't need to hire a contractor to do these ceiling projects because they show you everything you need from supplies to the installation process!
I ended up choosing seven of these creative ways to cover a ceiling to share with you, but at the end of this post; I'll link to more projects that were shared with me. Some of these are duplicates.
For instance, there were several friends who installed a classic shiplap to cover a ceiling. I chose one to feature, but they are all amazing.
When you are doing a DIY project for the first time, I would recommend you look at as many tutorials as you can. In the end, it will give you more confidence to do the project in your own home.
7 Creative Ways to Cover a Ceiling
It doesn't matter what kind of room you are redoing, you can use any of these ceiling projects to turn an ugly ceiling into a beautiful one.
These different ideas can be used on basement ceiling ideas where you cover the entire ceiling, or you can just do a portion where you show off something of visual interest.
You can use any of these ceiling treatments to turn a boring white ceiling into a masterpiece in your family room, dining room, living area, bathroom, or bedroom, really these ideas are endless!
Let this DIY project be a creative way to turn a daunting task into a fun project.
It's a great idea to check out all of these different ideas before picking one and make sure to keep your goal of what you want your finished space and your living space to look like as you pick your color scheme and eventual ceiling color too.
Most of these ideas don't take too much time, but it's imperative to look over the whole process and get all of your installation materials before you start so you can get it all done at once, not pausing to go to the store every 20 minutes.
Classic Shiplap
Using shiplap was definitely the most popular response that I got from my friends. It's a classic look with many variations. But, I really liked the video tutorial that Chelsea from Making Manzanita featured on her blog post.
There's nothing like seeing someone do a project in real time. Chelsea used shiplap to cover a popcorn ceiling in her home office and the finished ceiling is stunning!
You need to visit her post to see the before to really appreciate this after shot!! And, as an aside, I love the paint color she used in this space!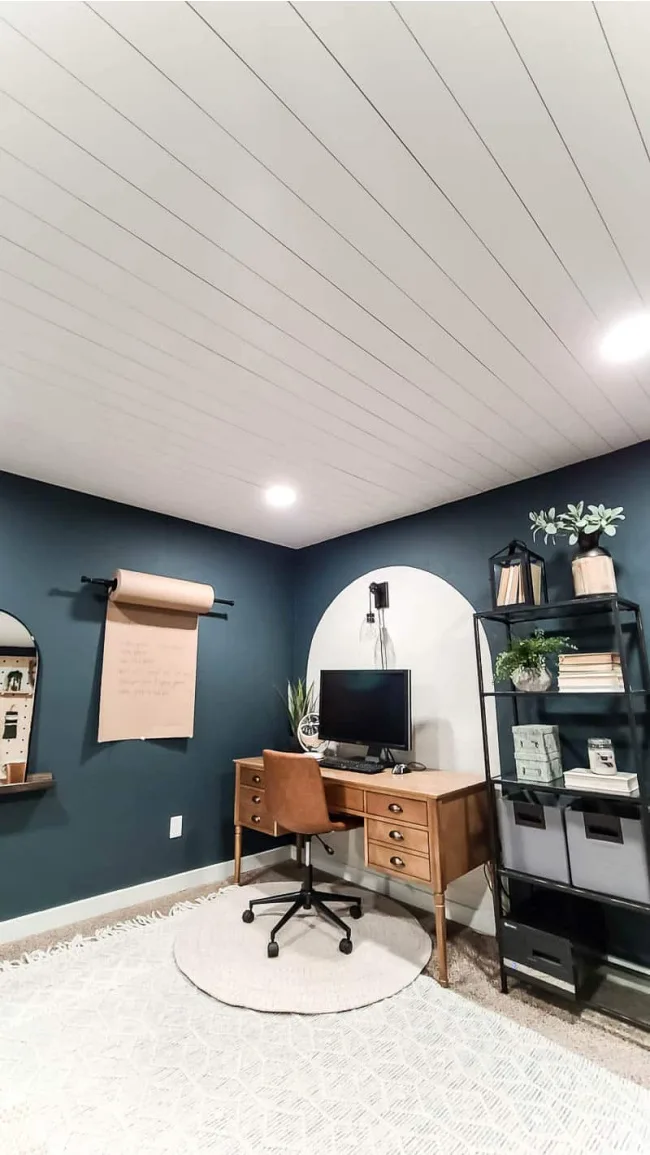 2. Vinyl Plank Ceiling
This is basically getting the look of a wood ceiling, but using a vinyl plank instead of a natural wood. We actually considered this for our bathroom because of the moisture issue.
Also, a vinyl plank may be a more affordable option to wood. Sarah from Dreaming of Homemaking used a vinyl plank to cover a popcorn ceiling in a bedroom! She also has a video tutorial for the process.
Plus, she shares why she decided to use this method over scraping off the popcorn texture.
I chose the "in process" photo so you can see how amazing the new ceiling looks compared to the popcorn texture!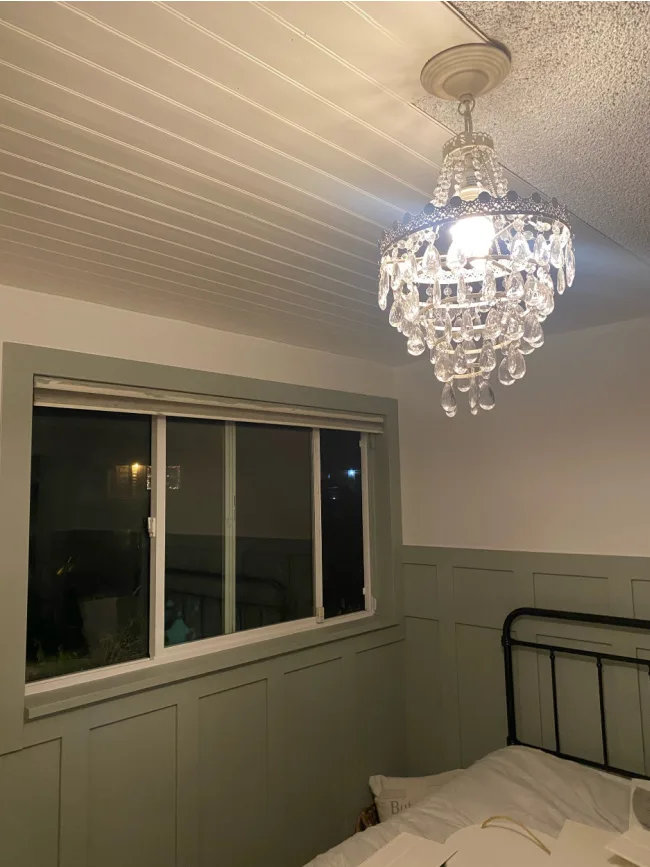 3. Armstrong Ceiling Planks
The Armstrong ceiling plank is a floating ceiling system. With this method, you first install metal tracks to your ceiling and the Armstrong planks are attached to the tracks using a method similar to a floating floor installation.
Kim from Sand and Sisal used this system in her home and I was impressed with the realistic wood texture of the planks.
Here's a photo of Kim's completed bedroom ceiling, but go visit the post to see all the details for this method!
See how you can add some crown molding to this and totally transform the overall room feel. It's also one of the more subtle look changes that we have shared today.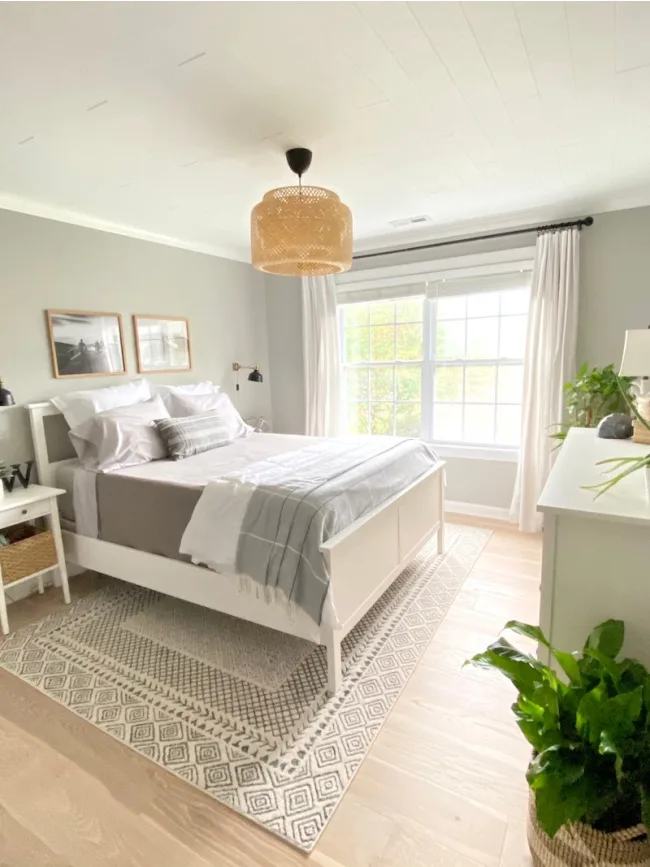 4. reclaimed wood (Stikwood) Ceiling
JoAnna Gaines not only made shiplap famous, but she also inspired us to add character to our homes by using reclaimed wood.
But, adding real, reclaimed wood to a space would be heavy. And, that's where Stikwood comes to the rescue.
Stikwood is real reclaimed wood planking that is very thin and lightweight. And, it's peel and stick!
Isn't that genius, such an easy way to make a huge impact!!! Rebekah from A Blissful Nest installed a Stikwood ceiling in her breakfast room.
And, she shares all of the details on her blog!
Below is a great example of how you can get that reclaimed wood ceiling look that you are looking for for your living room, bathroom, etc.
It can easily be the focal point of your room and will bring some excitement to those boring solid color or simple white walls.
5. Slat Ceiling
If you have a basement that you want to finish, this method is one you NEED to look at! If my husband wouldn't kill me (ha, ha), I'd rip down my basement drywall ceilings and do this! Jaime from Jaime Costiglio blog used wood planks to create a slat ceiling in her basement.
I absolutely love the industrial/rustic look of this, especially in a basement space!
This is a great way to open up your drop tile ceilings or other low basement ceiling and turn it into something beautiful.
6. Coffered Ceiling
When I saw how Charleston Crafted created this DIY coffered ceiling, I was blown away! First, check out the finished project below!
Isn't it a stunning ceiling! Now, visit the blog post and see how this husband and wife team created this beautiful ceiling to cover a popcorn ceiling! When you see how they got the look, you'll be blown away too!
Simple, unique ceiling design ideas like this can really transform a space.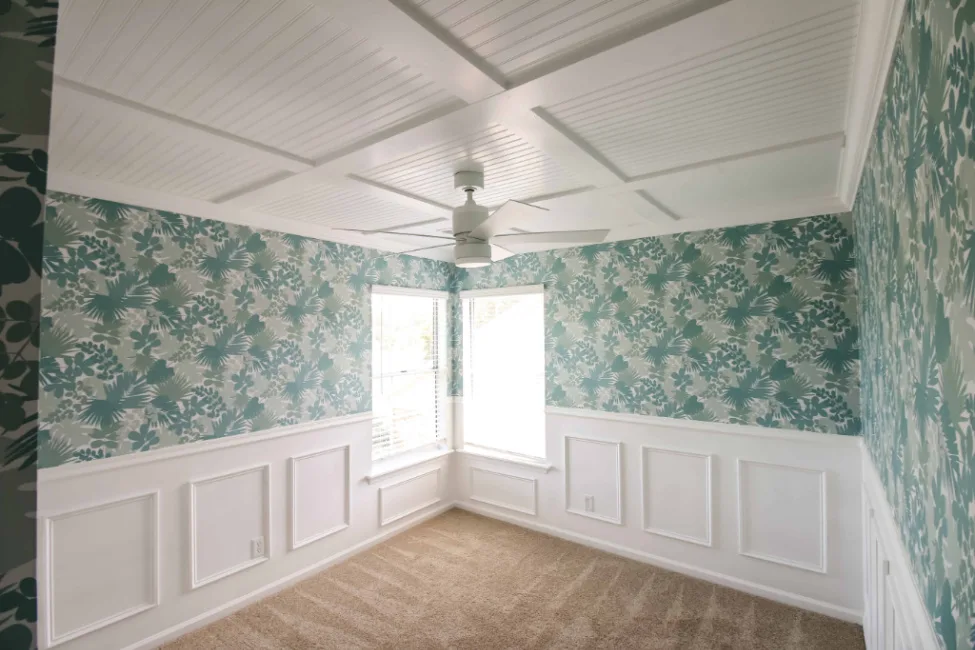 7. Plywood Ceiling
If you were inspired by the coffered ceiling above, but are looking for something less traditional, you'll want to check out this plywood ceiling from Shara at Woodshop Diaries.
Shara used sheets of plywood with 1 x 4's to create this stunning ceiling look in a studio apartment! I love it!!!
You could also use faux wood beams to create this ceiling grid and then paint the beams a different color from the plywood wood paneling.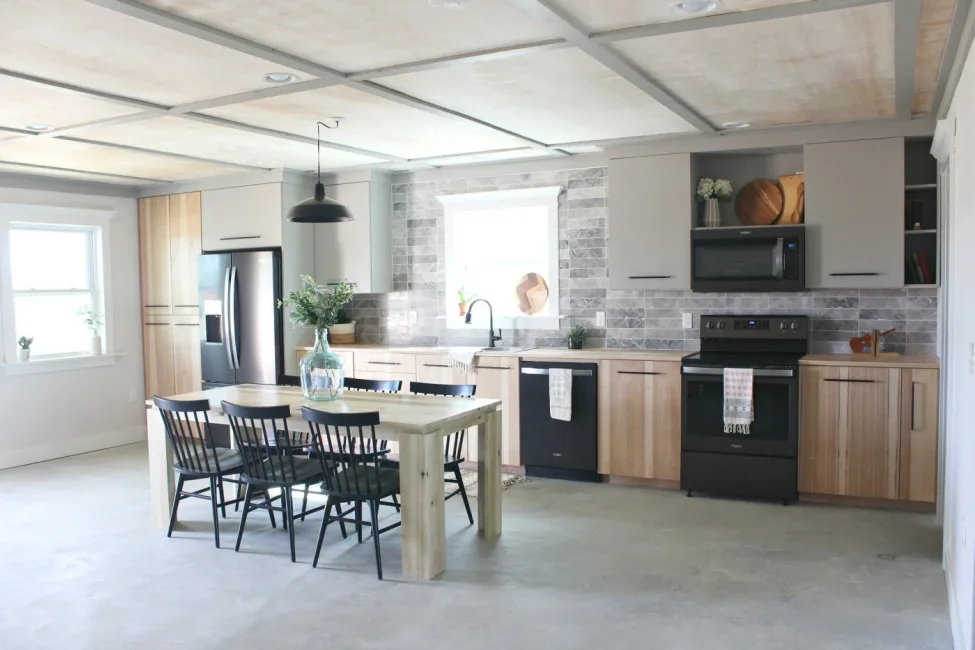 And, here are a few more ceiling ideas from my friends!
How to Plank a Popcorn Ceiling
Pine Tongue and Groove Ceiling
So, what do you think? Aren't all of these amazing ideas to update any type of ceiling. We decided to go with wood flooring planks in our bathroom.
Since the wood is already stained and sealed, it should hold up well in a bathroom space. The installation was just like the tongue and groove shiplap tutorials.
And, we were able to put it up in a day, but we still need to finish it with trim around the perimeter.
But, we can't do that until we get further into our bathroom remodel since there are walls that have to come down, but here's a peek at what it looks like!
So, need to do trim work still.
I wasn't planning on keeping it natural, but I think the wood tone will warm up the mainly black and white space. You can see all of our bathroom remodel plans in this post.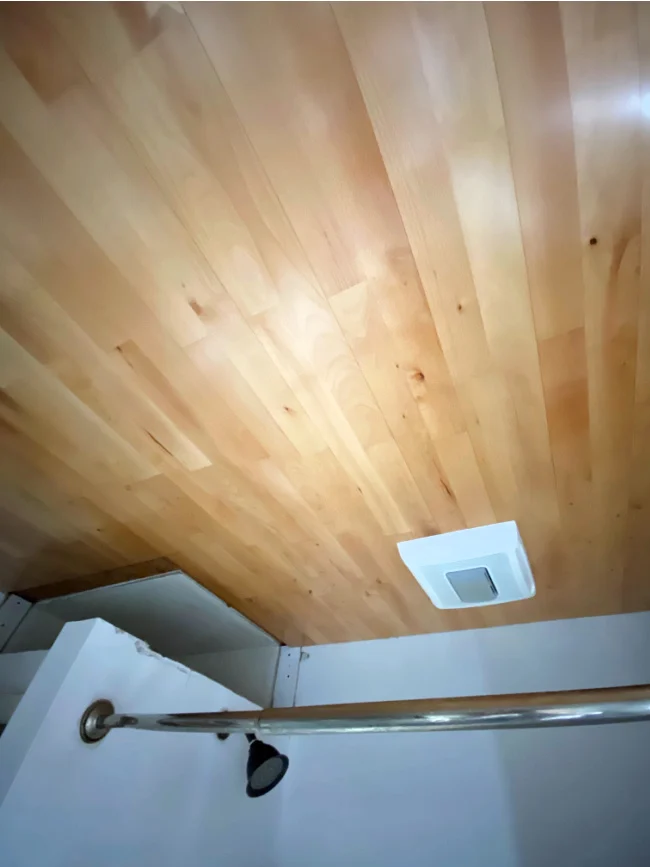 Now, I can't wait to do more work in the bathroom. At this point, we are just waiting for the tile to come in! So, stay tuned for more!