If you're looking for the right words to celebrate your love's special day, these Bible verses for husbands birthday are perfect.
Finding the best verses for your husband's birthday can offer meaningful messages of love, gratitude, and blessings. These verses capture the essence of life's journey and the joy of shared moments.
In this post we're going to explore touching Bible verses for a husband's birthday, which one's your favorite?
Bible Verses for Husbands Birthday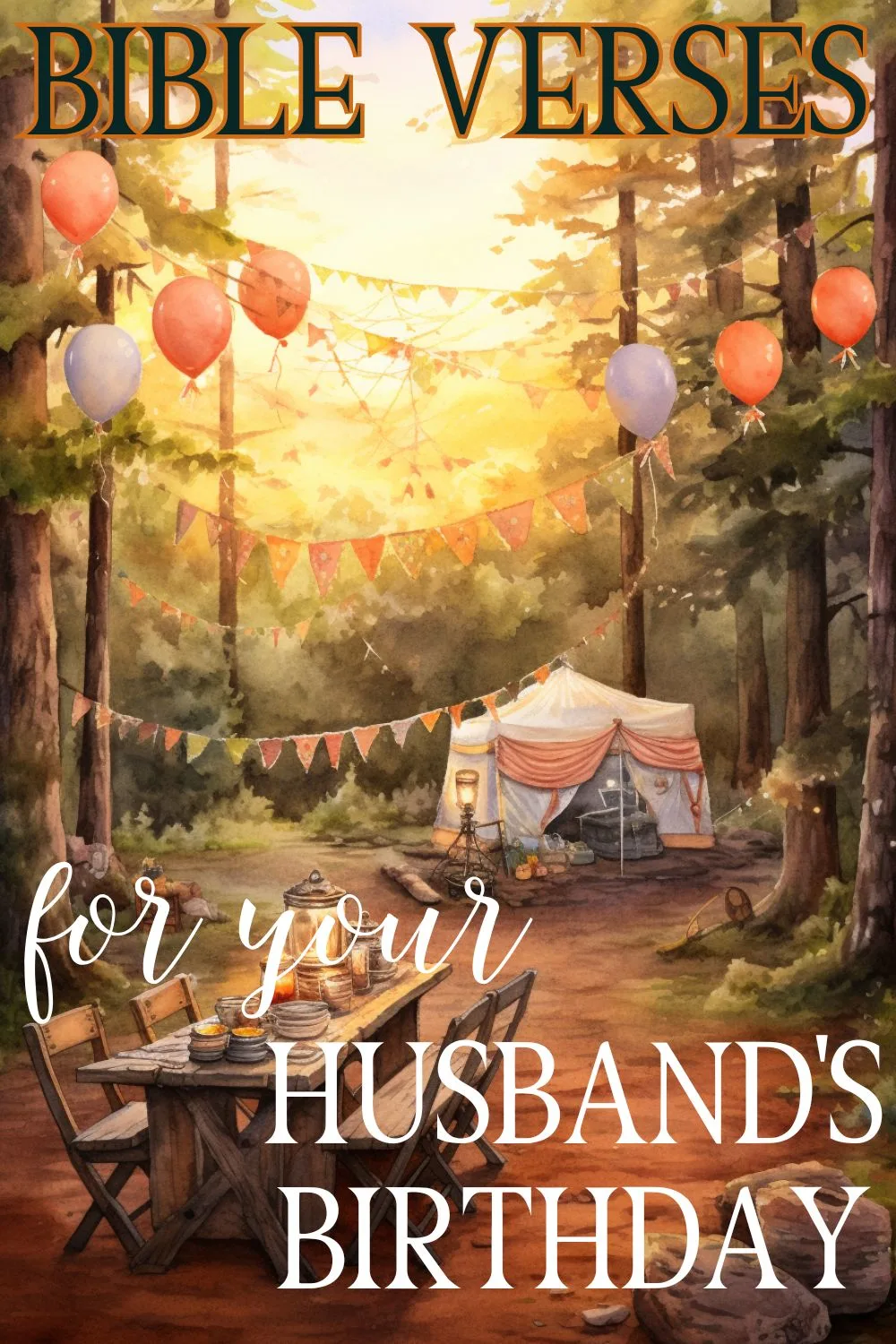 1. The righteous man walks in his integrity; his children are blessed after him. (Proverbs 20:7)
This verse emphasizes the value of righteousness and integrity. A man who lives a life of integrity not only benefits himself but also leaves a legacy of blessings for his children. His upright character has a lasting impact on future generations.
2. Husbands, love your wives, just as Christ loved the church and gave himself up for her. (Ephesians 5:25)
This verse calls husbands to a profound and sacrificial love for their wives, mirroring the love Christ has for the church. Just as Christ was willing to sacrifice Himself for the church, husbands should be willing to put their wives' needs above their own.
3. The steps of a man are established by the LORD, when he delights in his way. (Psalm 37:23)
This verse speaks to the divine guidance and support that God provides to those who find joy in His ways. When a person aligns their desires with God's will, their path in life is firmly set by the Lord.
4. He who finds a wife finds a good thing and obtains favor from the LORD. (Proverbs 18:22)
This verse highlights the value and blessing of a marital relationship. Finding a wife is not just a personal joy but is seen as a divine favor, a gift from God.
5. Be on your guard; stand firm in the faith; be courageous; be strong. Do everything in love. (1 Corinthians 16:13-14)
This passage encourages believers to remain vigilant and steadfast in their faith. It calls for courage and strength in facing challenges. Yet, amidst all these exhortations, love remains central. Every action and decision should be rooted in love.
6. With long life I will satisfy him and show him my salvation. (Psalm 91:16)
God's promise here is twofold: a life of longevity and spiritual fulfillment. Trusting in him ensures not just extended days but a life enriched with experiences of his salvation, protection, and manifold blessings.
7. Blessed is the one who finds wisdom, and the one who gets understanding. (Proverbs 3:13)
Wisdom and understanding are portrayed as treasures in this verse. Those who seek and find them are considered blessed. Such individuals lead enriched lives, making decisions that bring about prosperity and well-being.
8. Be completely humble and gentle; be patient, bearing with one another in love. (Ephesians 4:2)
This guidance emphasizes virtues essential for fostering healthy relationships among believers. By embodying humility, gentleness, patience, and love, believers can navigate conflicts, misunderstandings, and differences, ensuring a harmonious and united community.
9. May he give you the desire of your heart and make all your plans succeed. (Psalm 20:4)
This heartfelt prayer seeks divine intervention in fulfilling one's deepest desires and ambitions. It underscores the belief that when aligned with God's will, aspirations and plans are more likely to succeed, bearing fruit under His favor.
10. As iron sharpens iron, so one person sharpens another. (Proverbs 27:17)
This verse uses the imagery of iron sharpening iron to describe the positive influence people can have on one another. Just as one piece of iron can sharpen another, individuals can challenge, refine, and improve each other through meaningful interactions.
11. Be strong, and let your heart take courage, all you who hope in the LORD. (Psalm 31:24)
This verse serves as a rallying call for believers to draw strength and courage from their hope in God. Amidst adversity, this hope acts as an anchor, rejuvenating the spirit and instilling bravery to face life's trials.
12. Two are better than one, because they have a good return for their labor: If either of them falls down, one can help the other up. (Ecclesiastes 4:9-10)
This passage highlights the value of companionship and collaboration. When two people work together, their combined efforts yield better results. Moreover, in times of difficulty, having someone by your side provides support and assistance.
13. The LORD is my shepherd; I shall not want. (Psalm 23:1)
This verse depicts God as a caring shepherd, ensuring the well-being of his flock. In his guidance, protection, and provision, believers find contentment and security, confident that their every need is addressed, leaving no room for want or lack.
14. I can do all things through Christ who strengthens me. (Philippians 4:13)
This affirmation underscores Christ's transformative power in believers. Through His strength, obstacles become surmountable and limitations fade, enabling believers to achieve feats and face challenges that would otherwise seem insurmountable.
15. The LORD is my strength and my shield; my heart trusts in him, and he helps me. (Psalm 28:7)
This verse portrays God as an unwavering source of strength and a steadfast protector. In moments of vulnerability, those anchored in faith find resilience and are reassured by God's enduring presence, guiding them through life's challenges.
16. In their hearts humans plan their course, but the LORD establishes their steps. (Proverbs 16:9)
Humans naturally devise plans, but this verse emphasizes God's ultimate authority in determining life's direction. It's a reminder of the divine orchestration of events, ensuring our steps align with his grand design.
17. Teach us to number our days, that we may gain a heart of wisdom. (Psalm 90:12)
This reflective prayer seeks divine guidance in understanding life's fleeting nature. By grasping the transience of time, one can prioritize wisdom and purpose, ensuring each day is lived with intention and insight.
18. Above all, love each other deeply, because love covers over a multitude of sins. (1 Peter 4:8)
Highlighting love's profound significance, this verse reveals its transformative power. Authentic, profound love fosters forgiveness, mending rifts and fostering unity. It's a call to prioritize love as a healing and unifying force among believers.
19. This is the day the LORD has made; let us rejoice and be glad in it. (Psalm 118:24)
This verse is an exuberant reminder of the daily blessings from God. Each day, with its unique challenges and joys, is divinely crafted, urging believers to approach it with a heart full of gratitude and rejoicing.
20. Whatever you do, work at it with all your heart, as working for the Lord, not for human masters. (Colossians 3:23)
Believers are urged to infuse every task, whether grand or simple, with heartfelt dedication, as if serving God directly. This mindset transforms even ordinary endeavors into sacred acts, emphasizing the sanctity of serving with unwavering commitment and love.
21. Praise the LORD! Blessed is the man who fears the LORD, who greatly delights in his commandments! (Psalm 112:1)
This verse celebrates those who deeply respect and find joy in God's teachings. Reverence for the Lord, combined with a genuine delight in his directives, marks a life of spiritual richness, earning the distinction of being divinely blessed and favored.
22. "For I know the plans I have for you," declares the LORD, "plans to prosper you and not to harm you, plans to give you hope and a future." (Jeremiah 29:11)
This comforting verse underscores God's intentional and benevolent plans for believers. It's a promise that, despite life's unpredictabilities, God's overarching design is one of prosperity, hope, and a promising future, reflecting His unwavering love and purpose.
23. Taste and see that the LORD is good; blessed is the one who takes refuge in him. (Psalm 34:8)
This verse is an open invitation to personally encounter God's undeniable goodness. By taking refuge in him, individuals not only find protection but also experience profound blessings, affirming the unparalleled goodness and faithfulness of the Lord.
24. Now to him who is able to do immeasurably more than all we ask or imagine, according to his power that is at work within us, to him be glory in the church and in Christ Jesus throughout all generations, for ever and ever! Amen. (Ephesians 3:20-21)
This passage magnifies the limitless power of God, emphasizing that he can do far more than we can comprehend or request. It's a call to give glory to God for his work in believers' lives, in the church, and in Christ.
25. Delight yourself in the LORD, and he will give you the desires of your heart. (Psalm 37:4)
This verse emphasizes the symbiotic relationship between delighting in God and receiving heart's desires. By immersing oneself joyfully in God's presence and aligning with His will, one's deepest desires resonate with divine purpose, leading to their fulfillment.
26. Have I not commanded you? Be strong and courageous. Do not be afraid; do not be discouraged, for the LORD your God will be with you wherever you go. (Joshua 1:9)
This verse serves as a powerful reminder of God's unwavering support. It emphasizes that courage and strength are not just virtues but divine commands. In every challenge or uncertainty, believers can find solace in the promise that God's presence is constant.
27. I praise you because I am fearfully and wonderfully made; your works are wonderful, I know that full well. (Psalm 139:14)
This verse is a profound acknowledgment of God's meticulous craftsmanship in creating every individual. Each person is not a product of chance but of divine design. Recognizing this instills a deep sense of self-worth and gratitude. It's a celebration of God's artistry, where every detail of one's being reflects his wondrous works.
28. Being confident of this, that he who began a good work in you will carry it on to completion until the day of Christ Jesus. (Philippians 1:6)
This verse encapsulates the enduring commitment of God to his people. It assures believers that the transformative work God initiates within them is a lifelong journey, destined for completion. It's a testament to God's unwavering faithfulness, emphasizing that he remains steadfast in molding, refining, and perfecting believers until the return of Christ Jesus.
29. Many are the plans in a person's heart, but it is the LORD's purpose that prevails. (Proverbs 19:21)
Everyone has dreams, aspirations and plans for their lives. However, this verse reminds us that, above all, it is God's purpose that stands supreme. No matter how detailed or well-thought-out our plans might be, God's divine intention for our lives is sovereign. This doesn't negate the value of human planning but rather places it in the context of a grander divine narrative.
30. For God has not given us a spirit of fear, but of power and of love and of a sound mind. (2 Timothy 1:7)
Fear is a powerful emotion that can cripple, paralyze, and deter us from pursuing our callings. However, this verse reminds us that fear does not originate from God. Instead, God bestows upon believers a spirit characterized by power, love, and sound judgment. This power isn't just physical strength but spiritual fortitude.
31. The righteous will flourish like a palm tree, they will grow like a cedar of Lebanon; planted in the house of the LORD, they will flourish in the courts of our God. They will still bear fruit in old age, they will stay fresh and green, proclaiming, 'The LORD is upright; he is my Rock, and there is no wickedness in him.' (Psalm 92:12-15)
This passage uses the imagery of trees to describe the life of those who are righteous. The palm tree and cedar of Lebanon are both symbols of strength, longevity, and prosperity. Being "planted in the house of the LORD" signifies a deep-rooted relationship with God, drawing sustenance and life from His presence. The promise of bearing fruit even in old age speaks to the enduring nature of a righteous person's influence and legacy. Their life remains vibrant, relevant, and impactful, regardless of age.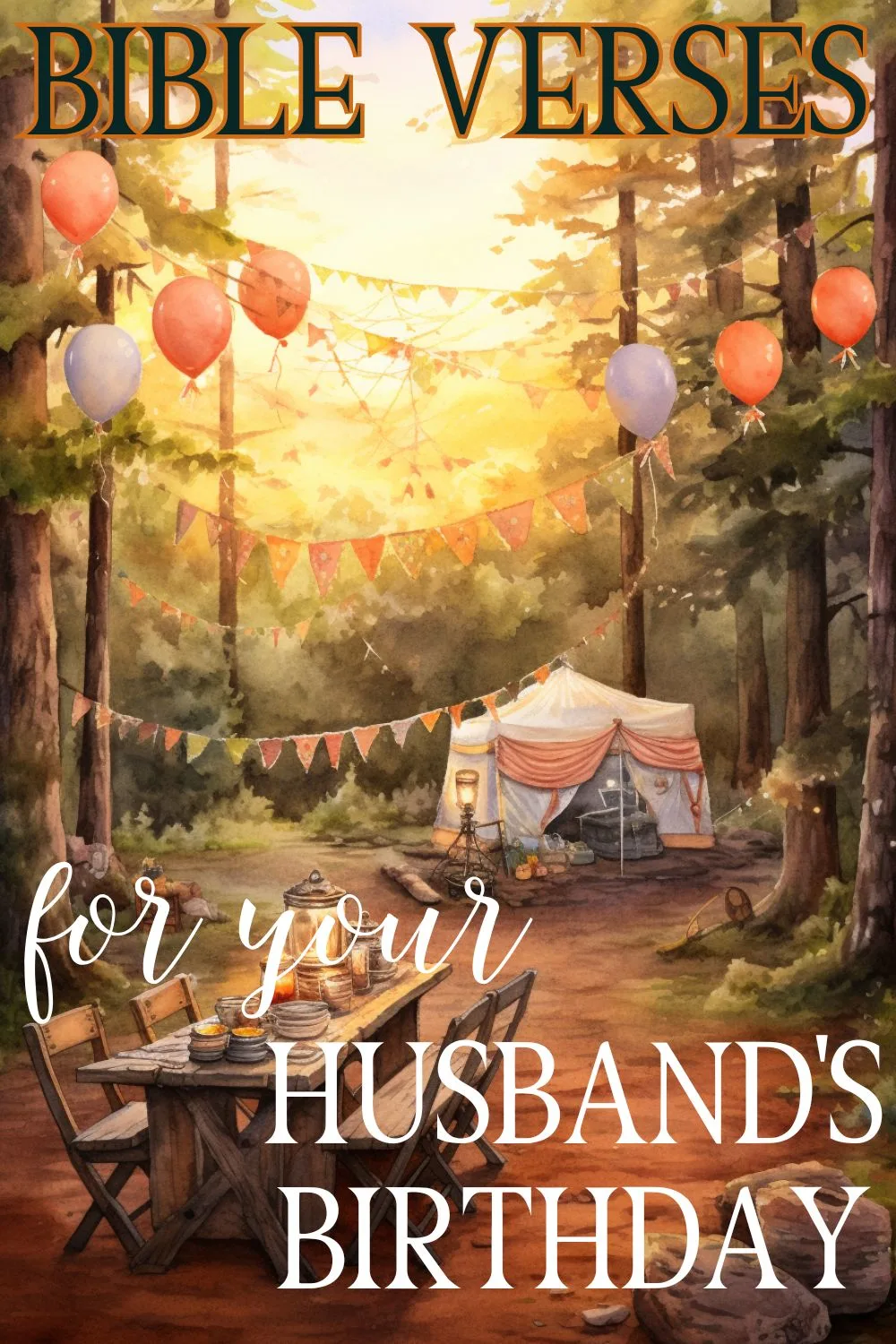 How to Share a Bible Verse on Your Husband's Birthday
Gifting a Bible verse for your husband's birthday is a touching and memorable gesture. Consider writing the chosen verse on a beautifully designed card, or for a lasting impression, have it engraved on a keepsake like a bookmark or pendant.
Another intimate approach is creating a video message or voice recording of you reading the verse aloud. To add a personal touch, accompany your chosen method with a heartfelt note, expressing your sentiments and wishes, making the gift truly unique and cherished.
Looking for more encouraging verses?