Did you grow up watching Full House? Or, do you snuggle up on the sofa every year to watch Hallmark Christmas movies! Did you answer Yes and Yes? I know, me too!!! Okay, maybe I didn't "grow up" watching Full House (I may be a little bit older than that)! And, how about the new Fuller House on Netflix? We've loved watching Candace Cameron Bure on our TV and now she has a new Christmas line of products with Mary and Martha – Simply Christmas by Candace Cameron Bure. How great is that!
You know that over the years I've been pretty picky with what I share with you from Mary and Martha. I only share those products that I love and have in my own home! Well, let me tell you, with these new products by Candace Cameron Bure for Mary and Martha, I have a really hard time not sharing each and every one! I'll have a link for the complete Christmas catalog below. But, here are my picks and you WILL be seeing them in my home this Christmas season!
*This post contains affiliate links. Please see my full disclosure statement HERE.
Mary & Martha CHRISTMAS FAVORITES
This wreath is so "on trend"! It's matte gold and measures 24″ x 24″. The center hanging medallion reverses from "Peace on Earth" to "Welcome", so you can use this wreath beyond Christmas! I love it!
Star of Christmas Geometric Ornament with Peace on Earth Medallion
This is another piece you'll be seeing in my Christmas home! I love these geometric stars because they remind me of the Moravian Star and Lititz, the town where I live, is a Moravian community – so you see lots of these stars at Christmastime! This star is beyond a Christmas tree ornament! It would be great hung in a window, inside a wreath, in an archway, etc.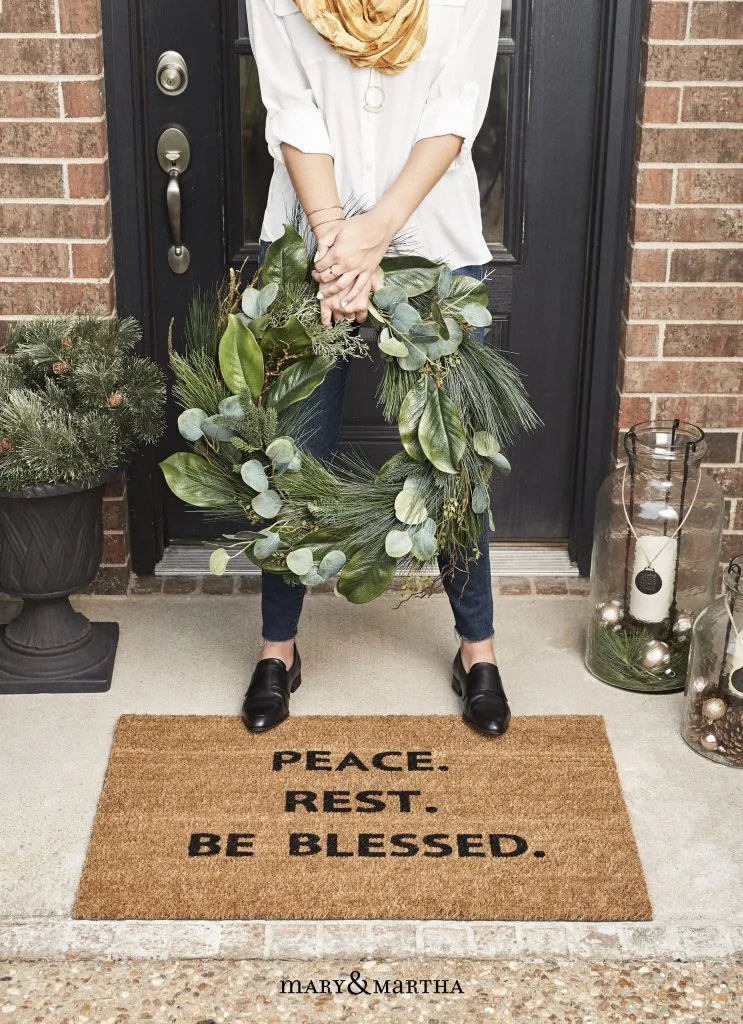 Peace. Rest. Be Blessed. Doormat
I love the clean look and simple message on this doormat! Layer it with a black and white bold buffalo check rug or any plaid rug for the holidays!!!
These pillows are classic! Again, a simple message on the front and on the reverse is a gorgeous plaid. Both have a small pocket on the reverse with a card that you can write a special message or prayer. The plaid continues on the piping – such beautiful detailing! You can use these year after year! And, because they are pillow covers with inserts, you can store them easily!
This is the same plaid fabric that is used on the reverse of the pillows! And, you know I love plaid! This black plaid with white, red, and deep green is perfect for the holidays! This runner is a generous size of 16″W x 108″L . The runner and the pillows are so classic, but with an updated look!
Again, this little piece is very "on trend" with its geometric design, matte gold finish, and simple font style. The tags are double sided, so there are plenty of numbers for all dates of the month!
BE STILL Hand Knit Throw Blanket
I love throw blankets in my home and this is a classic that is hand knit and features a leather tag embossed with the words "Be Still".
WHAT DO YOU THINK OF THE NEW CHRISTMAS ITEMS?
If you have a little bit of sticker shock with the prices, think about what you pay at Pottery Barn or similar retailers. The quality is great and has the backing of Mary and Martha's parent company, Dayspring and Hallmark! Why am I sharing these items so early in the season? Well, to be completely honest, I don't want you to miss out! In prior years, Christmas products have sold out early. And, with this line in particular, Dayspring is promoting it on their website, as is Candace Cameron Bure on her website and social media channels. That's a LOT of visibility for Mary and Martha and these products!
There may be sales or promotions for these items to come, and I'll be sure to let you know as soon as I see any! For me, I'm getting my top items right away – for me, that's the wreath and the star. I may wait a week or two and see if there are any sales or promotions for any of the other products that I would like. If not, then I'll probably go ahead and place my order.
devotional by Candace Cameron Bure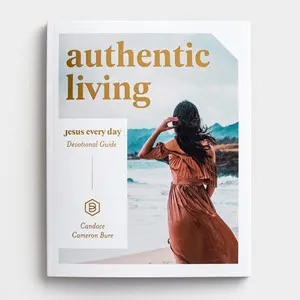 Finally, Candace Cameron Bure has also created a beautiful devotional "Jesus Every Day". In it, you will find 23 sessions with meaningful Bible verses and four easy-to-answer questions that encourage you to interact with God and your faith in an honest, yet simple way. The devotional is an October Special for Mary and Martha and is $15.
Now, don't worry, I'm not going to be posting about Christmas for several more weeks! There's still a lot of Fall to enjoy! Happy October!