We had such a good time at Cape May over the weekend. If you live within driving distance of this beautiful seaside historic town, you really should visit over the Christmas holiday! The town is decked out in holiday lights and is magical! I took my camera along on this weekend getaway to "play" and just take some photos for fun! I'm still learning so much about photography and have a loooooong way to go – but I'm finding that it's something that I really enjoy! While I share the photos, I'll try to hit on some of the things there are to do in Cape May at Christmastime!
There were six of us who went on this outing, my two sister-in-loves, Pam and Connie (who are also sisters), and Pam's two girls, Kelsey and Emily, and her daughter-in-law, Ashley. And, my daughter-in-law, Sarah, came making it extra special for me! We stayed in a 100 year old homeaway home that was so charming. The decor was relaxed and very coastal cottage in style! There were three stories with six bedrooms and two and a half baths! When you stay in Cape May, make sure you stay somewhere within walking distance of the downtown shops! It's so nice to walk there instead of hopping in the car to drive. We did drive some, just because it was so cold. And, we were just two blocks from the beach. Our homeaway address was 815 Benton Avenue and you can book your stay HERE.
There are so many things to do in Cape May at Christmas! I really could never include them all, but you can read all about the many things to do and see HERE.
The victorian homes and hotels in Cape May are gorgeous in any season, but some go all out with their Christmas decor and I captured a few shots of some of my favorites! The Virginia Hotel was built in 1879 and is near the downtown shopping district. The Virginia Hotel had vintage Santa Claus characters climbing all over the light blue exterior! It was so charming!
Close to The Virginia Hotel was this gorgeous 1898 historic stone church, The First Presbyterian Church of Cape May. Those red doors against the gray stone were beautiful!
I was walking down the street and noticed this little lady in, what I'm sure was a gorgeous garden in the spring and summer months!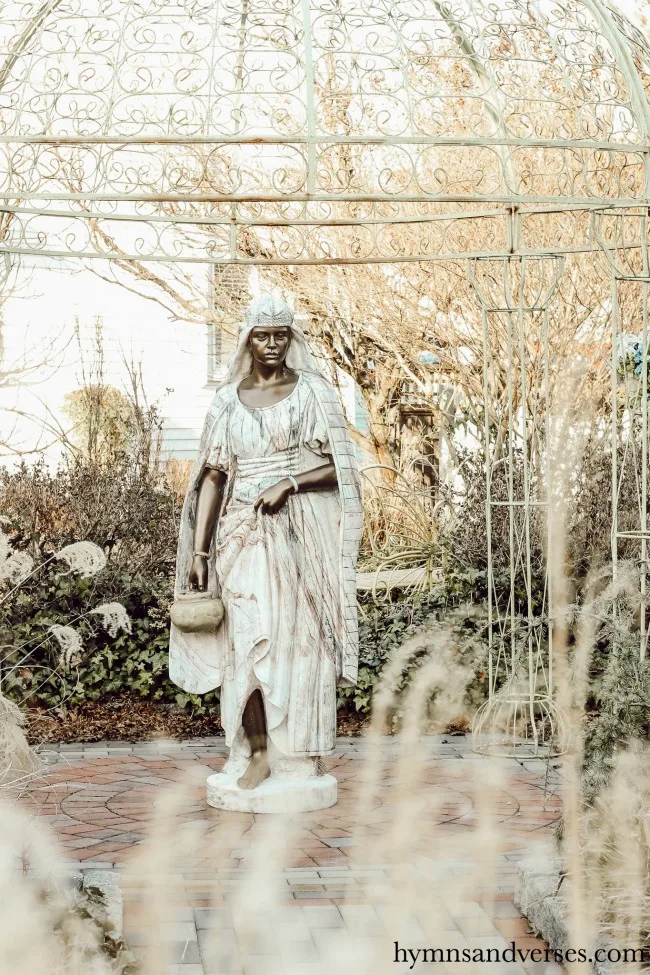 There were horse drawn carriage tours that begin at the shopping district of Cape May. The horses and carriages were all dressed up for Christmas! This little girl caught my eye. She is wearing a Santa hat! She was patiently waiting for her next ride and let me take some pictures of her!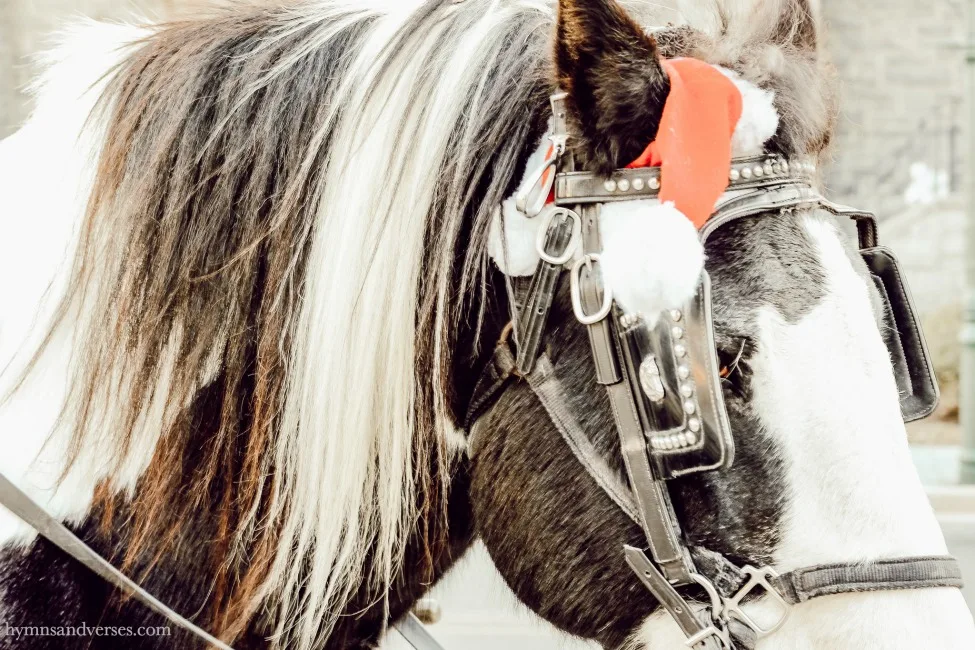 Congress Hall is another historic must see hotel in Cape May! You can read all about this historic hotel HERE. It's a grand sight right by the ocean with a buttery yellow exterior, black shutters and doors, and white trim! There were large (let's say huge) toy soldiers standing guard all around Congress Hall for Christmas with gorgeous cedar garland and shiny red ornaments!
In, the lobby there was a majestic Christmas tree in the corner with a roaring fireplace and lots of cozy seating!
The Blue Pig Tavern is part of Congress Hall and was the first tavern in Cape May and is on the same site of a tavern that served whalers in 1700's.
Outside in the courtyard at Congress Hall it's a winter wonderland with pop up shops, hot mulled wine and hot chocolate, a large firepit with benches, a huge Christmas tree, more toy soldiers, a train ride and carousel for the kids, and more! It's so beautiful and I wish I was able to capture more of it for you. Alas, my photography skills were not up to par to capture the scene at night! But, here's to learning!!!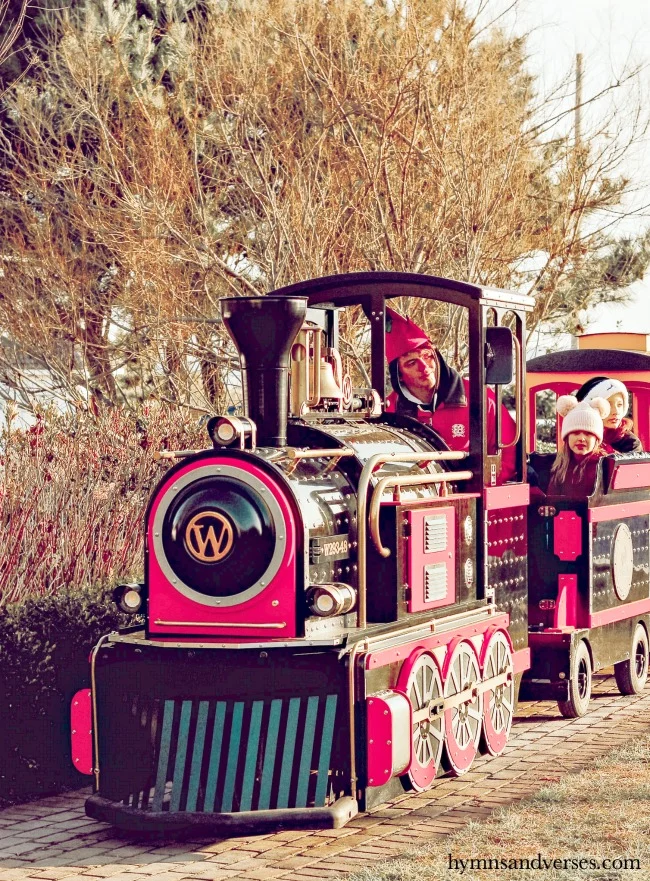 A trip to Cape May is not complete, in my opinion, without a stop to Sunset Beach and the historic Cape May Lighthouse. Here are some shots I captured at the beach here and of the lighthouse itself.
The photo below is of St. Mary by-the-Sea Retreat House.
This photo was taken at The Point beach. It struck me as beautiful that this little makeshift flag was at half staff in honor of former President Bush.
I hope that you enjoyed seeing a peek at my weekend getaway to Cape May at Christmas! It was just what I needed in this busy Christmas season! A chance to stop and relax and enjoy time spent with family!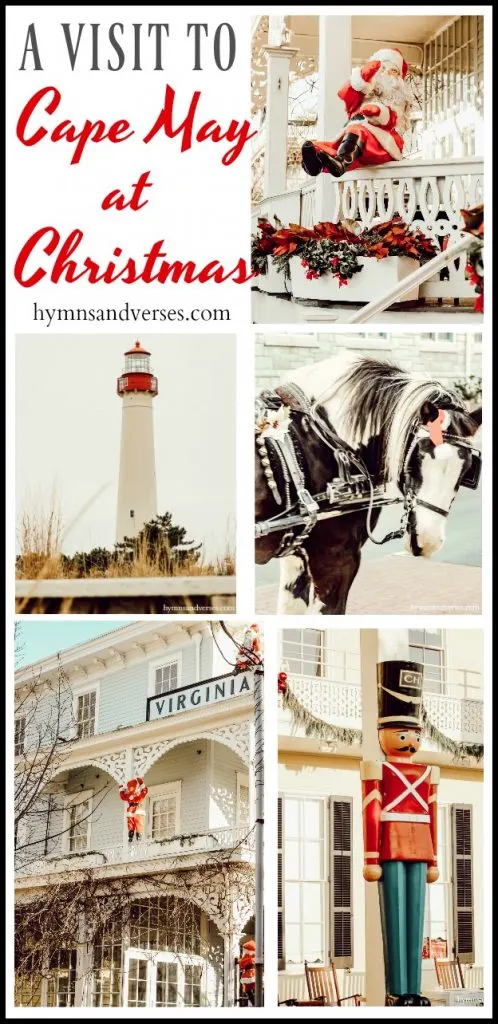 You can read about my trip to Waco, TX, and Magnolia Market earlier this year HERE.